PIONEER VALLEY CHRISTIAN ACADEMY
Parent Update-April 2019
Internet Safety Event
The Top Five Take-Aways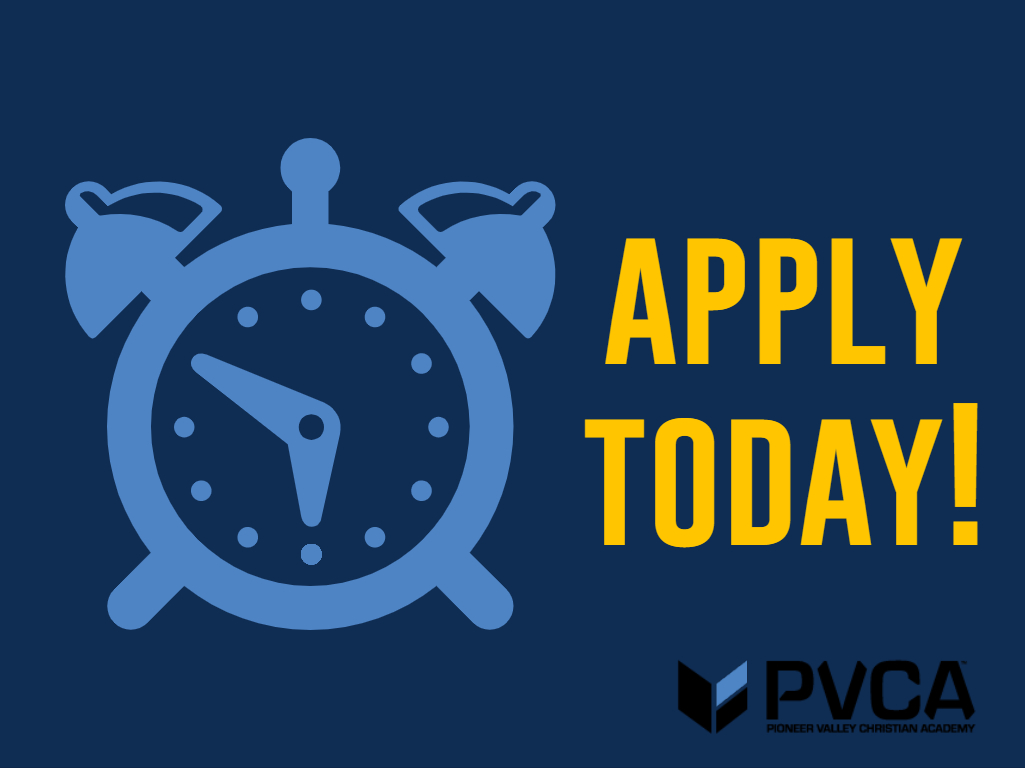 You are not too late!
Apply for Tuition Assistance by April 30
We have received calls from many parents inquiring about applying for Tuition Assistance for the 2019-20 school year and have decided to extend the application deadline to April 30. Even if you have not completed your 2018 Federal tax return, we urge you to apply for Tuition Assistance through FACTS Grant & Aid. Applications are required annually. As a good security reminder, never send your tax information in an email. You may bring your tax documents to the PVCA Business Office and we will gladly fax them for you on our secure fax line.
Also, April 30 is the deadline to inform PVCA in writing if you do not intend to return for the 2019-20 school year.
PVCA
Open House
Tuesday, April 9
6:00-7:30 PM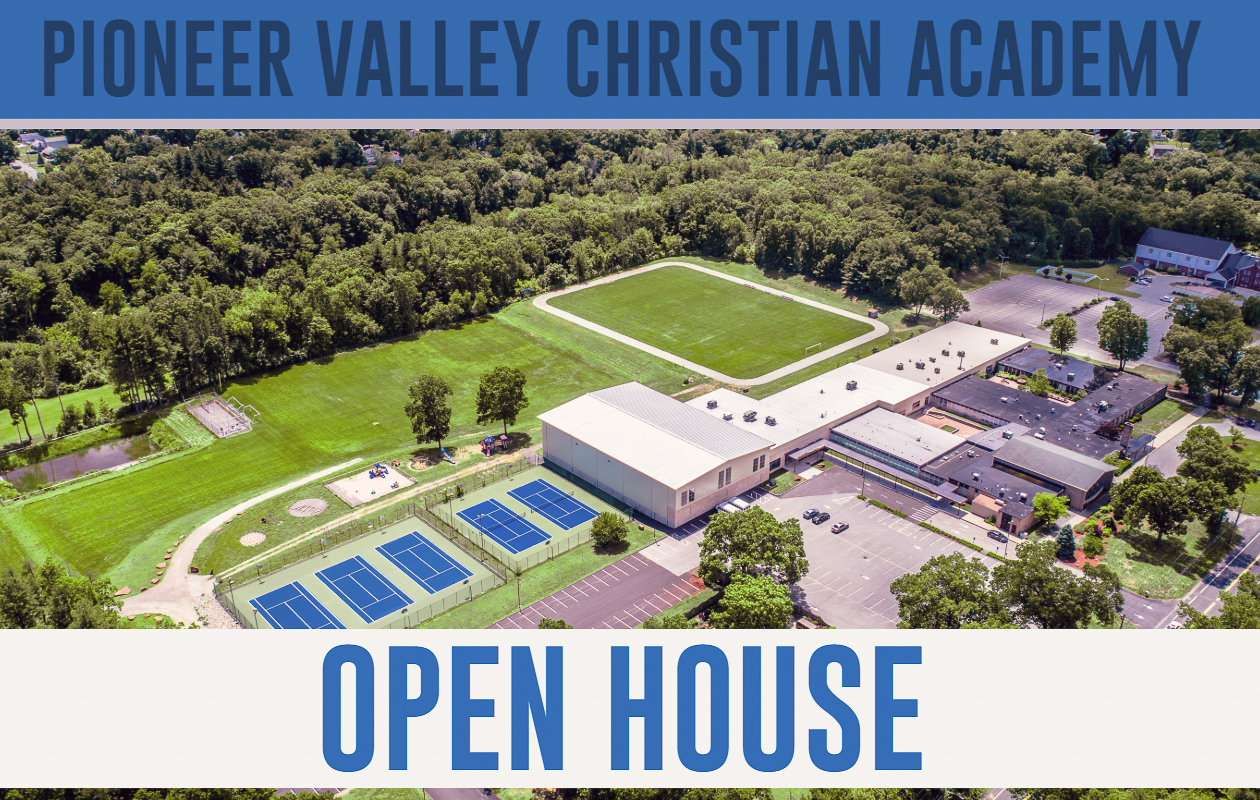 High School
Choir Trip
Thursday, April 11
New York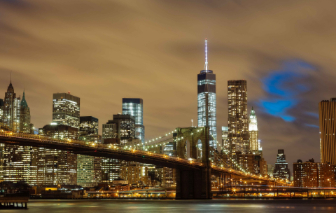 All School
Easter Chapel
Friday, April 12
1:55-2:30 PM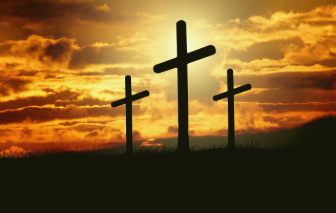 Spring
Vacation
Monday, April 15 –
Friday, April 19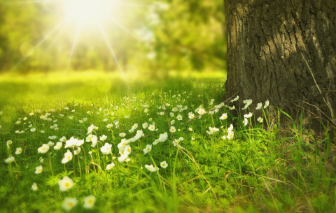 RCD
Follow-Up
Monday, April 23
8:00 AM-4:00 PM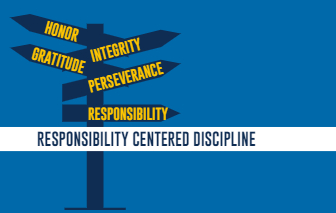 School Play
Thursday-Saturday
April 25-27
7:00 PM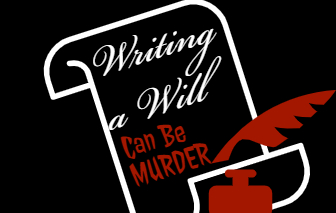 National Day
of Prayer
Thursday, May 2
Special Chapel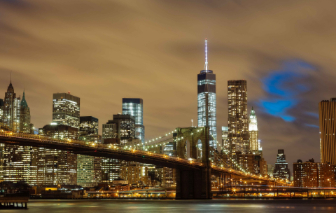 Annual
Plant Sale
Saturday, May 11
7:00 AM-2:30 PM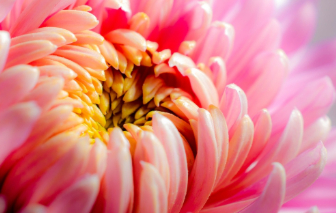 Pioneer Valley Christian Academy Drama Club
Presents
Writing A Will
Can Be Murder
Thursday, Friday, Saturday,
April 25, 26, 27,
7:00 PM
Student Admission $8.00
General Admission $10.00
Tickets can be purchased in advance at the PVCA front office or at the door prior to each performance.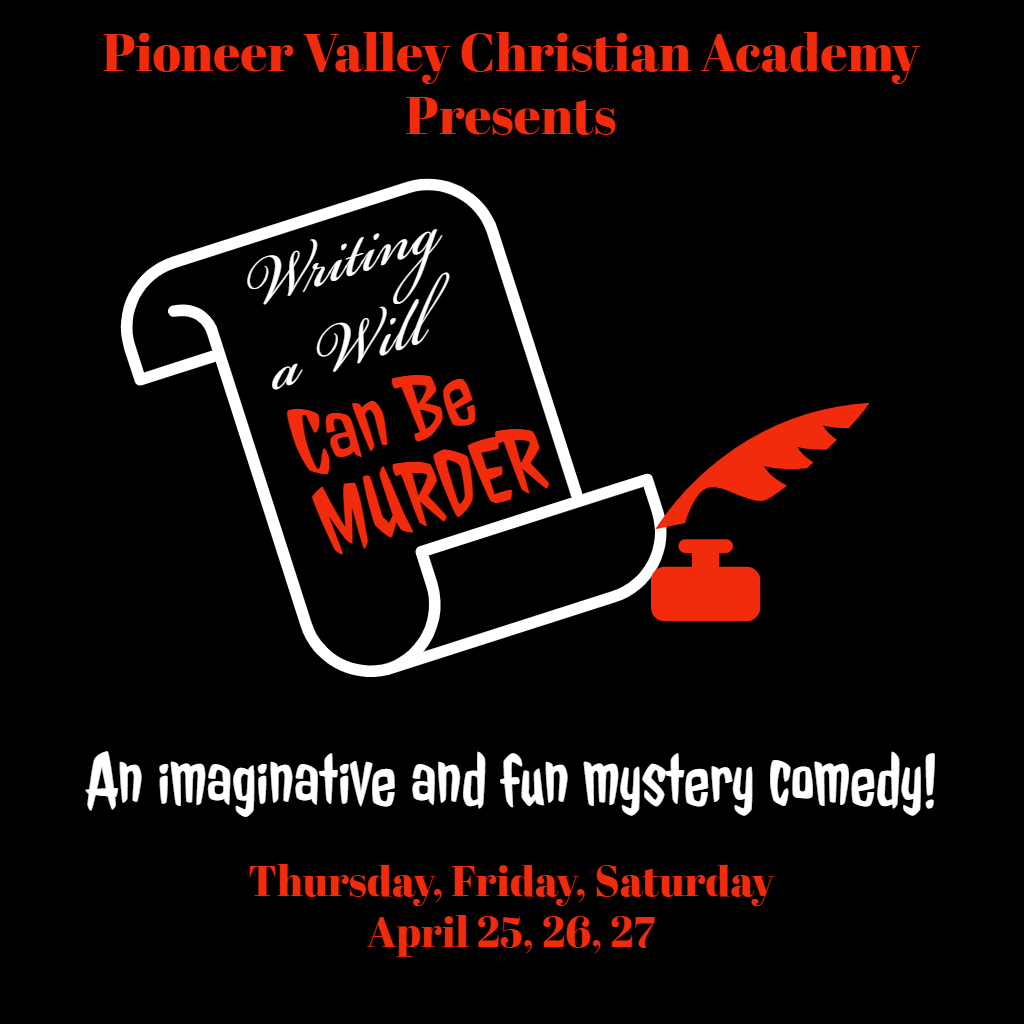 A murder mystery full of fun and intrigue!
You will love the humor of this imaginative and fun mystery comedy! Aging movie star Betty Crawford once led a glamorous life on the red carpet, surrounded by reporters, movie producers, and directors vying for her attention. Everyone wanted to rub elbows with her. But these days, she lives alone with her maid, and the rest is only a memory… and a series of hysterical tongue-in-cheek flashbacks. Wouldn't you know, when Betty revises her will, suddenly everyone in her life, both past and present, just happens to show up for a "social call." Betty ends up murdered in her living room, conked on the head with a heavy object. Curiously (and hysterically), every visitor just happens to be holding a different type of heavy object… the potential murder weapon. When a library cop shows up to present a citation for a book that is years overdue, he decides he is practically like law enforcement, so he puts the clues together to help solve the mystery of the murdered movie star. With fast paced dialogue and three sets of twins, this murder mystery farce is full of fun and intrigue!
Betty Crawford
Sarah Morgan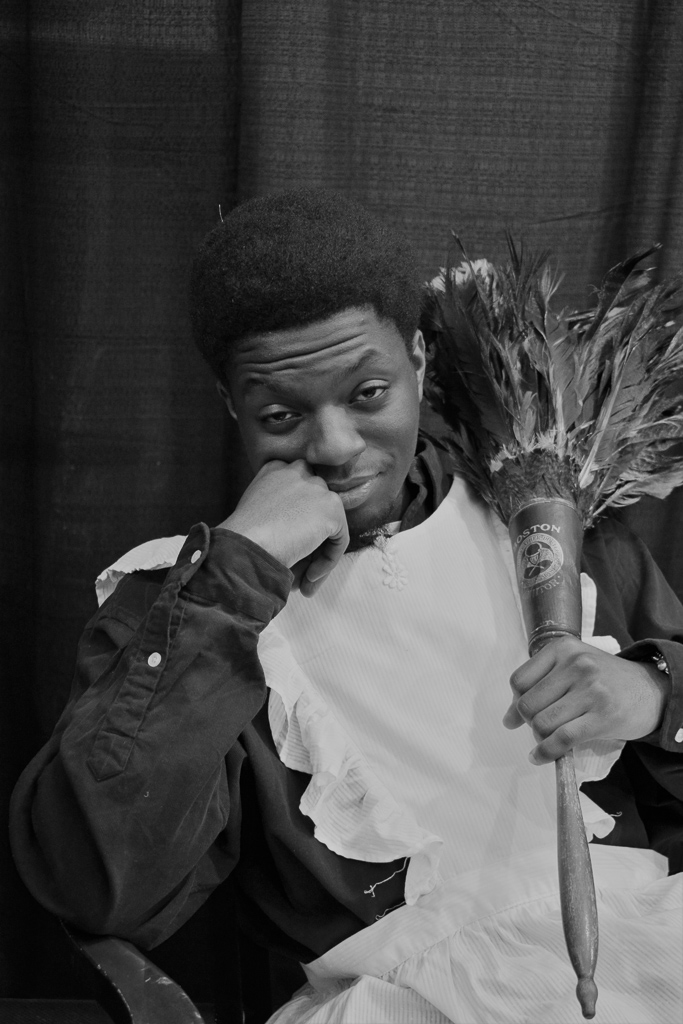 Ross Buttercup
Kevin Sharpe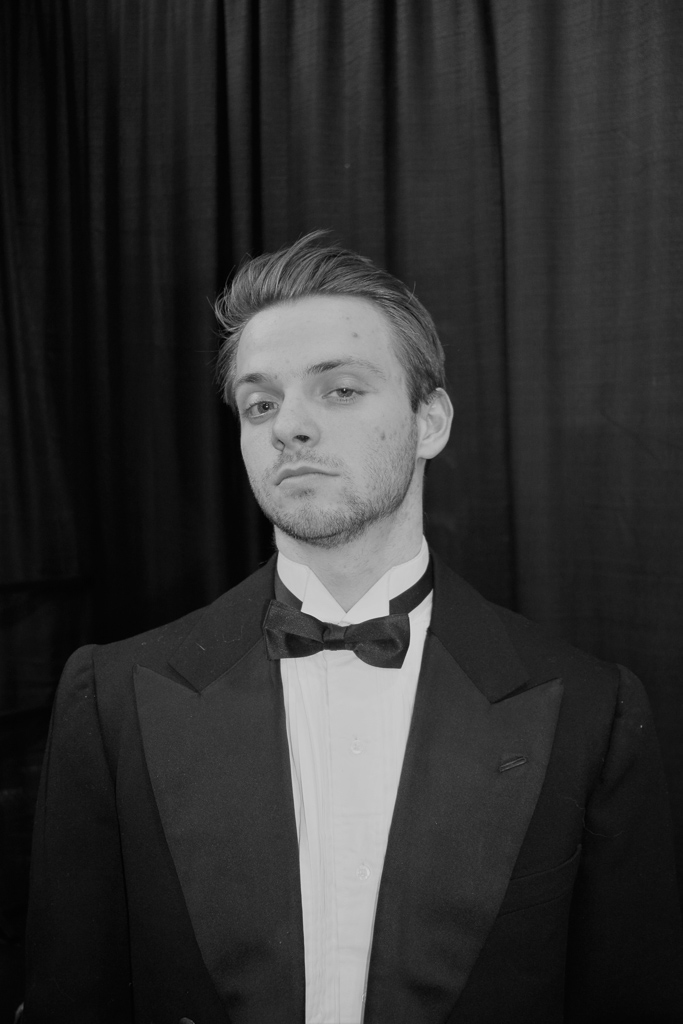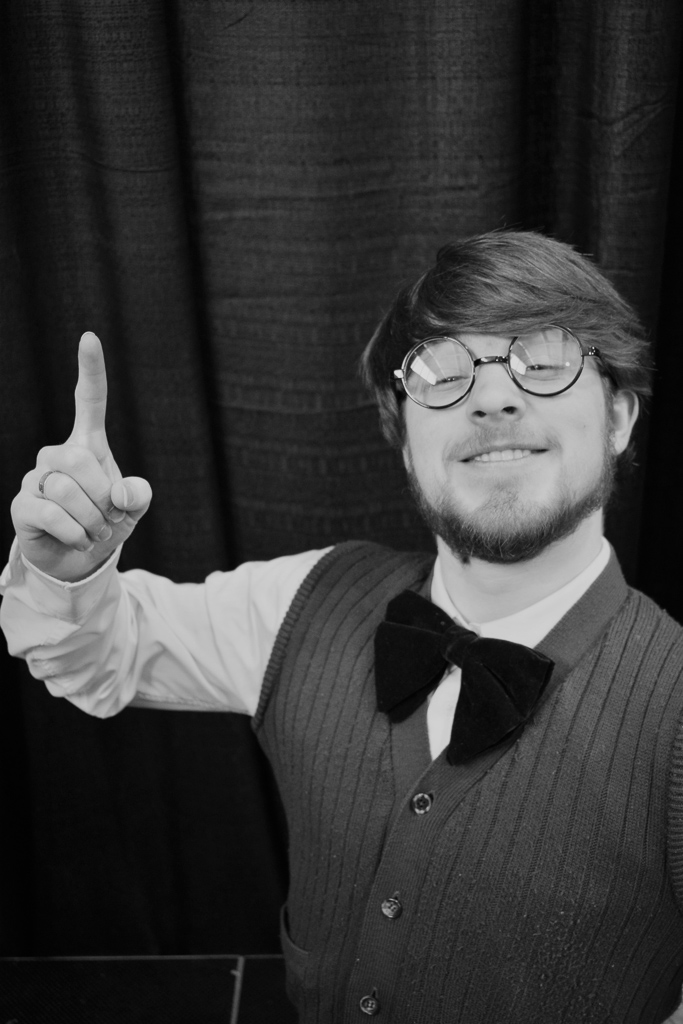 Officer Garfield
Michael Pierce
4 Ways To Share PVCA With Your Community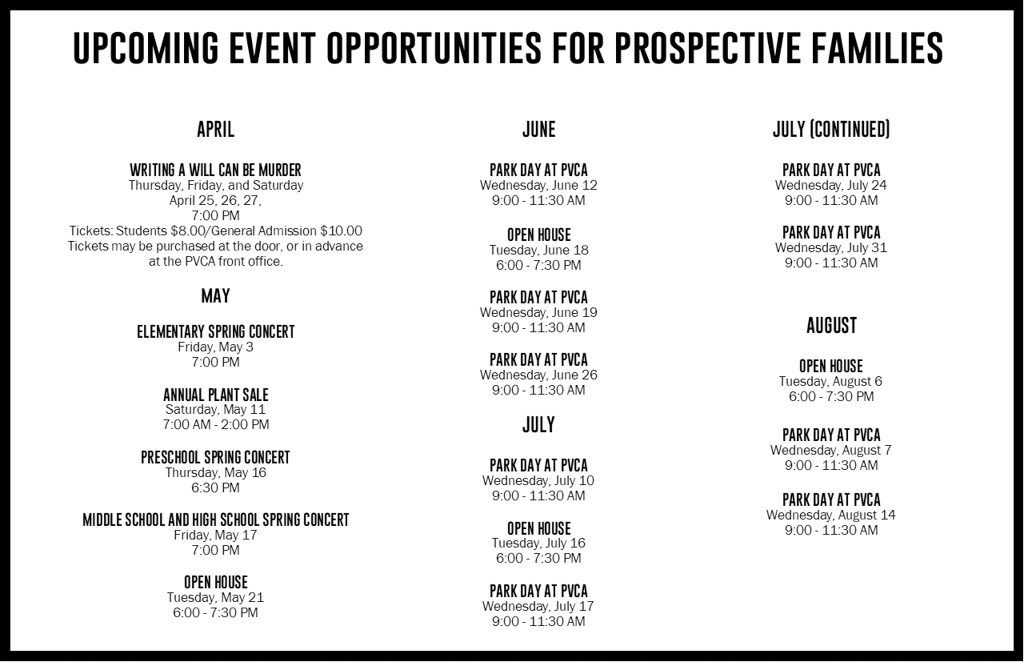 92% of people believe recommendations from friends.
A good word goes a long way.  Whether you are grabbing a cup of coffee in the work room or having coffee with a friend, take advantage of the few minutes and share why you are committed to Christian education.  
81% of people said they are influenced by what their friends share on social media.
"Like", "Share", and "Post" about PVCA on social media. PVCA utilizes Facebook and Instagram, and every day there is fresh content to "like", "share", and "post" about Pioneer Valley Christian Academy. Below are links to our social media pages.
72% of people get news from friends and family, making word-of-mouth the most popular channel for sharing.
Invite your family, friends, co-workers, and neighbors to PVCA events and fundraisers. Throughout the year, PVCA hosts several events open to the public. From the Father Daughter Royal Ball to the Annual Plant Sale, there is something for everyone.
79% of people trust testimonials and online reviews as much as personal recommendations.
Not a small talker? Well, consider submitting a testimonial. A written testimonial can be shared on the PVCA website, marketing post, or on social media. To submit a testimonial, Fill out the form below.
Invite a Friend to Experience the Difference
Who's Your One?
Who's your one? Can you think of one student in your family, neighborhood, or church that might like to experience, "A Day in the Life of a PVCA student?" Your student will be given an invitation for you to give to your family's ONE. 
Register Online
Encourage your guest to register online no later than the Monday prior to the day they would like to visit.
Bring a Friend to PVCA
Meet Your Friend
On the visitation day, remind your student to meet their friend at the PVCA front office. The guest will need to sign in at the front office. 
Be A Good Host
Encourage your son or daughter to be a student ambassador for Pioneer Valley Christian Academy. Remind them to speak positively about their school, and introduce their friend to their classmates.
Dismissal And Follow Up
At the 2:35 PM dismissal time,  the guest should be escorted by their friend to the front office.
Please make contact with the prospective family to follow up on the visit. This will give you an opportunity to answer questions.
Ask For Help
PVCA Admissions is open Monday through Friday between the hours of 8:00 AM – 4:00 PM. Denise Richards, Director of Admissions, is always available to answer any questions you may have. Prospective families can reach Denise Richards by calling the front office, 413.782.8031, or by emailing her at drichards@pvcama.org.
Resources to share with prospective families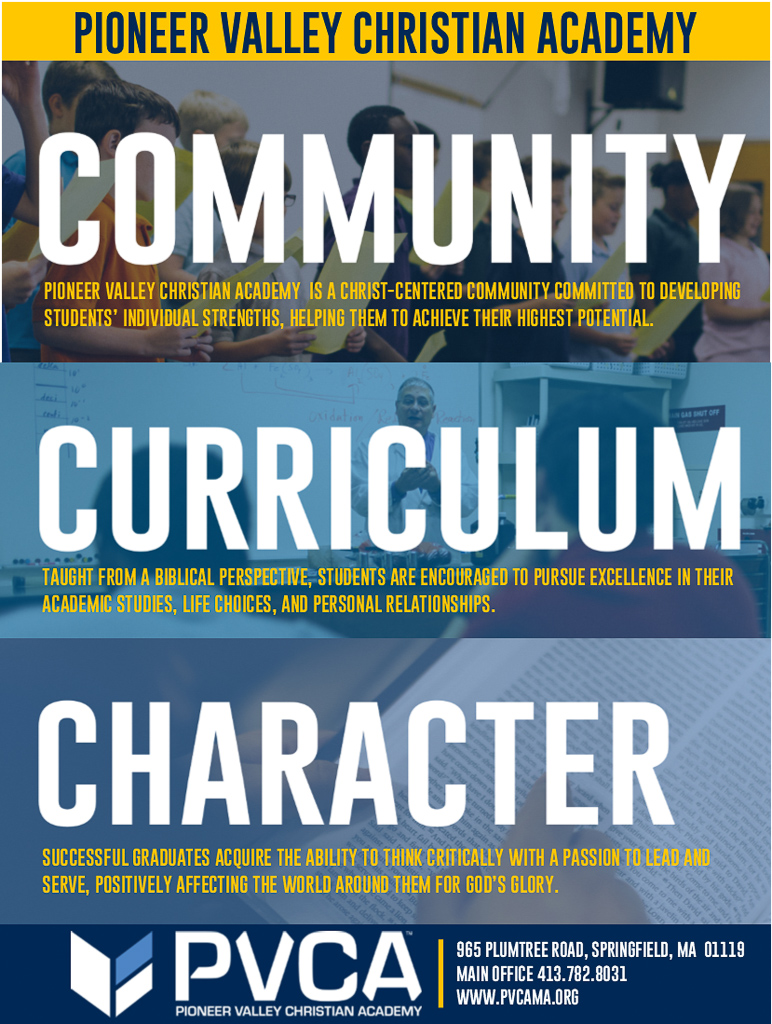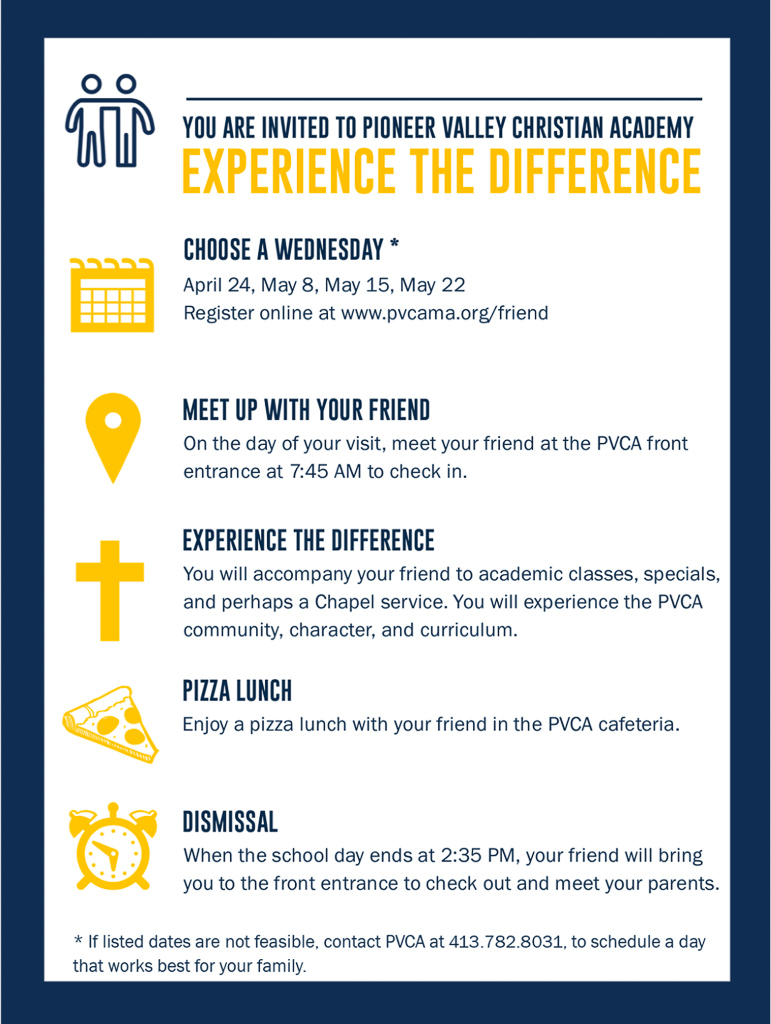 Ocean Habitat Trioramas
Second graders in Mrs. Feragne's class have been learning about different habitats during their science lessons. Most recently, students created a triorama displaying what they learned about ocean habitats. Watch the video of one student's explanation of her under the sea creation.
Mrs. Feragne's Class Visits Maple Star Farm
Second graders visited Maple Star Farm in Granville on Tuesday, March 26.  The students were intrigued as they listened to the speaker tell the history of how maple syrup was first discovered and the tedious process of heating it until it turned to a sweet amber colored syrup.  They then had the opportunity to tour the sugar shack and observe how different the heating process is today. The tour ended with a sampling of the delicious Maple Star Farm syrup poured over a bowl of vanilla ice cream.  
Seventh Graders Create and Explode Their Own Volcanoes
March Term
During the week of March 18 – 22, the high school students took classes from a wide-range of disciplines and perspectives.  The classes offered were Chess Strategies, History of War, T-Shirt Quilting, Stained Glass, Wood Burning, College Planning, Personal Finance, and SAT Prep. Some students had the opportunity to go on a ski trip while others went to New York City. Watch the slide show for a sampling of pictures from March Term 2019.
Creation Corner with Mr. Taft
Have you ever wondered how PVCA teachers integrate a Biblical Worldview into an academic lesson? Mr. Taft, high school science teacher, gives an example of faith integration through a lesson on chemical reaction. Watch the video to learn more.
Special guest, Anita Keagy, speaks to students in high school and middle school
Special guest, Anita Kaegy, spoke to the middle and high school students on Wednesday, March 27. She shared her powerful testimony with students and challenged them to take a twenty-one day journey to grow closer to God. Every student received the book of John, a bookmark, and a devotional notebook to record their thoughts and reflections.
Anita Kaegy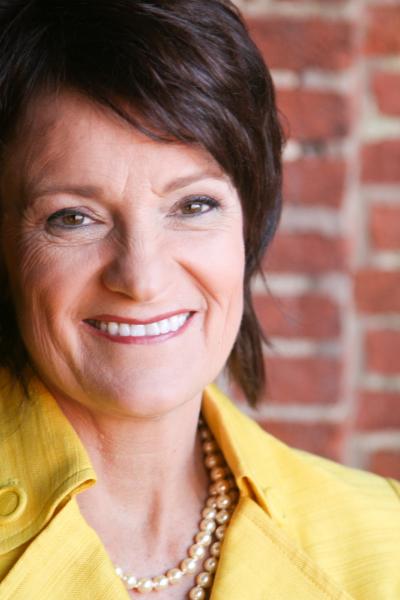 Anita Kaegy is the author of, "The File: A Mother and Child's Life-Changing Reunion." With a compelling story of how God used a very difficult situation in her life for His glory, Anita shares candidly how she became pregnant as a teenager – all the more "scandalous" because she was a preacher's daughter. She made the difficult choice to place her daughter for adoption. Although she never had the privilege to see or hold her child, Anita never stopped yearning to know her first-born daughter, even as she married and had four more children. Through a file of letters and the help of her adoption agency, Anita finally met her firstborn 21 years later. God used Anita's own desire to know her child to impress upon her how much He wants to know His children – us! With that knowledge, a ministry was born that is now thriving and impacting lives every day.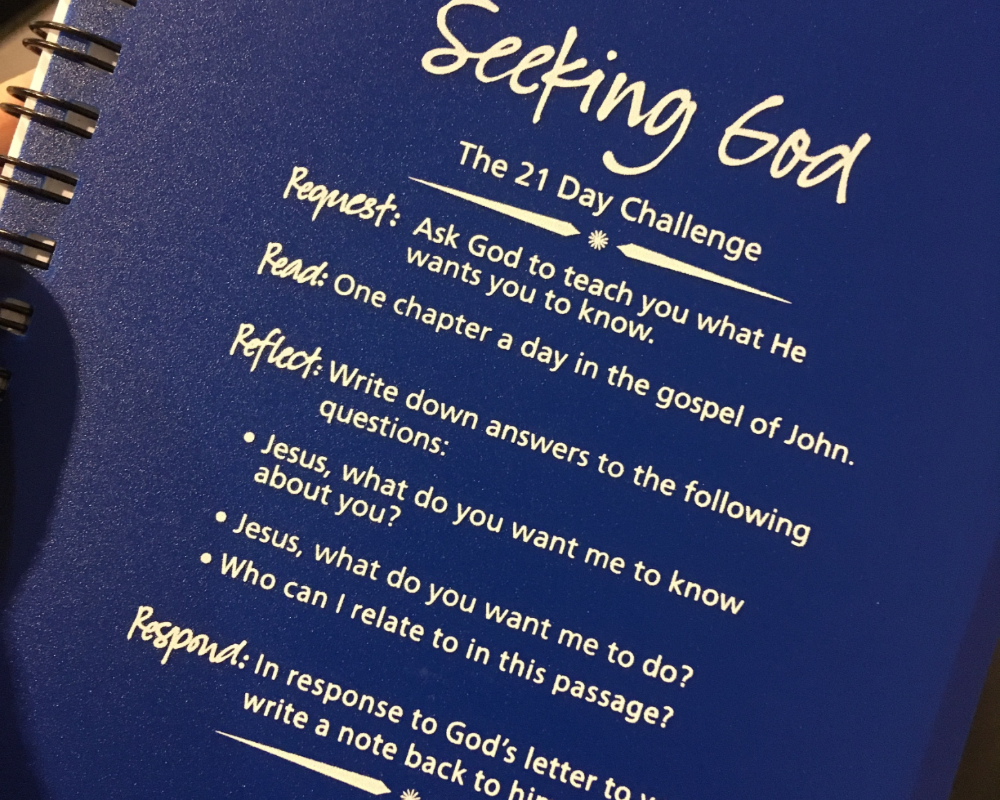 Elementary Chapel
Friday, April 12, 1:55 PM-Easter Chapel
Wednesday, April 17, No Chapel-Spring Vacation
Wednesday, April 24, 9:00 AM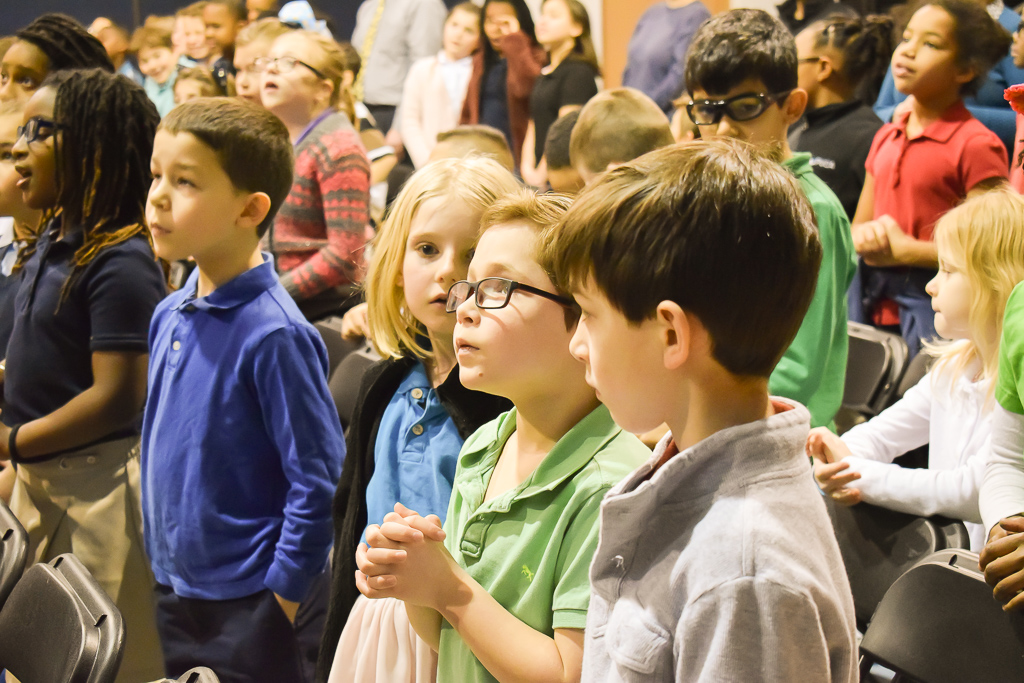 Middle School Chapel
Wednesday, April 12, 1:55 PM-Easter Chapel
Wednesday, April 17, No Chapel-Spring Vacation
Wednesday, April 24, 10:30 AM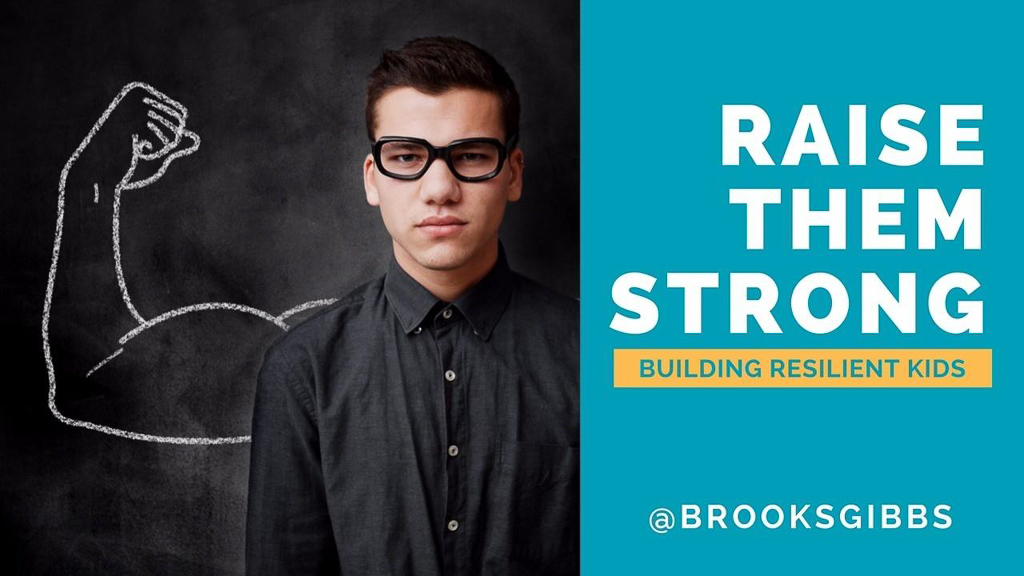 High School Spring Retreat
On Friday, April 5, all high school students participated in the 2019 PVCA Spring Retreat. Speaker, Joel Burgos, a PVCA alumnus, focused on perseverance and overcoming stress and pressure. Randy Smith from Ethnos 360, formerly New Tribes Missions,  spoke to the students regarding mission training and possible opportunities to serve.
High School Chapel
Friday, April 12, 1:55 PM-Easter Chapel
Wednesday, April 24, 8:05 AM Pastor Anthony Wirth (The City Church)
Thursday, May 2, 8:05 AM National Day of Prayer