PIONEER VALLEY CHRISTIAN ACADEMY
Parent Update-May 2019
The PVCA Annual Plant Sale
Saturday, May 11, 7:00 AM – 2:00 PM

100% of the proceeds benefit PVCA
Perfect Plants for your home, office, garden, and Mother's Day!
The Pioneer Valley Christian Academy Annual Plant Sale is the largest in
Western Massachusetts. It boasts over 10,000 high-quality plants. The 2019 Plant Sale features:
Hanging Baskets
Lush Patio Containers
Hardy Perennials
Vegetables and Herbs
Proven Winners and More
Fast, Easy Checkout Lines
Mrs. Murphy's Donuts and Chick-Fil-A
A Message From Your Headmaster
REMINDER: STUDENT ABSENCE POLICY
Please remember that parents are responsible to call the school on the day a student is absent.   Students are considered unexcused if there is no communication from a parent. An Absence Form, available online, must be submitted if an absence is preplanned.  This form should be completed and returned to the school at least two school days prior to the student being absent.
Advanced Placement Exams
High School
Advanced placement students will be taking their subject exams during the second and third week of May.
A Night In Paris
High School Prom
The junior class will host the second annual PVCA Prom at the Carriage House in West Springfield, on Friday, May 24.
Tickets will be sold individually and may be purchased from Mrs. Souza during school hours. 
2019 Commencement
High School
The 2019 Commencement will be held in the PVCA gymnasium on Friday, May 31, at 7:00 PM. 
<!=========Carousel View Template 2.3=========>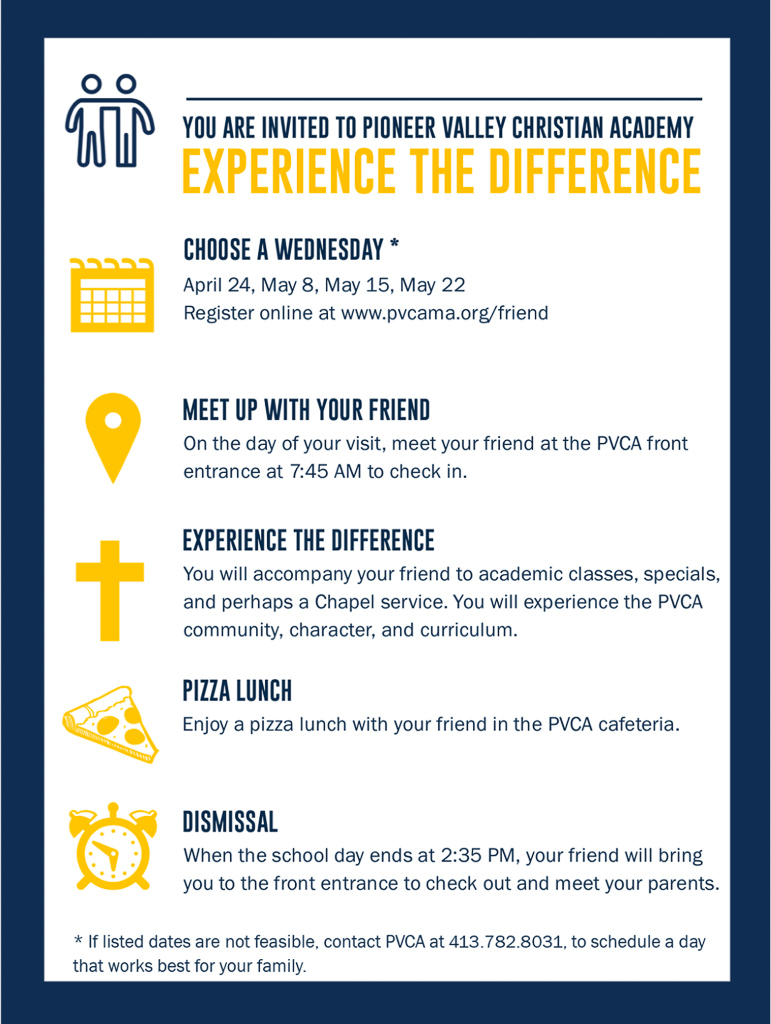 THANK YOU PVCA FAMILIES!
 The Who's Your One? Campaign is off to a great start. Open House in March boasted fourteen prospective families and April's Open House brought in an additional nine prospective families. 
The Advancement Team will be hosting two upcoming events: (1) Open House on Tuesday, May, 21 and (2) Bring A Friend Day on Wednesdays, May 8, 15, and 22. 
The ENROLLMENT GOAL IS 351 STUDENTS for the 2019-2020 Academic Year. Please consider sharing Pioneer Valley Christian Academy with just one family this spring or summer. For more information on the Who's Your One? Campaign, visit pvcama.org/wyo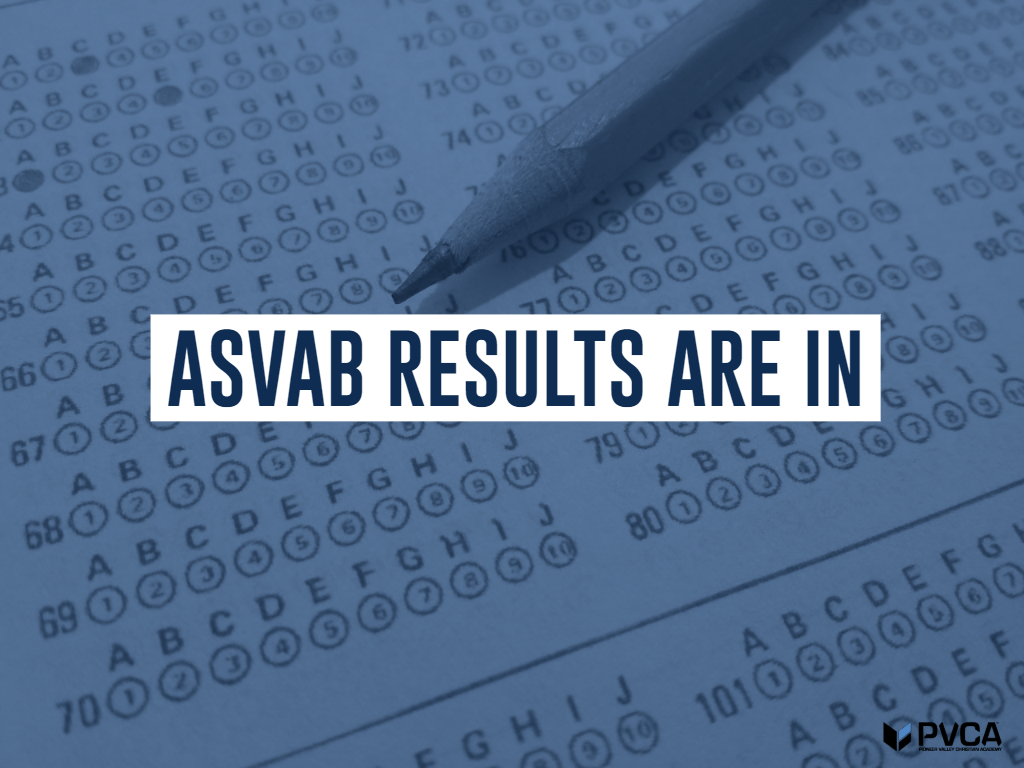 ATTENTION PARENTS OF JUNIORS

ASVAB RESULTS
Mrs. Jefson went over the ASVAB reports with the Juniors. Please ask your student about available information on the ASVAB website. The students received a copy of their scores and a booklet.
GEOGRAPHY AND MATH INCORPORATED IN GRADE FIVE SPANISH
Mrs. Aikman's fifth grade Spanish class is reading a Spanish novel, Las Aventuras de Isabela / Isabela's Adventures.  The main character, Isabela, traveled to Mexico where she visited a market and ate mango with chili powder and lime.  Mrs. Aikman brought in mangos, flavored with chili and lime, so the students could have the same cultural experience as Isabela. While some did not care for the flavor, the majority of the class enjoyed the spicy, sweet treat. The students created a graph comparing the students who liked the mango with chili and lime and those who did not care for the taste of Isabela's special flavored mango.  
Most impressive, the lesson was taught in 90% Spanish!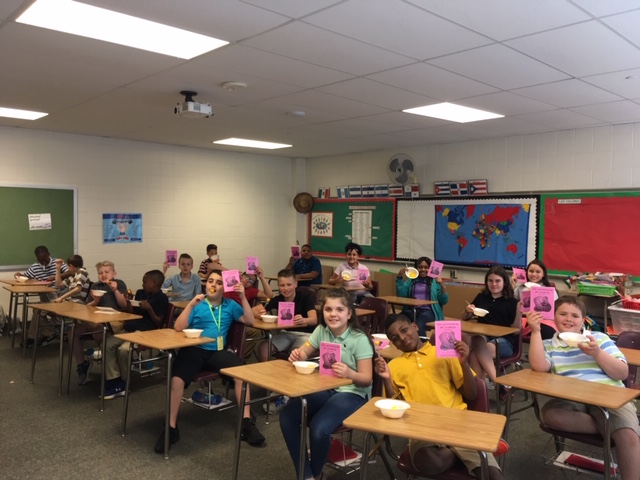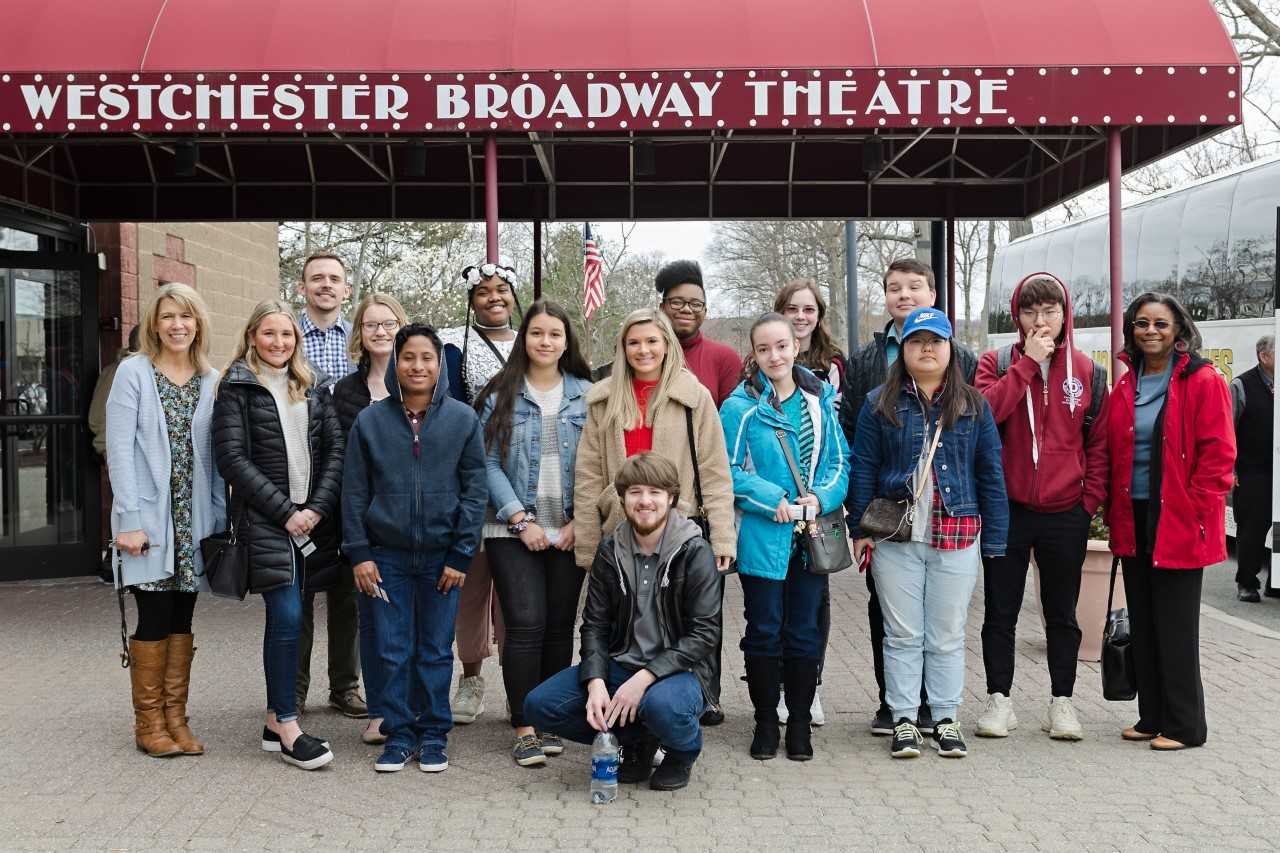 HIGH SCHOOL CHOIR
GOES TO NEW YORK CITY
Students in the  high school choir visited the Westchester Broadway Theater on Thursday, April 11, to see the musical Newsies.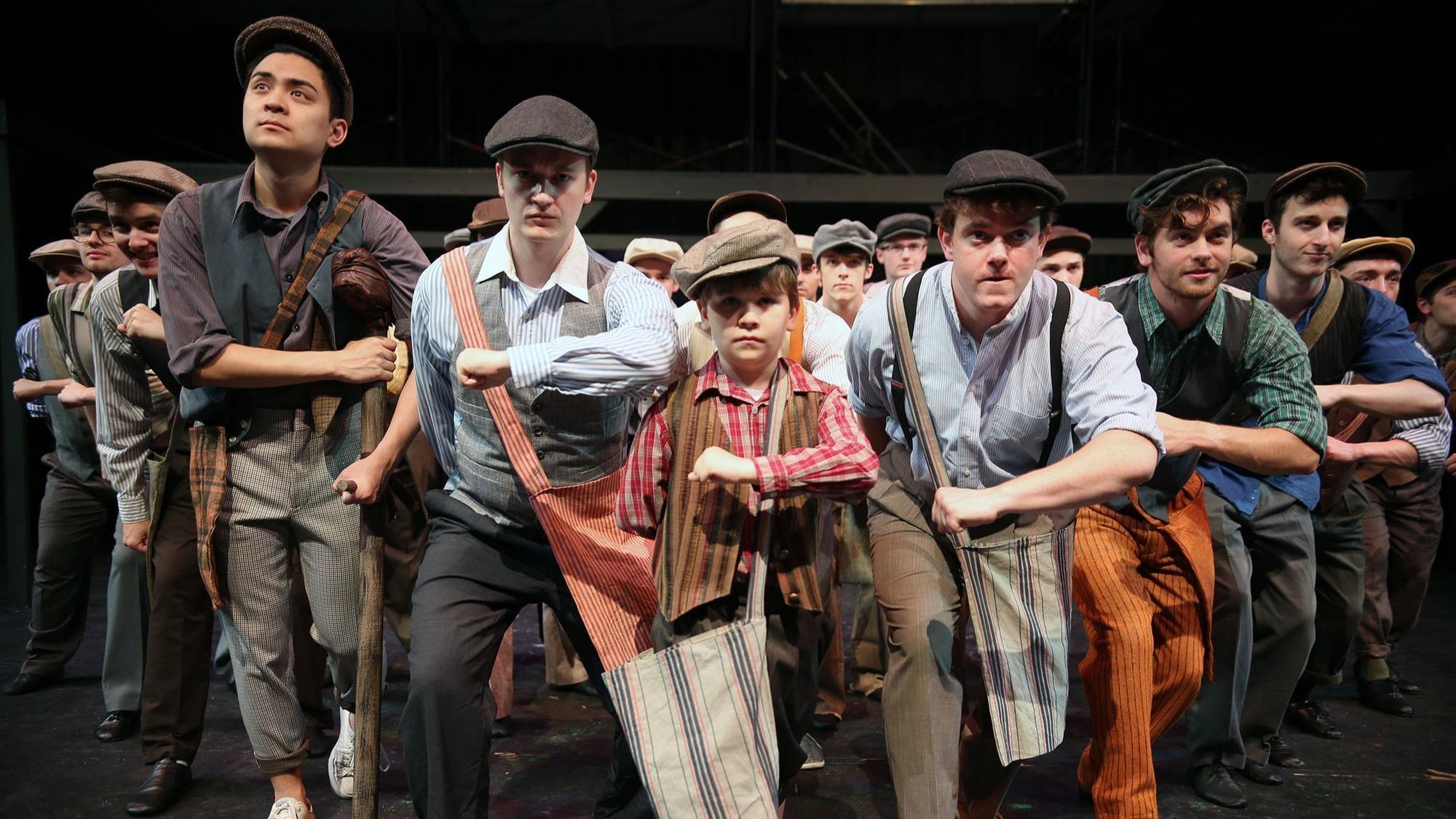 Creation Corner with Mr. Taft
National Day of Prayer
Thursday, May 2, 8:05 AM
Students in grades kindergarten through grade twelve observed the National Day of Prayer by attending a prayer focused chapel on Thursday, May 2. 
To learn more about the National Day of Prayer, click on the button below.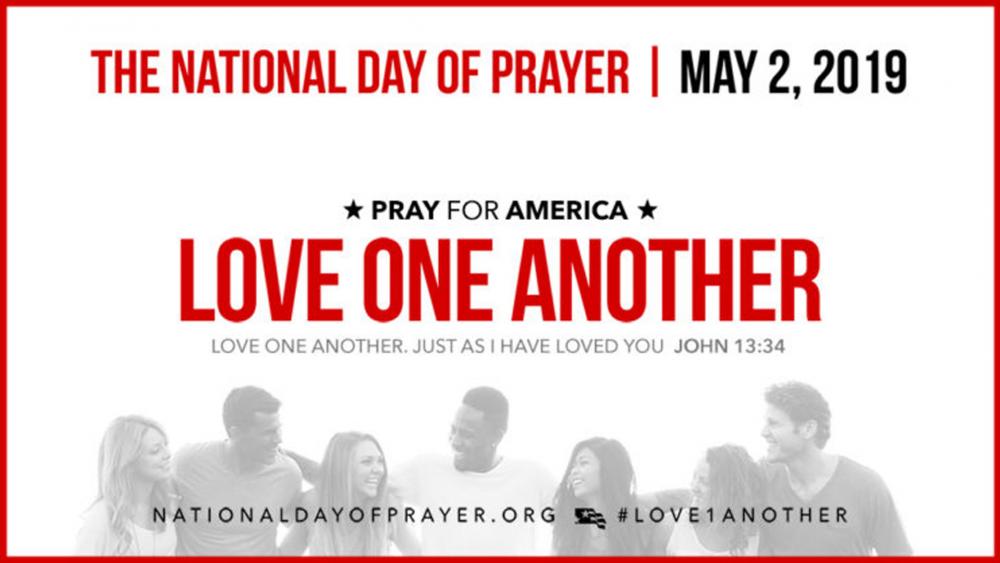 Wednesday, May 8, 9:00 AM
Matt Currier
Guest Speaker
God is Yahweh, Unchangeable
Nothing on this earth remains the same
Seasons change, years change, everything; except God
All things happen according to His unchangeable plans
God's name is "I AM," because He does no change
Because God is unchangeable, I can honor Him with my faithfulness (showing God and others that I am true to my words and promises.)
Wednesday, May 15, 9:00 AM
Becky Russell
Guest Speaker
God is Yahweh, Unchangeable
Nothing on this earth remains the same
Seasons change, years change, everything; except God
All things happen according to His unchangeable plans
God's name is "I AM," because He does no change
Because God is unchangeable, I can honor Him with my faithfulness (showing God and others that I am true to my words and promises.)
Wednesday, May 22, 9:00 AM
Rodney Shively
Guest Speaker
God is Yahweh, Unchangeable
Nothing on this earth remains the same
Seasons change, years change, everything; except God
All things happen according to His unchangeable plans
God's name is "I AM," because He does no change
Because God is unchangeable, I can honor Him with my faithfulness (showing God and others that I am true to my words and promises.)
Wednesday, May 29, 9:00 AM
Praise and Worship Chapel
Grade One
God is Yahweh, Unchangeable
Nothing on this earth remains the same
Seasons change, years change, everything; except God
All things happen according to His unchangeable plans
God's name is "I AM," because He does no change
Because God is unchangeable, I can honor Him with my faithfulness (showing God and others that I am true to my words and promises.)
Friday, June 7, 10:45 AM
End of the School Year Chapel
Wednesday, May 8, 10:08 AM
Pastor Mike Sorcinelli
Guest Spearker
Wednesday, May 15, 10:08 AM
Memorial Day Chapel
Eric Refsnider
Guest Speaker
Wednesday, May 22, 10:08 AM
Wednesday, May 29, 10:08 AM
Rodney Shively
Guest Speaker
Wednesday, June 5, 10:08 AM
Wednesday, May 8, 8:05 AM
Wednesday, May 15, 8:05 AM
Wednesday, May 22, 8:05 AM
Wednesday, May 29, 8:05 AM
Headmaster Timothy Duff
Guest Speaker