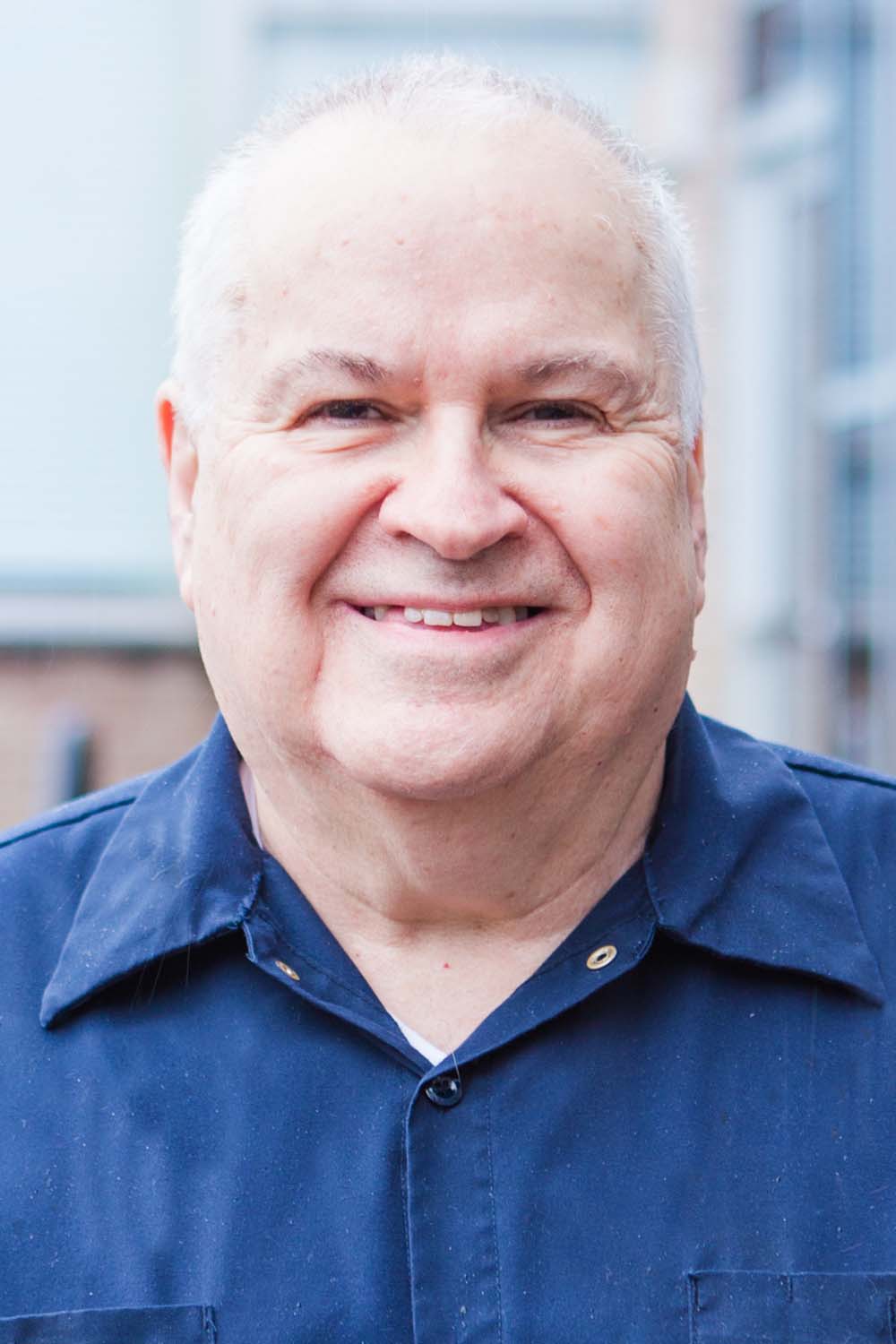 Ken Gouthro, known to the PVCA community as, "Mr. G,"  went home to be with the Lord on February 14. His services will be held at the Wilbraham Funeral Hom on March 5, 2:00-4:00 PM.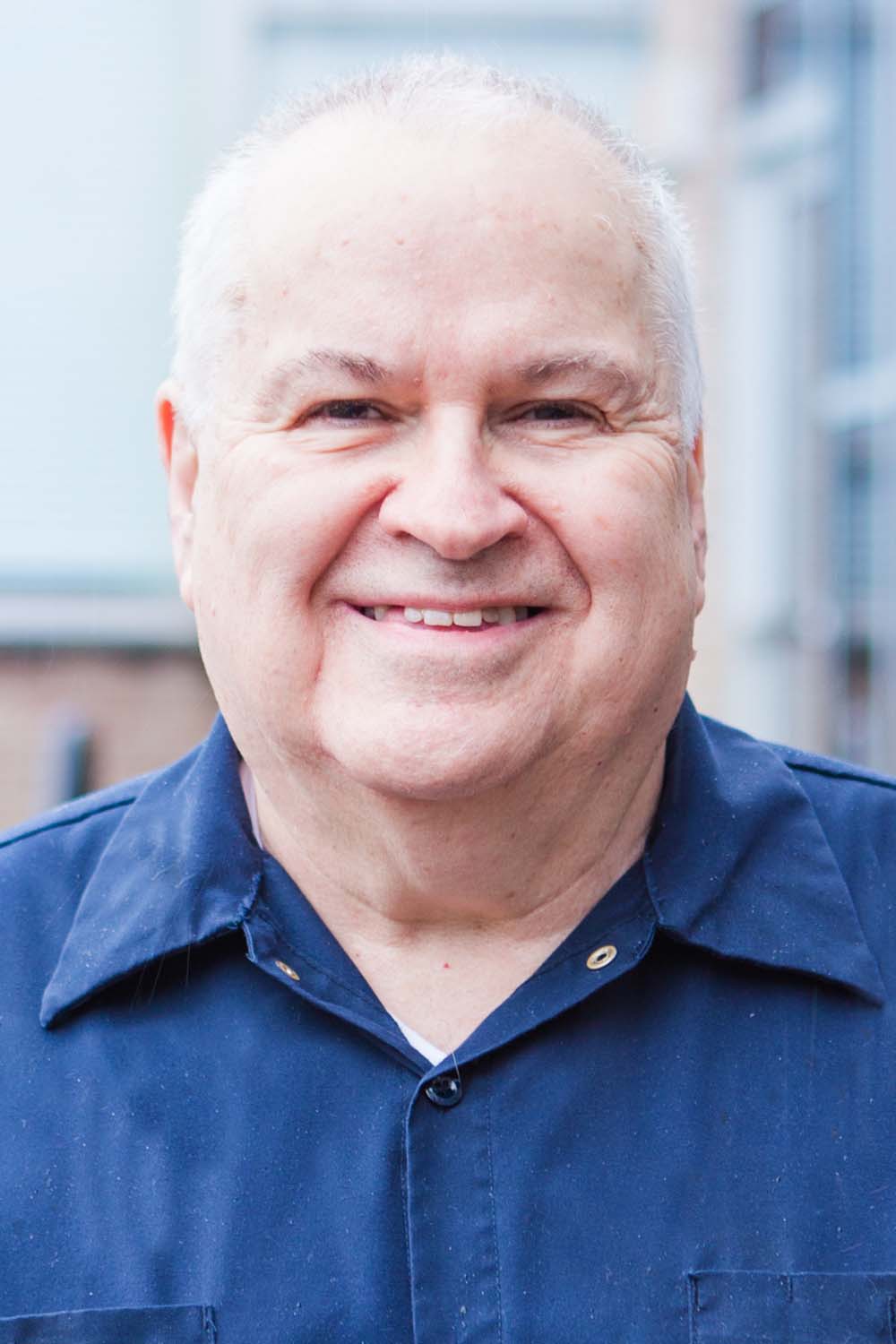 Ken Gouthro, known to the PVCA community as, "Mr. G,"  went home to be with the Lord on February 14. His services will be held at the Wilbraham Funeral Hom on March 5, 2:00-4:00 PM.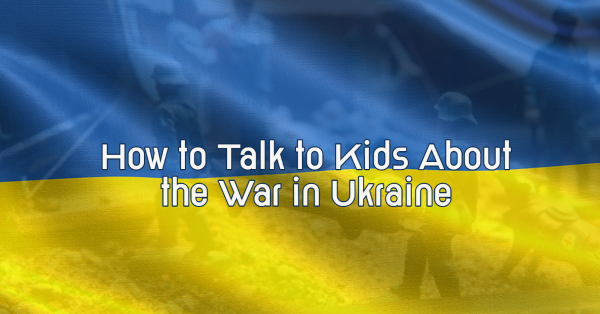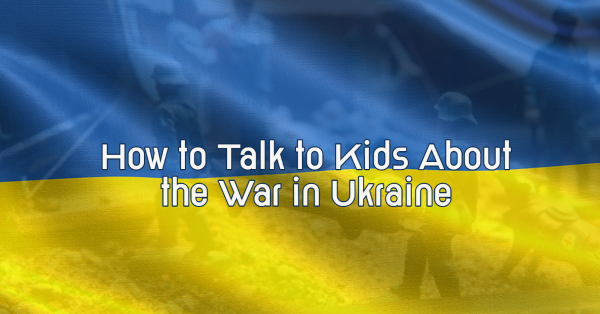 Click on the graphic above to read the above article,
"How to Talk to Kids About the War in Ukraine,"
by Justin Whitmel Earley.
Prayer for Ukraine
God of peace and justice, we pray for the people of Ukraine today.
We pray for peace and the laying down of weapons.
We pray for all those who fear for tomorrow,
that your Spirit of comfort would draw near to them. 
We pray for those with power over war or peace,
for wisdom, discernment and compassion to guide their decisions.
Above all, we pray for all your precious children, at risk and in fear,
that you would hold and protect them.
We pray in the name of Jesus, the Prince of Peace.
Amen.
CONGRATULATIONS NATIONAL JUNIOR HONOR SOCIETY 2022 INDUCTEES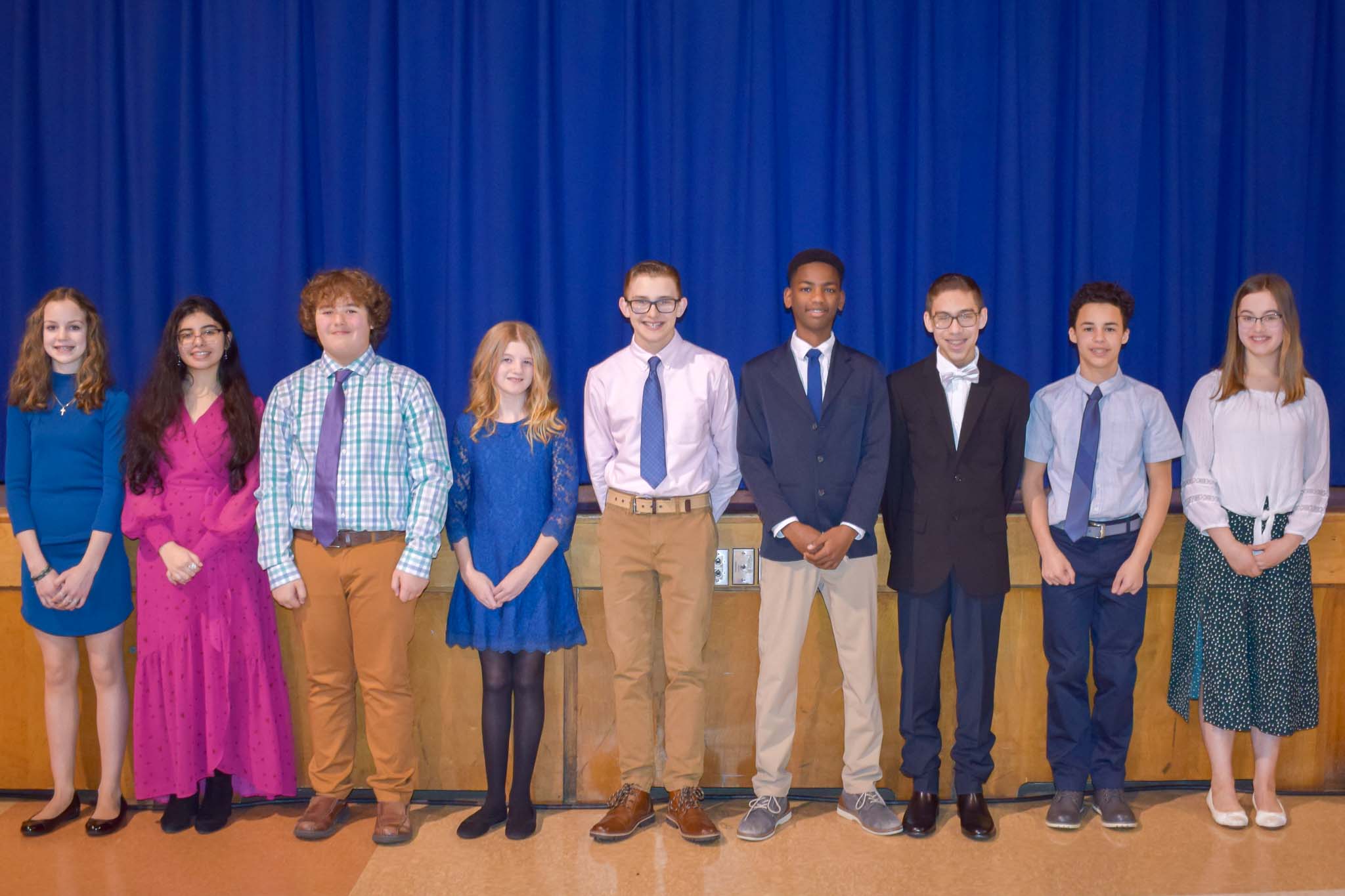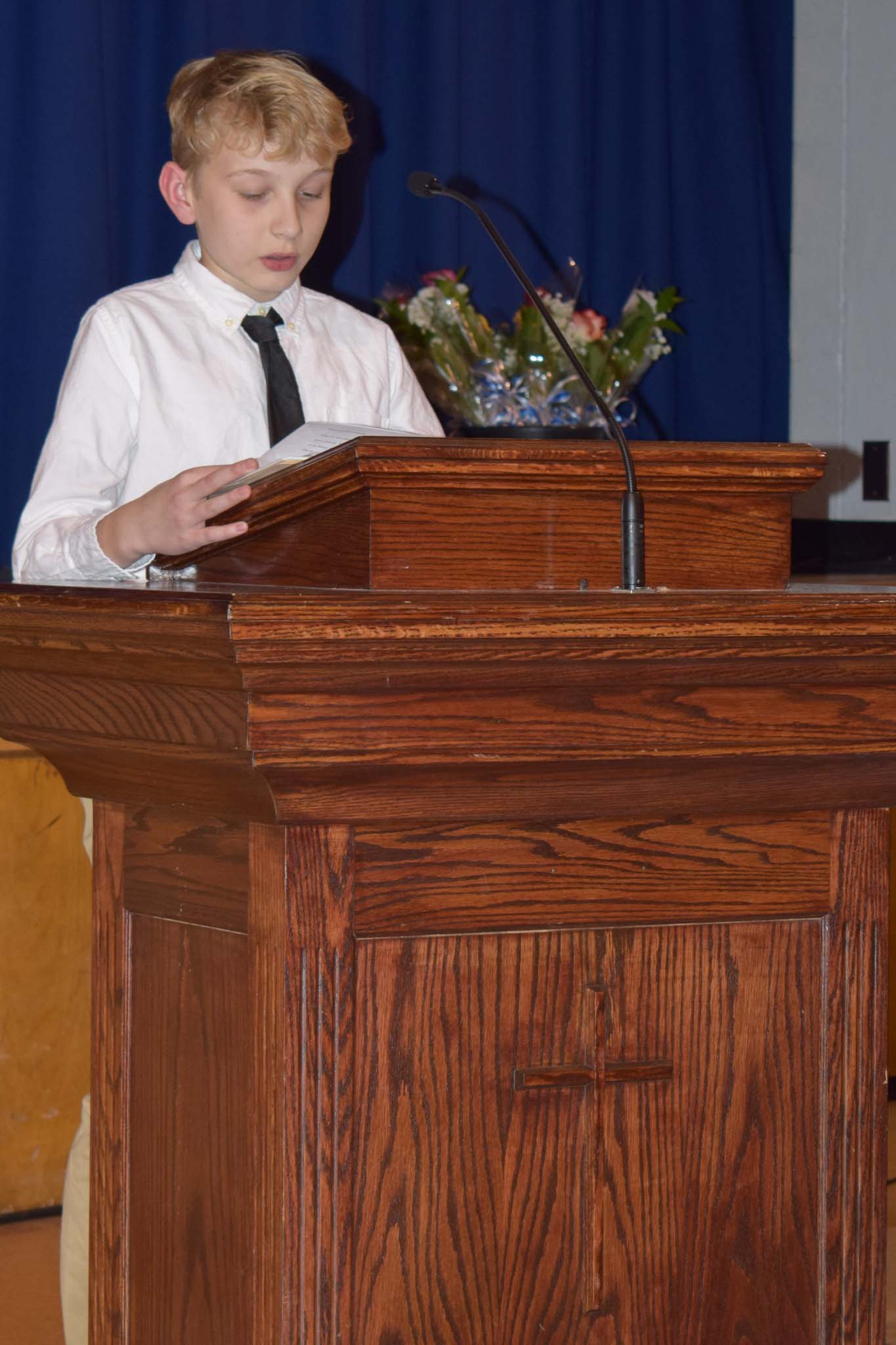 "While school teaches us knowledge, wisdom cannot be taught. Proverbs 2:6 says, 'For the Lord gives wisdom, from His mouth comes knowledge and understanding.' You could read every single book in the library and your wisdom would not increase. Wisdom comes from the fear of God. So, in order to be wise, you must first fear God in the correct way. You have to understand that He is almighty and has the power to move mountains."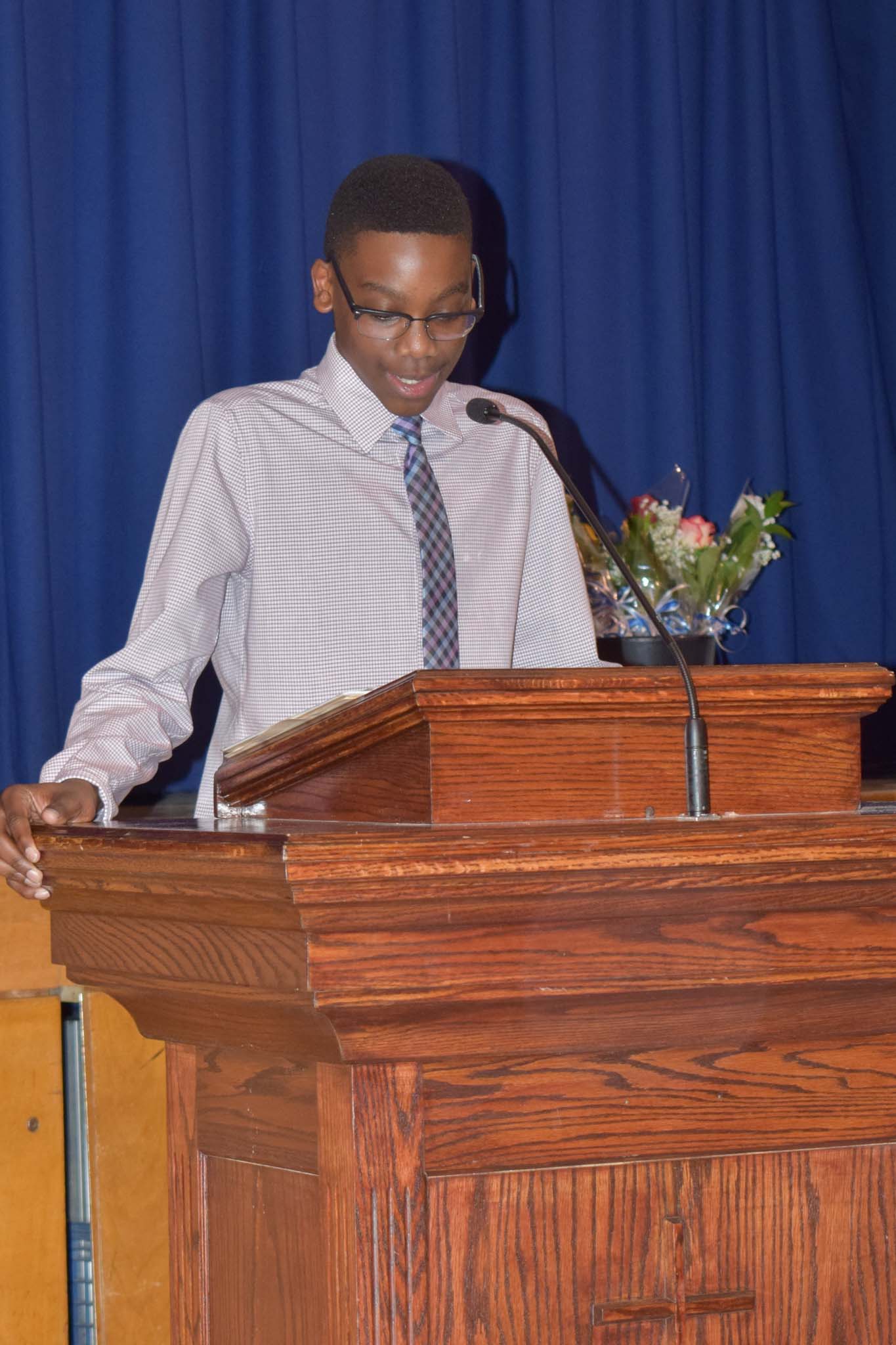 "A citizen's objective should be to serve his or her community. Someone who shows good citizenship does their best to serve the Lord in all they do and is kind to their peers. Martin Luther King, Jr. once said, 'The time is always right to do right.' What I think Dr. King meant is there is not a specific time to do right. You should do right all the time, even when others are not looking."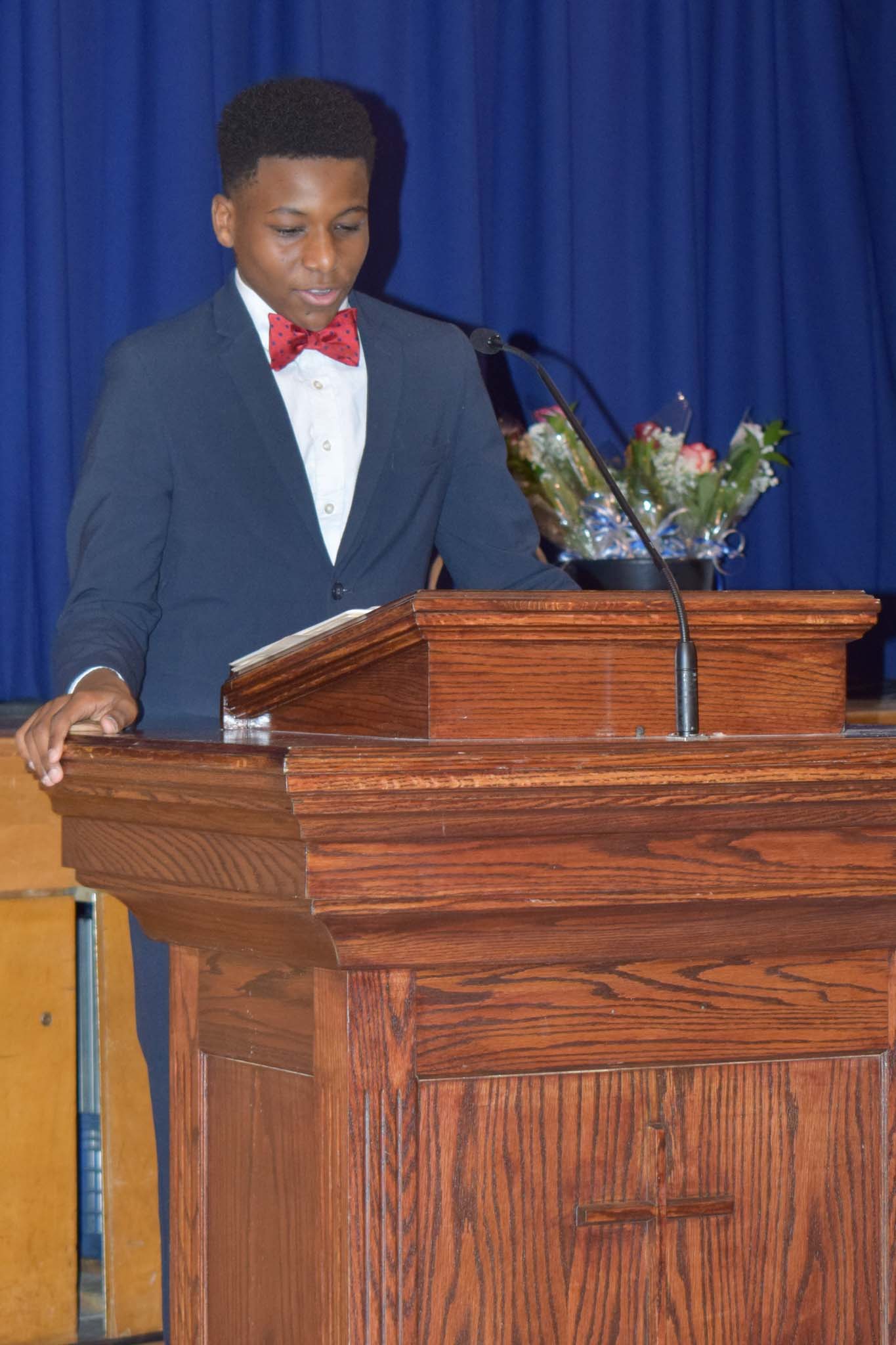 "Benjamin Franklin made himself look like a fool standing in the middle of a thunderstorm willing to be electrocuted, holding his kite and key. Humiliation did not stop him from acheiving his goal; Franklin was a scholar. As a middle school scholar, this will not be easy. You will have to be able to take criticim, constructive or not. You will have to accept that others may be smarter, or more successful, than you are, but you cannot let that stop you. These people can bring you closer to achieving goals of your own."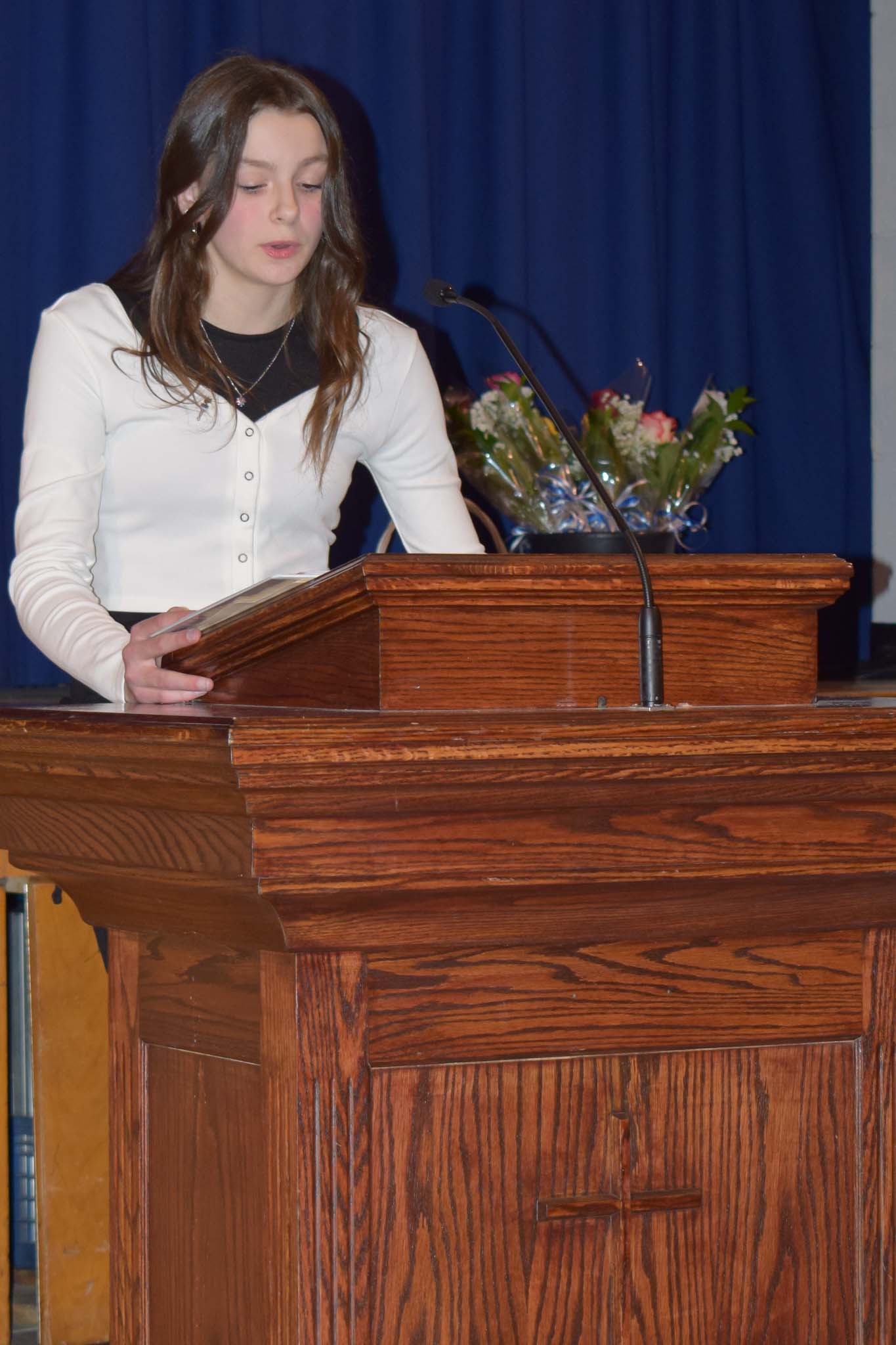 "As true followers of Jesus we must serve others. Service is the act of helping others who need assistance. Jesus displayed His service on earth as an example for how His followers must act. He performed a number of miracles helping others when in need. When people ask how to inherit eternal life, Jesus explains that the two key points are loving God and loving your neighbor as yourself."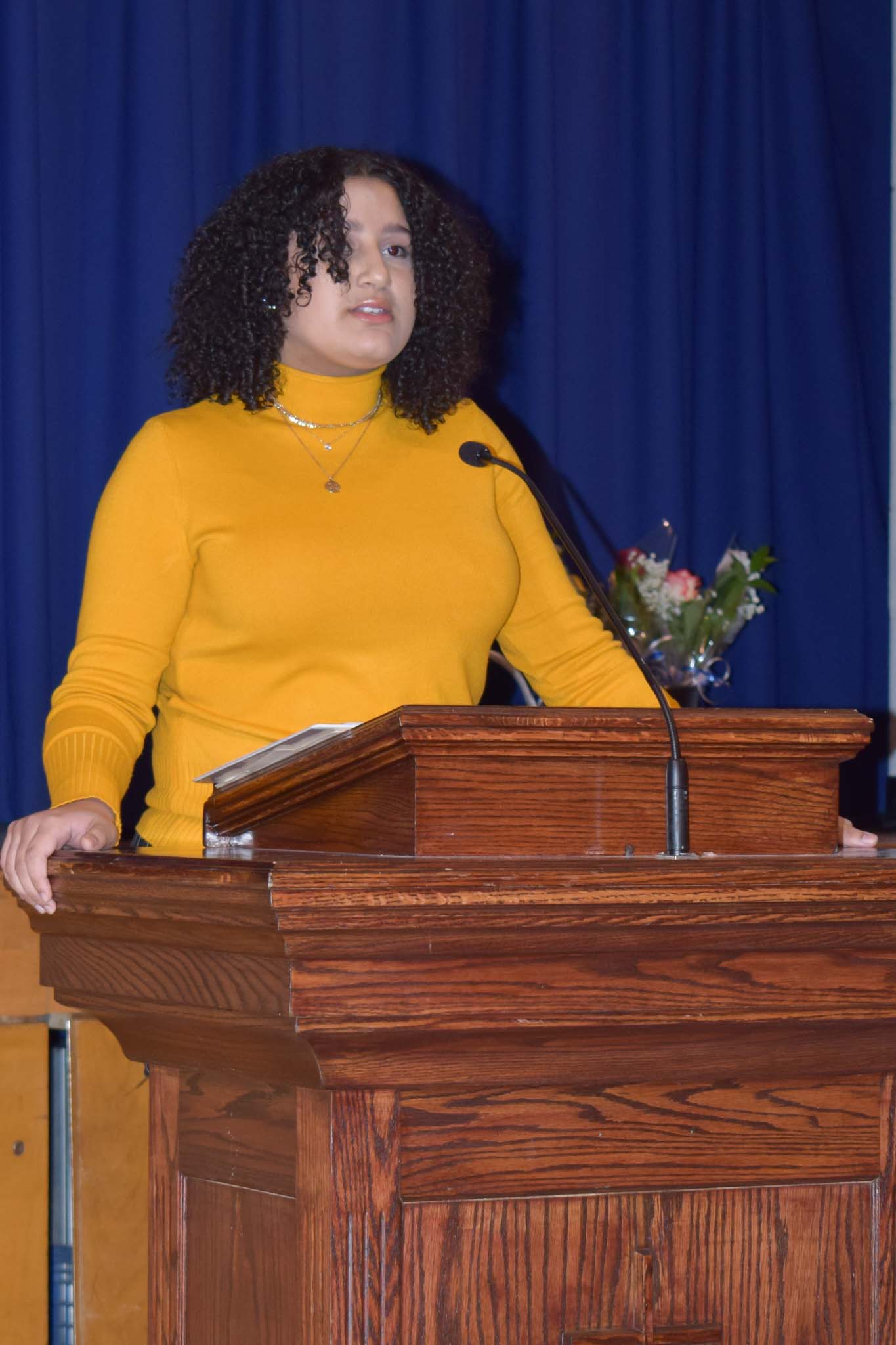 "God calls us to be salt and light of the world. Matthew 5:14 states, 'You are the light of the world. A city set on a hill cannot be hidden.' We, as children of God, should be different compared to others; leading others to show the fruits of the spirit. The famous football coach, Vince Lombardi, once said, 'Leaders aren't born, they are made.' Leaders choose to be who they are. To be a leader, you have to care for others and not be selfish. As a leader, you are called to inspire others."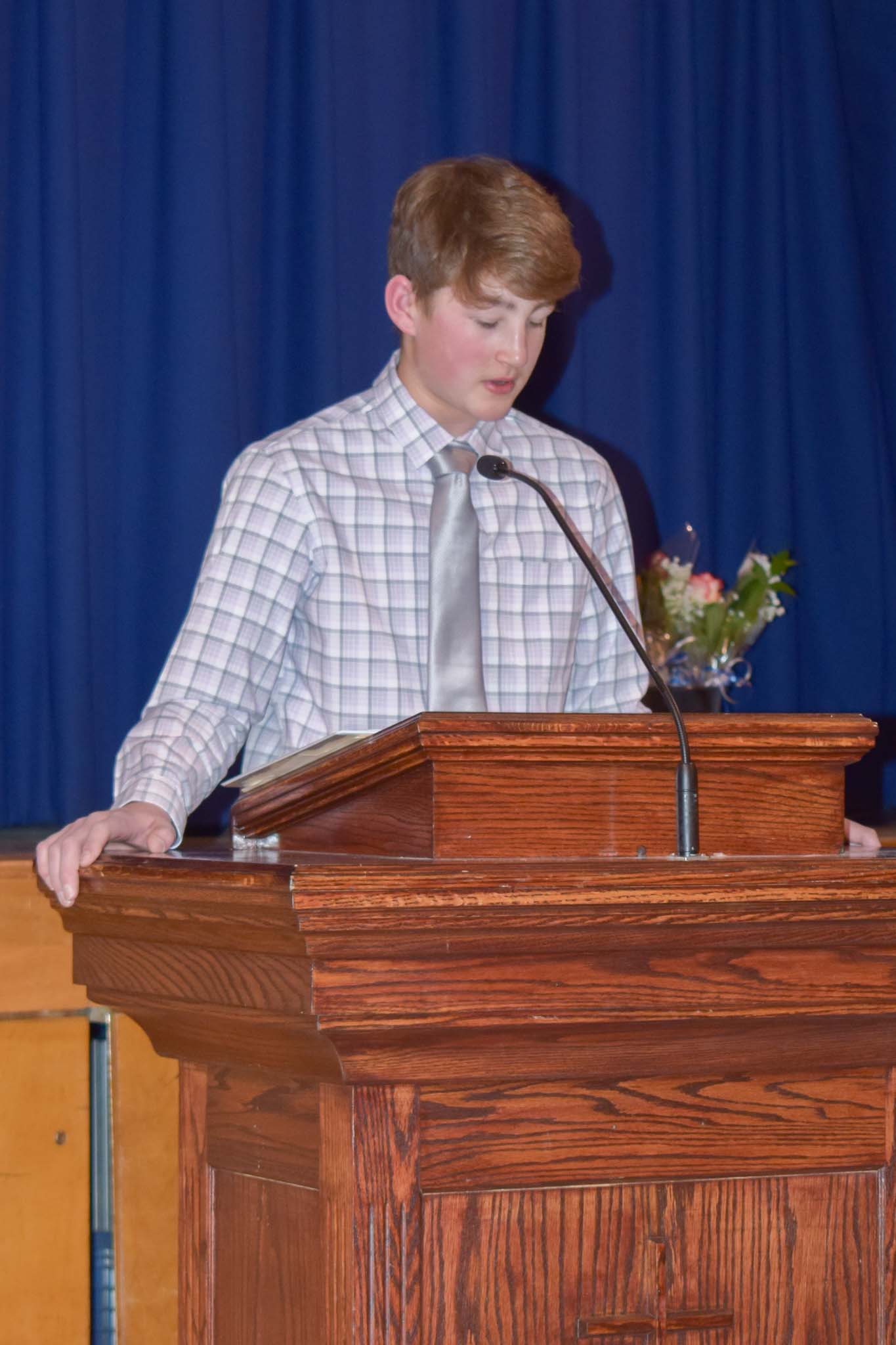 "A quote I live by and encourage the inductees to live by is, 'Character is hard to acquire, but is easily destroyed.' The importance of the quote is that trustworthiness is necessary to create a person of good character, but hard to regain. In the Bible, God states clearly in Proverbs 3:5-6, 'Trust in the Lord with all your heart and do not lean on your own understanding. In all your ways acknowledge Him, and He will make straight your paths.' This is the type of trustworthiness that God is talking about, putting your faith in Him and trusting in Him with all your heart that He will do what He says He will do."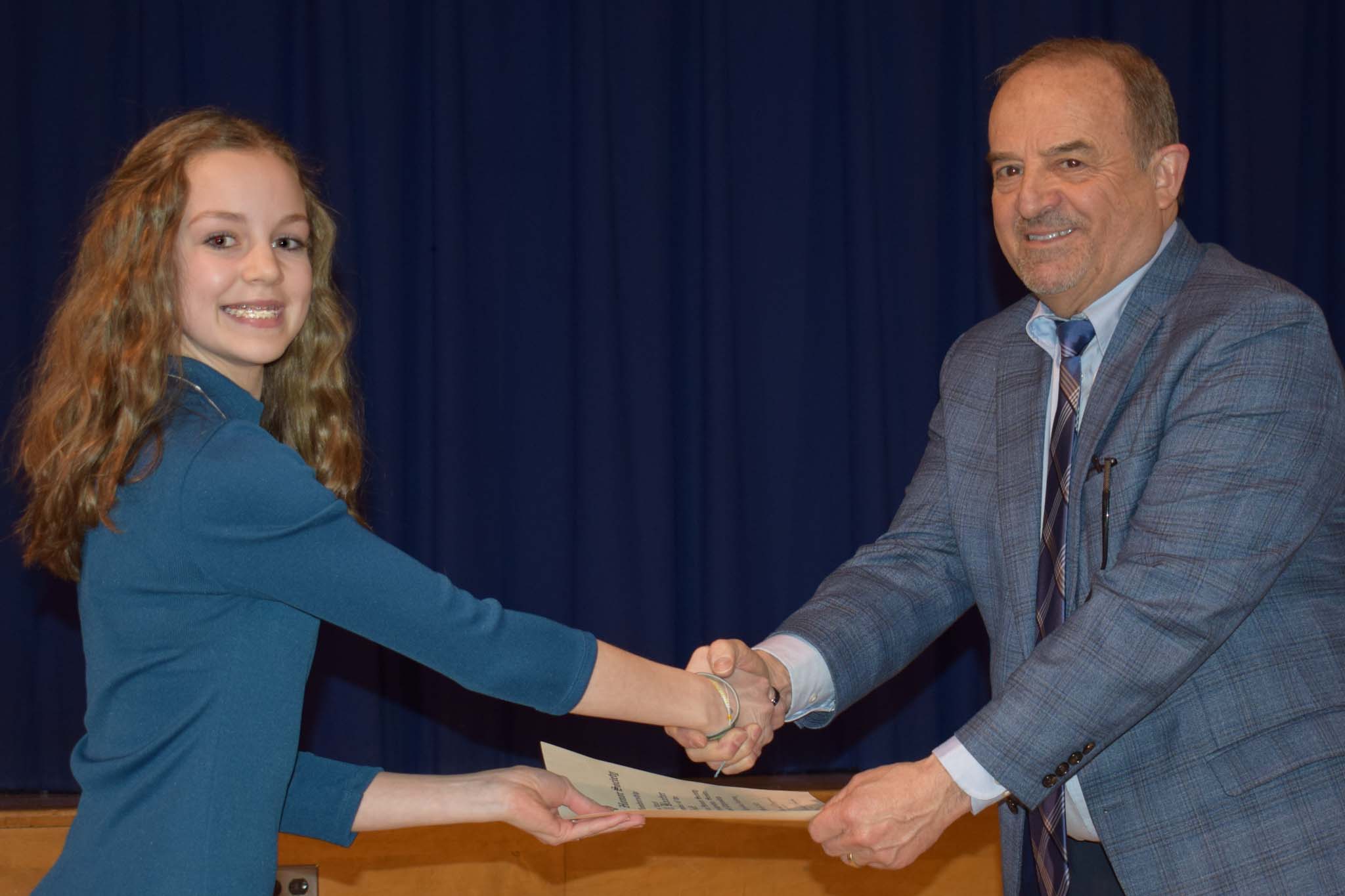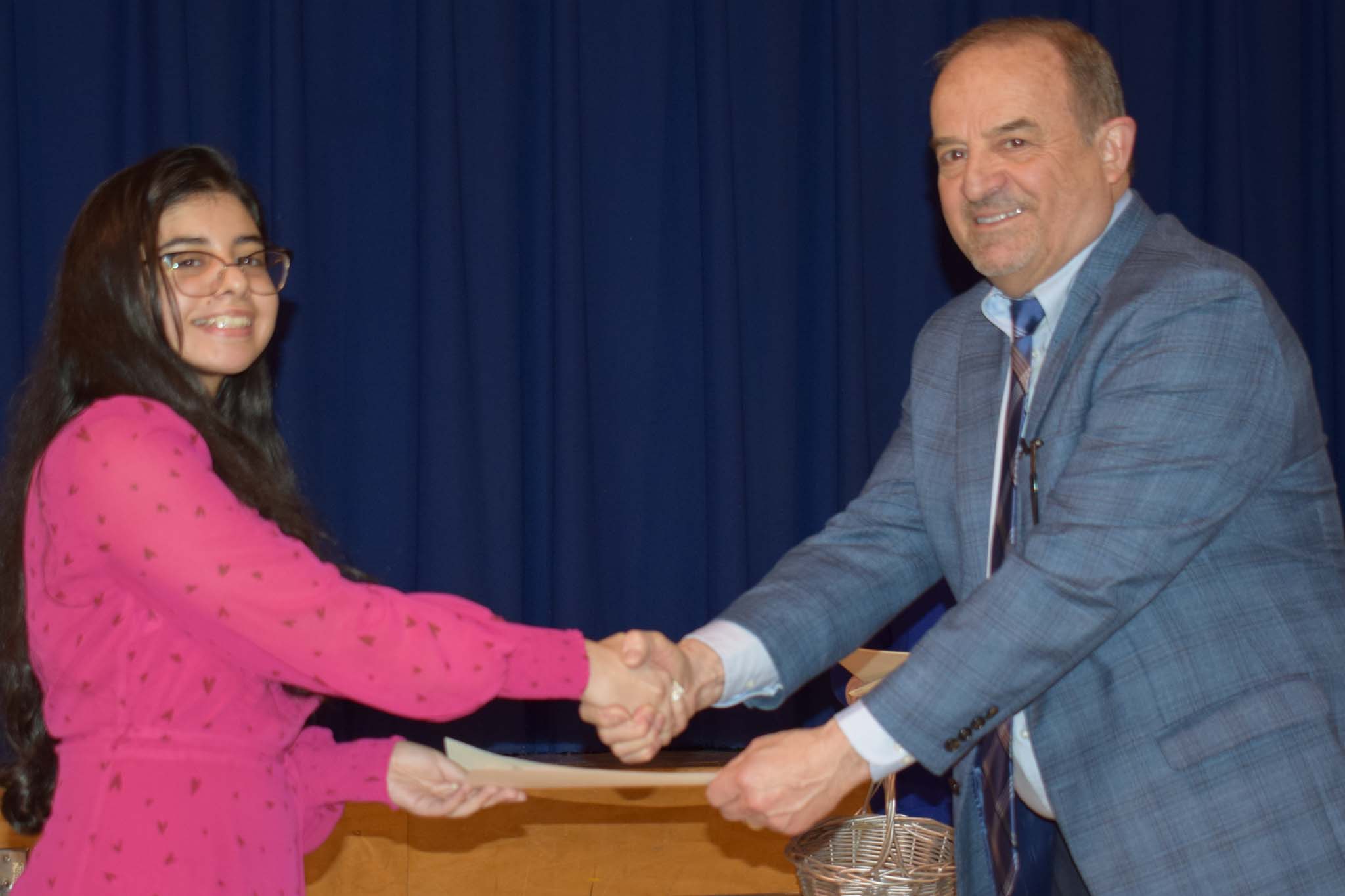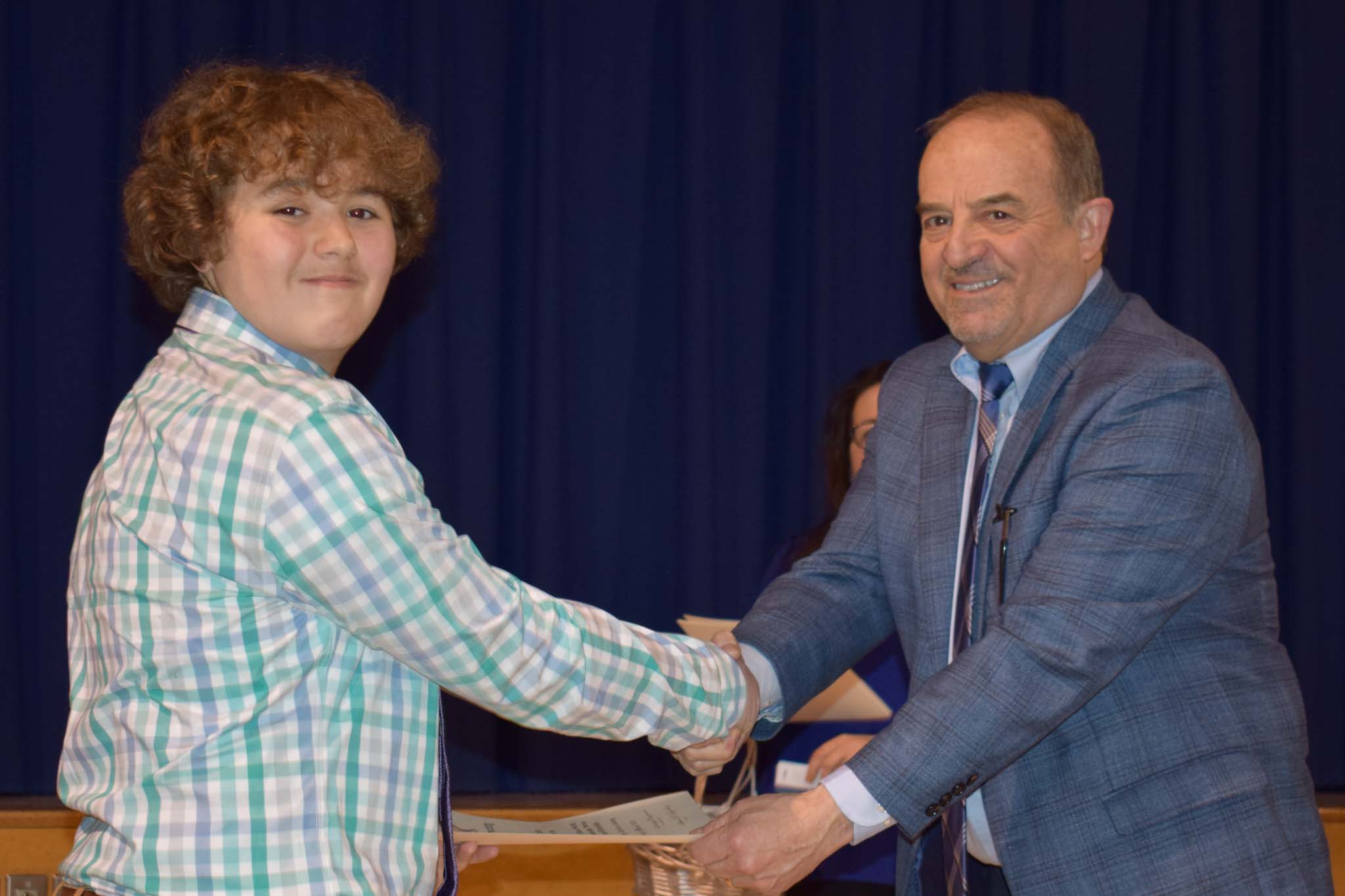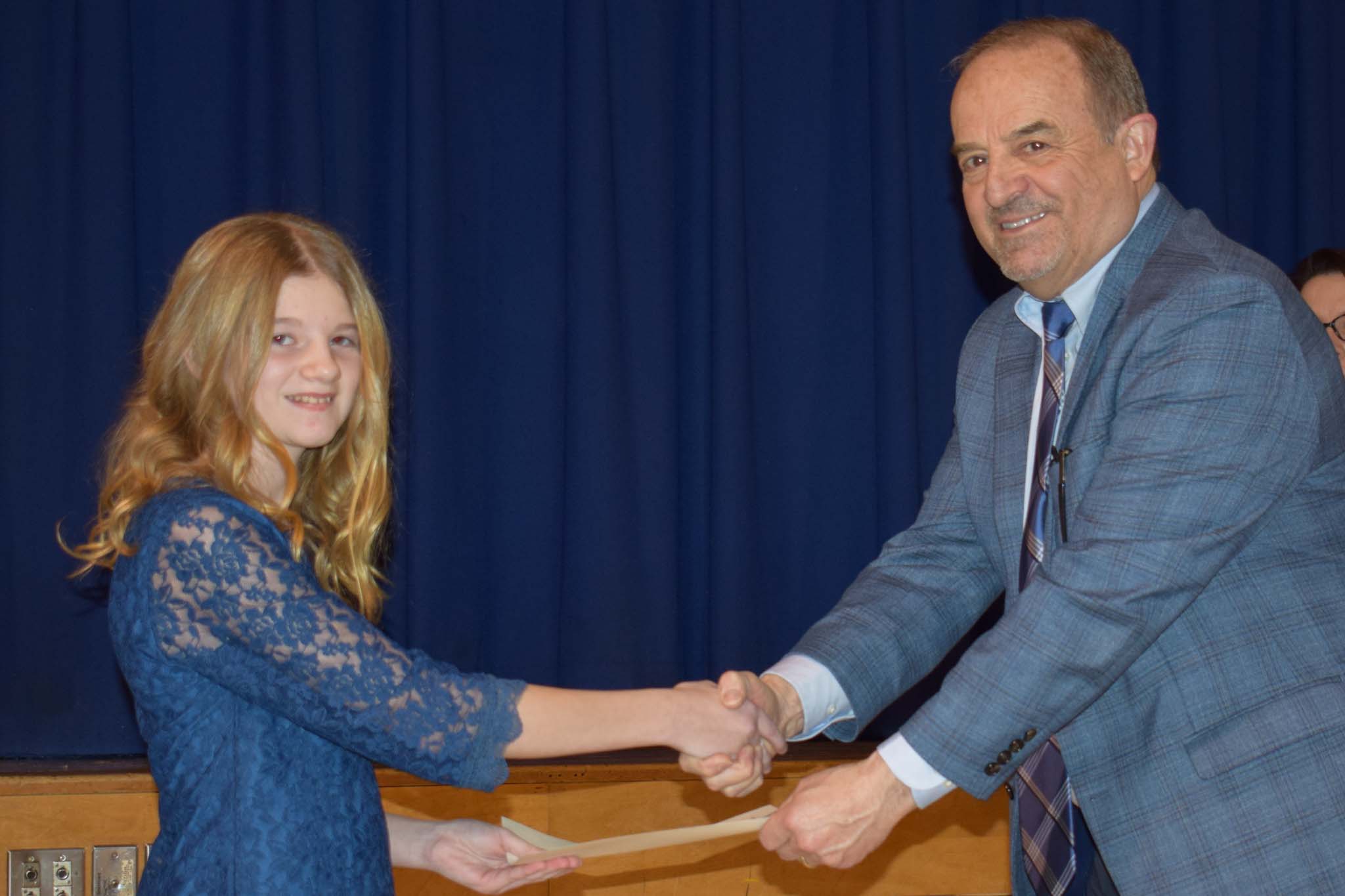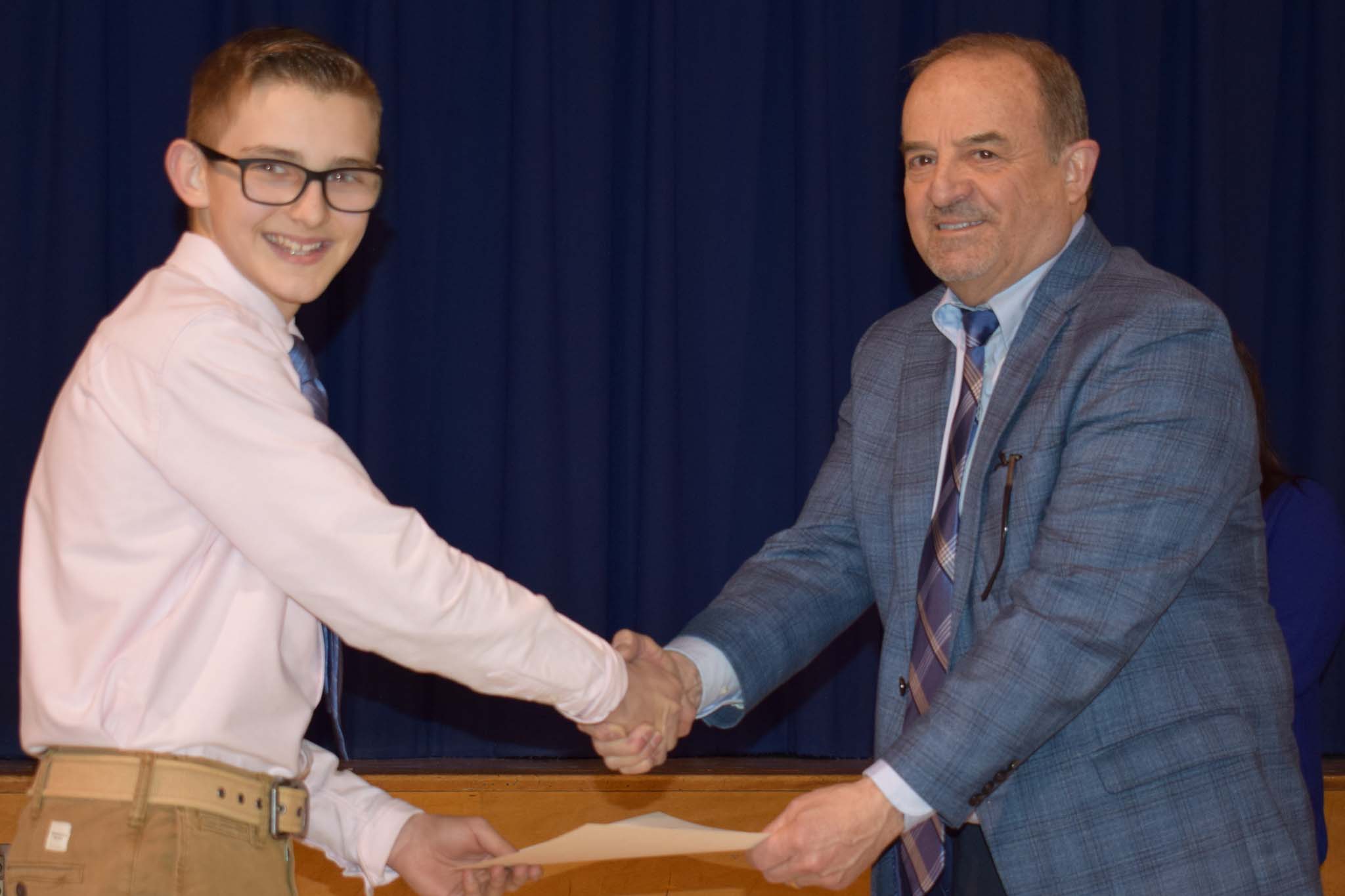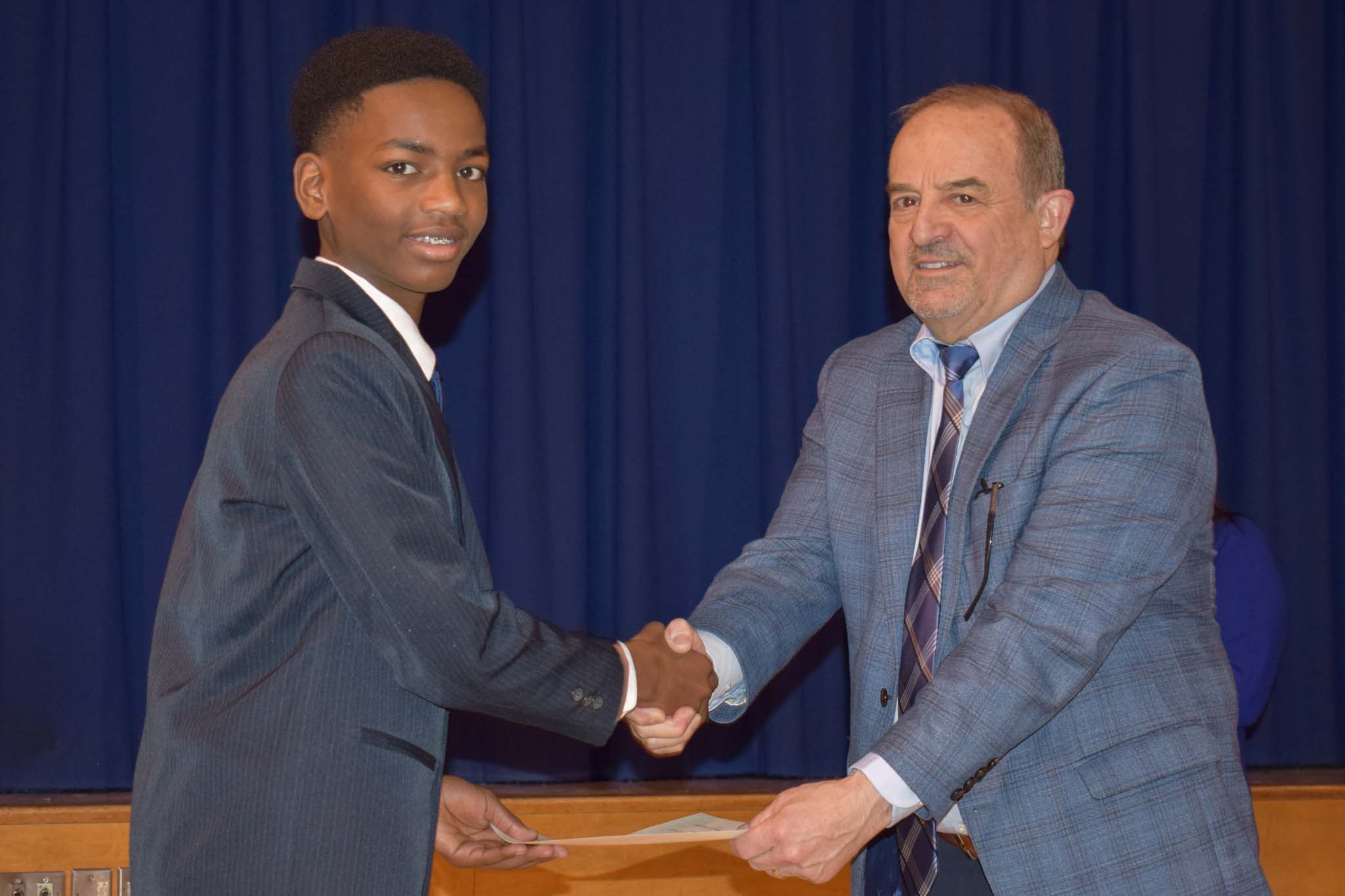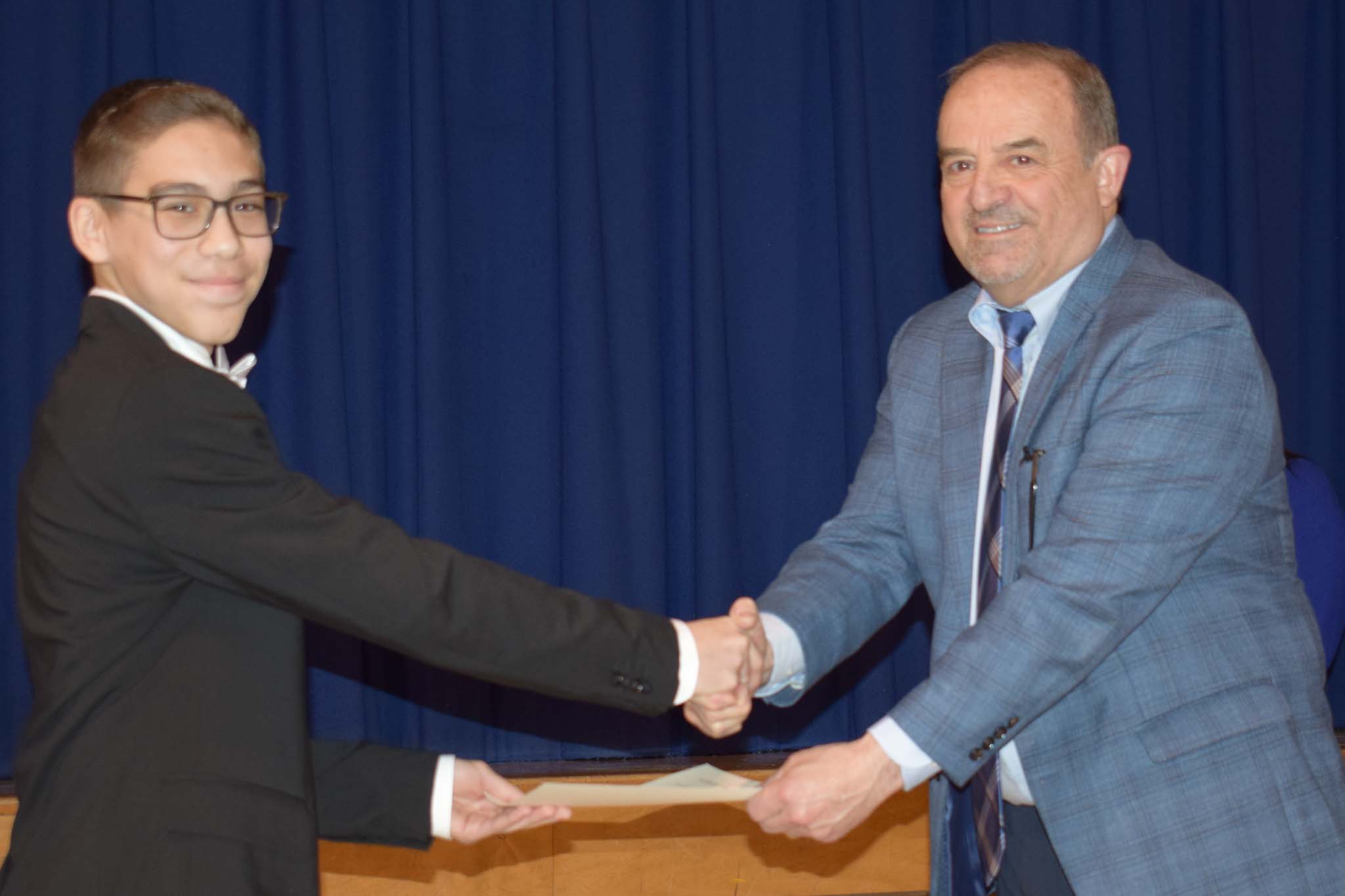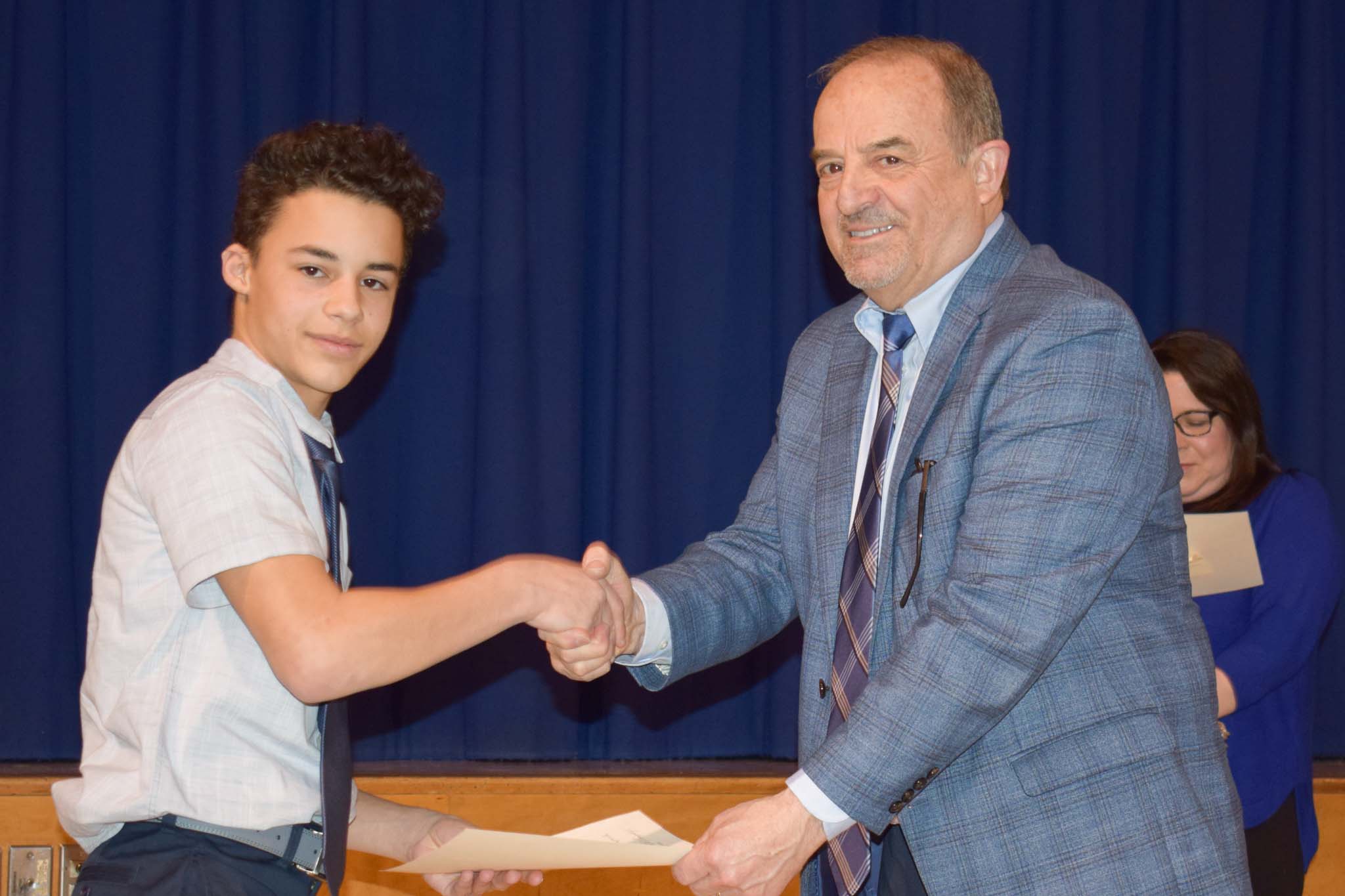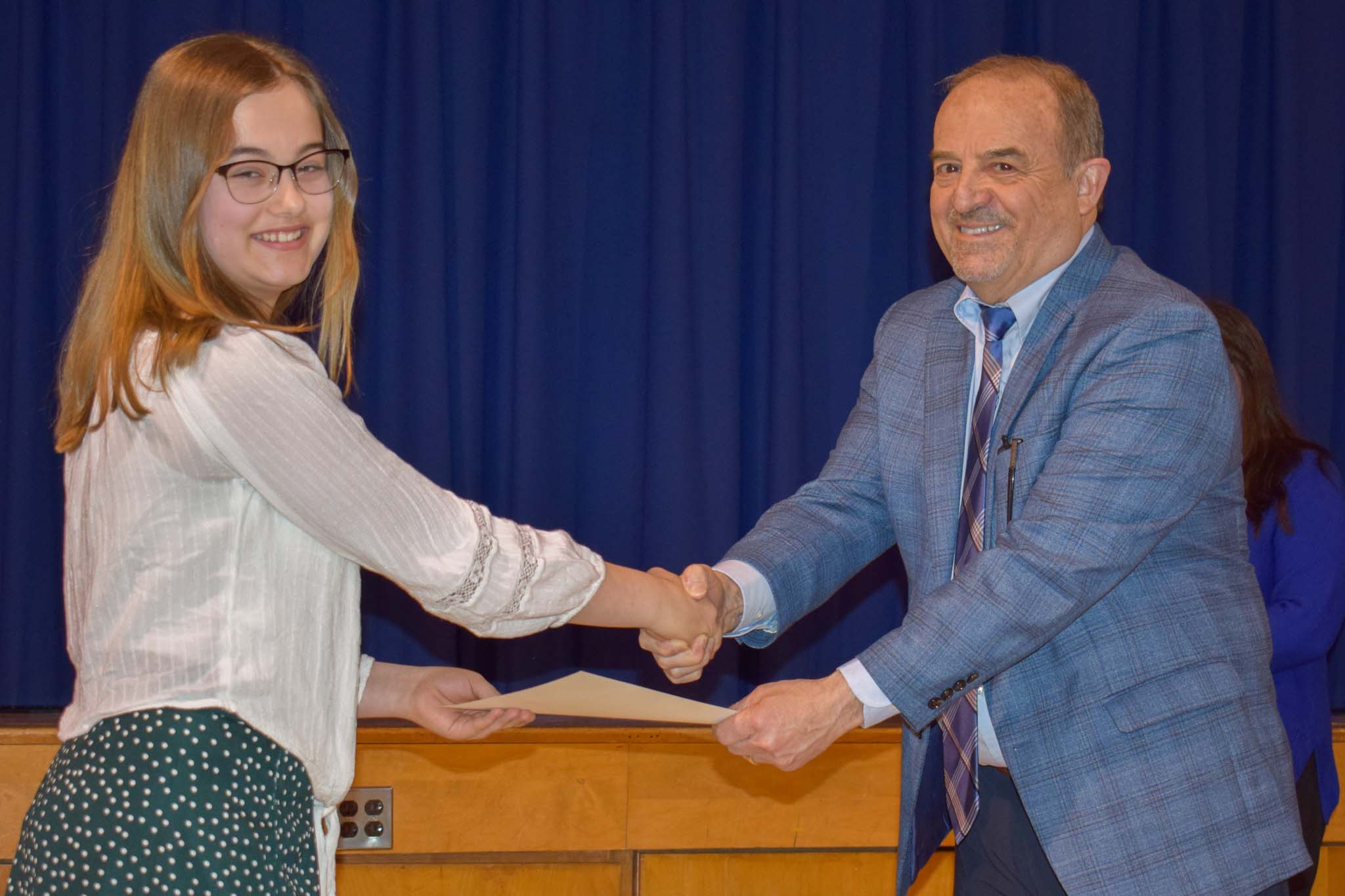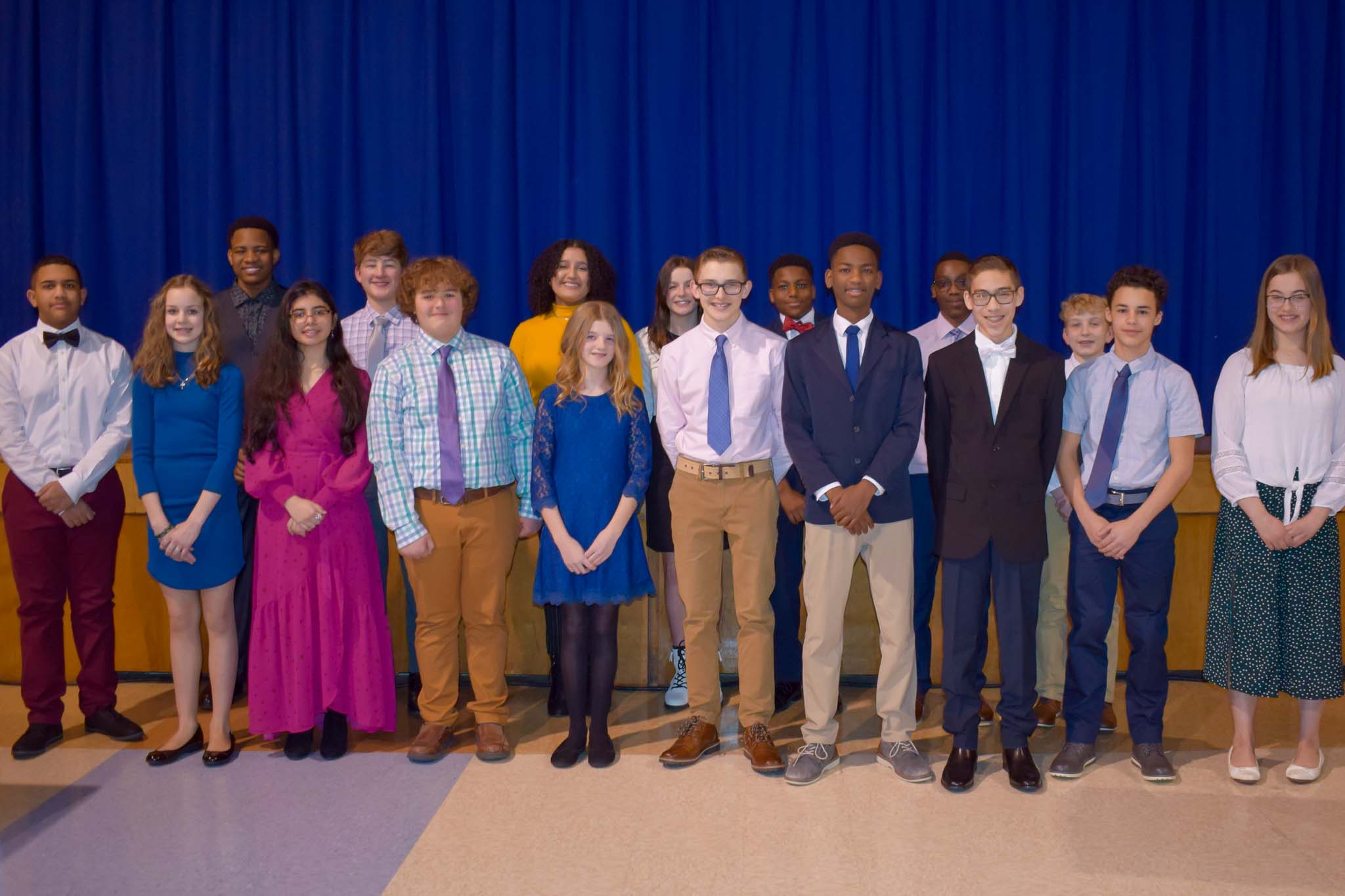 2022 NATIONAL JUNIOR HONOR SOCIETY
Jared Anderson
Gracen Baxter
Aleannys Centeno-Cruz
Charlie Funchion
Elora Gilbert
Nicholas Graziano
Joshua Henry
Caleb Hill
Nathan Hill
Nicholas King
Yelianis Mateo
Princeton Privedenyuk
Joseph Rijo
Nathan Rivera
Charis Smith
Isaac Souza
Anna Sprecher
PVCA has a surplus of chairs that need to be removed. Chairs are in good, used condition. If interested, please contact Douglas Emerson at demerson@pvcama.org or call 413-782-8031.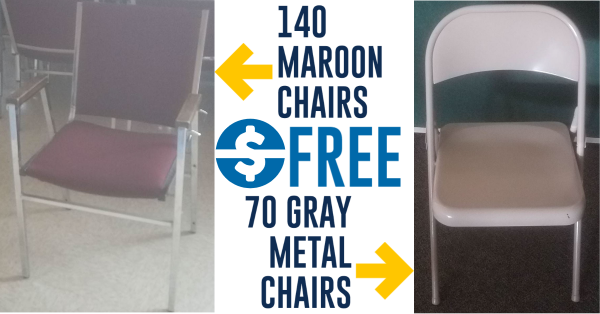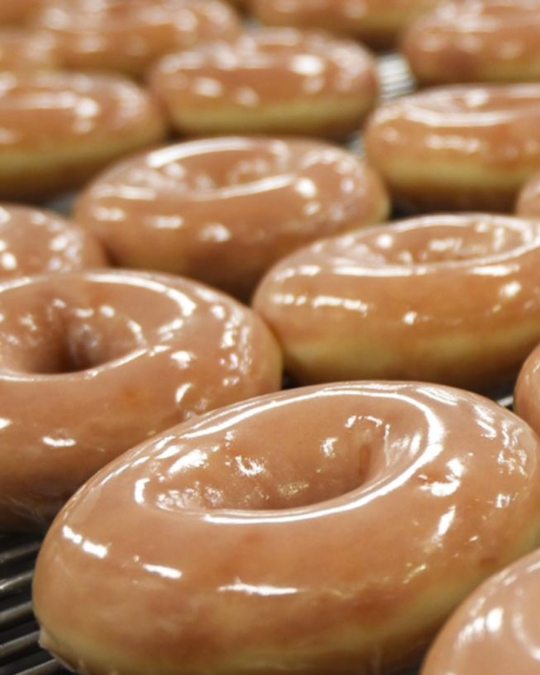 The PVCA freshman class is selling Krispy Kreme donuts. Orders will be accepted through Friday, March 11. To order, contact any PVCA freshman OR email Mrs. Souza at bsouza@pvcama.org. Glazed donuts are sold by the dozen ($10 per dozen).
 Orders are not complete until payment is received. Payment can be made via cash, check (made payable to PVCA), credit card via pvcama.org/give, or Venmo (@pvcama). If not paying by cash, please make "note" what your payment is for.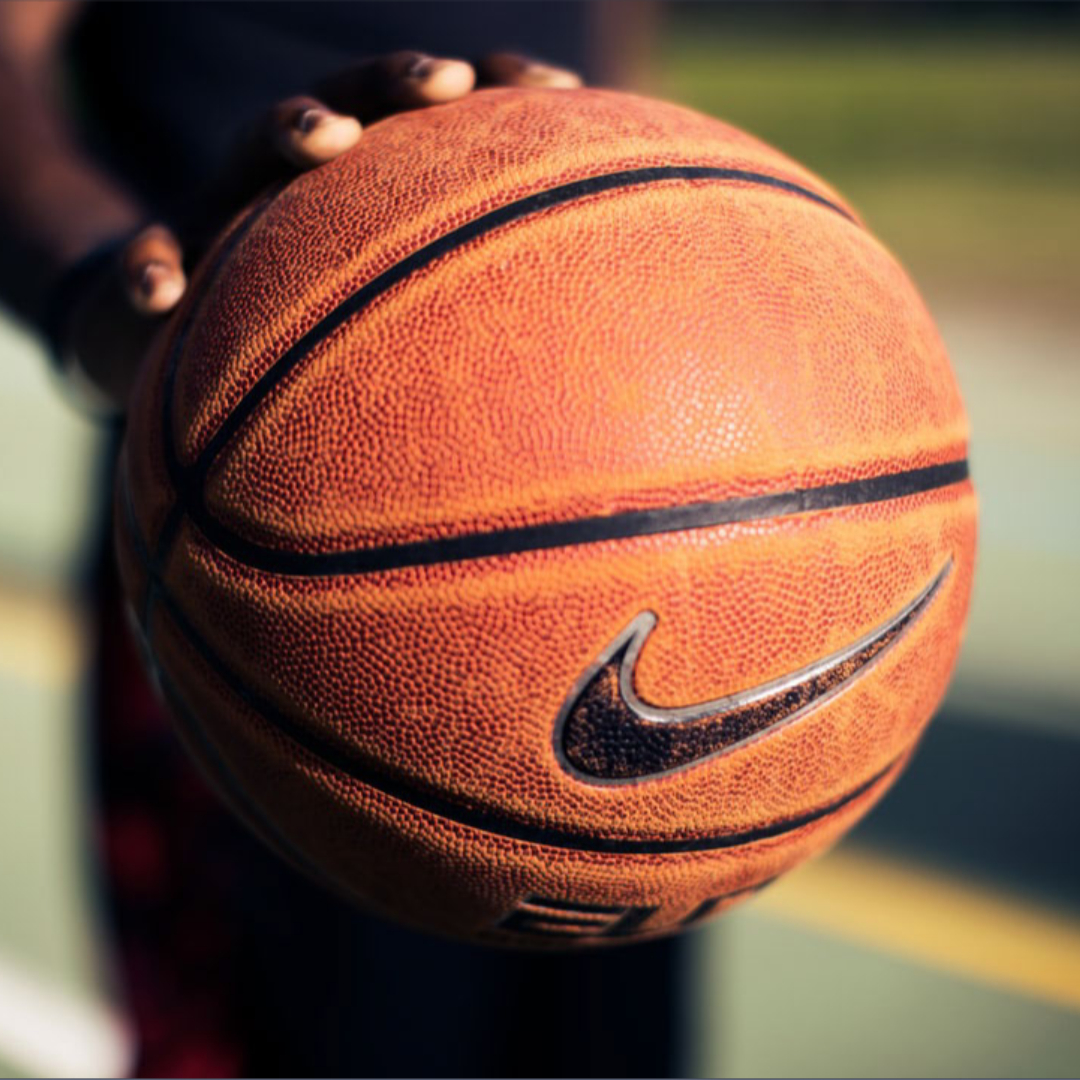 Attention all "Dads & Grads
You are invited to participate in pick-up basketball games on Mondays, 7:30-9:00PM, in the PVCA gym.
The basketball games are for men who are either dads of PVCA students or are PVCA alumni.
If you have questions, please contact Slav Zenchenko at 413-883-0455.
Masks are optional.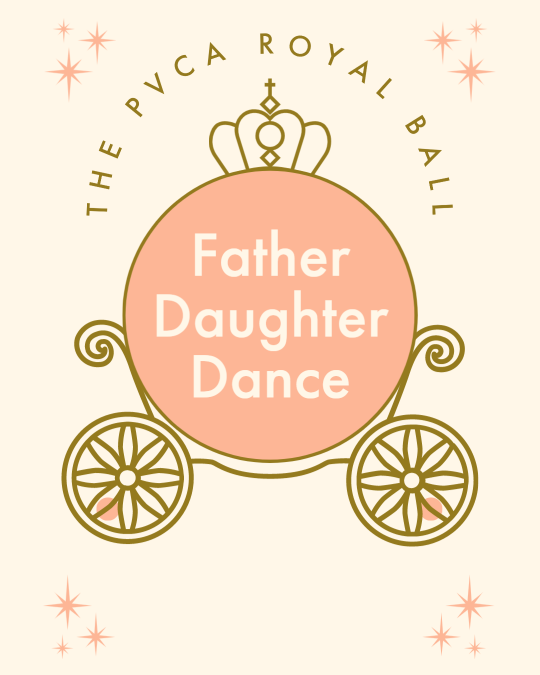 ANNUAL ROYAL BALL


Saturday, March 5
6:00-8:00 PM
The Royal Ball is back! The PVCA annual father daughter dance is for girls in PRE-K – Grade 8 and their fathers or a special guest. Tickets are $25.00 per father and princess pair. $10.00 for each additional princess. Tickets include a dessert bar, a craft, and a photo. Register and pay online at pvcama.org/princess no later than Friday, February 18.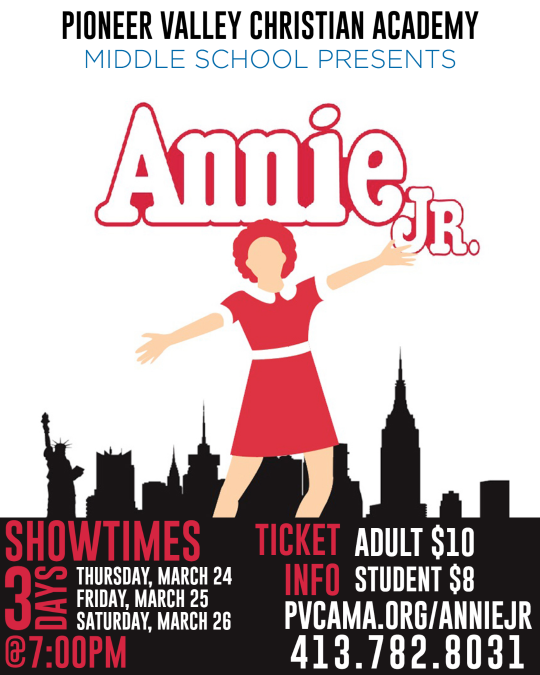 MIDDLE SCHOOL MUSICAL
TICKET SALES OPEN
MARCH 7
"Annie Jr." tickets sales will open on March 7. To reserve your tickets, visit pvcama.org/anniejr or call 413.782.8031.
Original Broadway Production Directed by Martin Charnin Based on "Little Orphan Annie"® By Permission of Tribune Content Agency, LLC. Annie JR. is presented through special arrangement with and all authorized materials are supplied by Music Theatre International, New York, NY (212) 541-4684 mtishows.com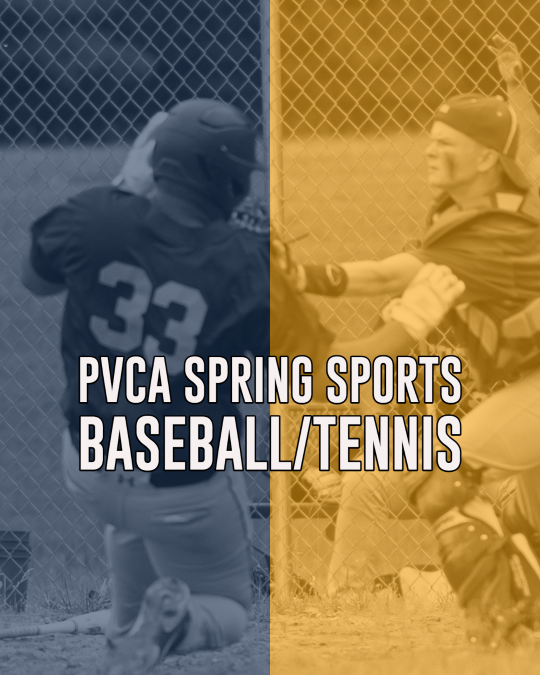 SPRING SPORT MEETING
PARENTS AND ATHLETES
TUESDAY, MARCH 8. 6:30 PM
All students interested in playing JV/Varsity spring sports must attend the informational meeting with a parent on Tuesday, March 8, at 6:30PM. The meeting will be held in the school gymnasium. For questions, contact the PVCA Athletic Director, Stephen Porter, sporter@pvcama.org.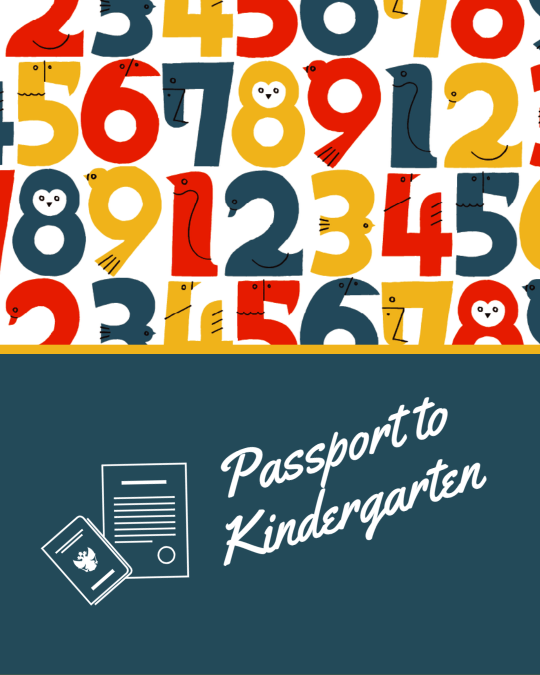 PASSPORT TO KINDERGARTEN
WEDNESDAY, MARCH 9
8:00 AM
PRE-REGISTRATION REQUIRED
Parents of next year's kindergarteners are welcome to attend PVCA's Passport to Kindergarten. Enjoy a light breakfast and hear all about the Academy's stellar kindergarten program. Observe "a day in the life" of a kindergarten: weekly chapel, classroom learning, technology, art, music, spanish, library, and gym. To register, please contact PVCA Admissions, lkerns@pvcama.org or call 413-782-8031.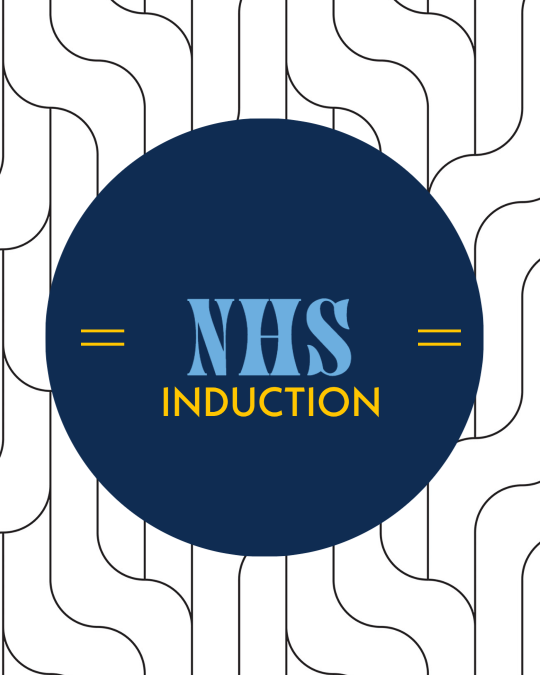 NHS INDUCTION


THURSDAY, MARCH 10
7:00 PM
The National Honor Society induction ceremony will be held on Thursday, March 10, at 7:00 PM. Families and classmates are welcome to attend.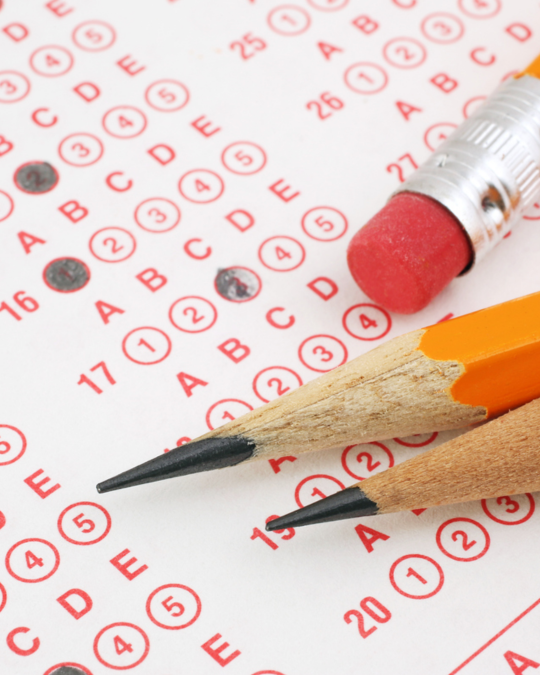 ASVAB TESING
FRIDAY, MARCH 11
GRADE 11 ONLY
Pioneer Valley Christian Academy students in grade eleven will take the ASVAB test on Friday, March 11. The Armed Services Vocational Aptitude Battery measures a student's knowledge and ability in ten different areas.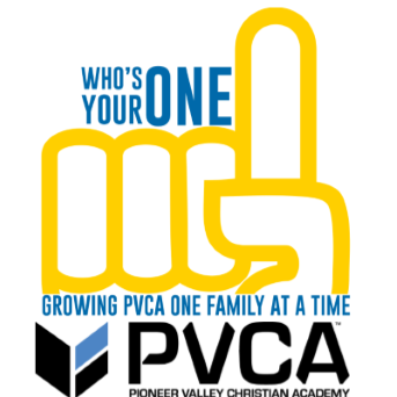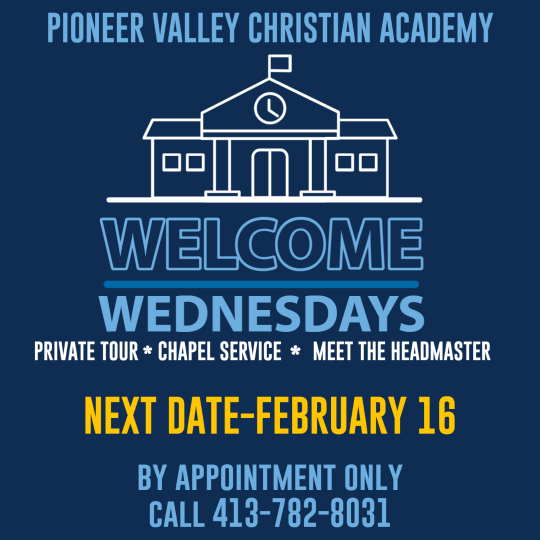 LOVE PVCA?
Tell your family, friends, and neighbors about Welcome Wednesdays. On Wednesday, February 16, PVCA will host its first Welcome Wednesday event. Prospective families will enjoy a private tour, a chapel service, and a meet and greet with Headmaster, Mr. Duff. Welcome Wednesdays are by appointment only. To schedule a visit, please contact Director of Admission, Lisa Kerns at 413-782-8031 or email lkerns@pvcama.org.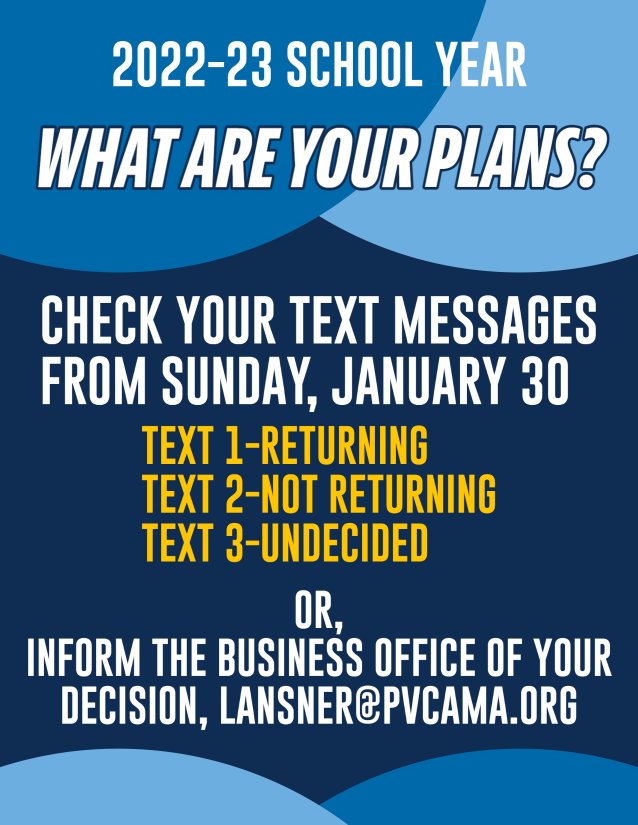 With perpetual enrollment, 
students are automatically re-enrolled for the upcoming school year.  However, it is crucial that you inform us of your intentions so plans can be made to hire additional staff and manage new student wait lists.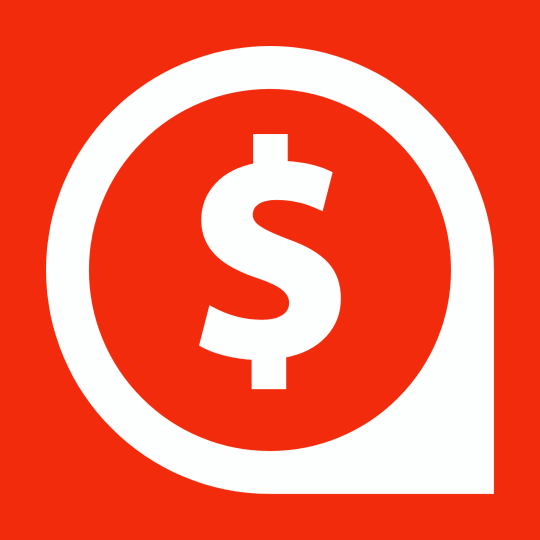 If your student is not planning to return to PVCA next year, you must notify the school in writing or by emailing our Business Manager, Jeffrey Lansner, at jlansner@pvcama.org on or before March 31 to avoid early withdrawal penalties.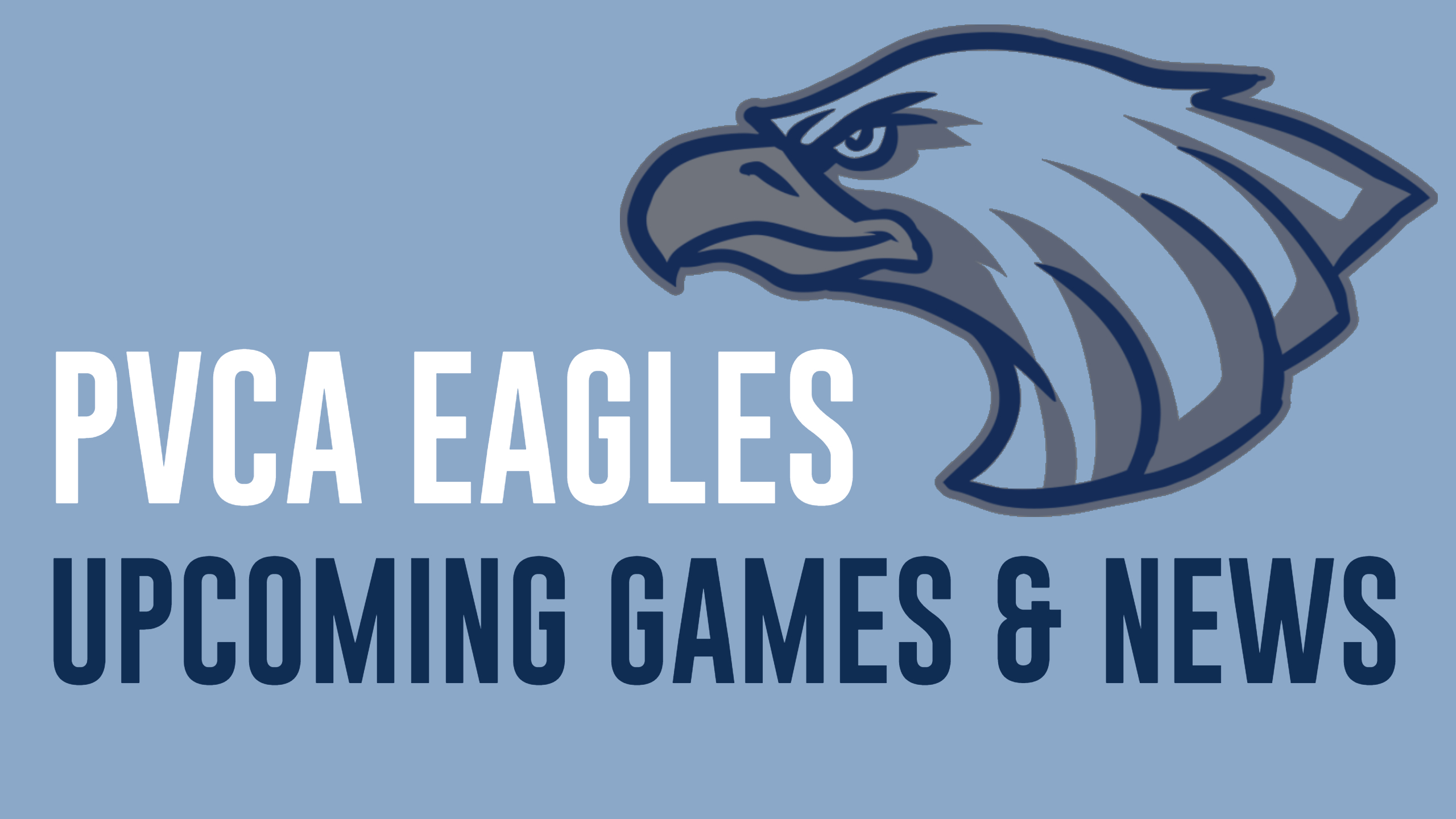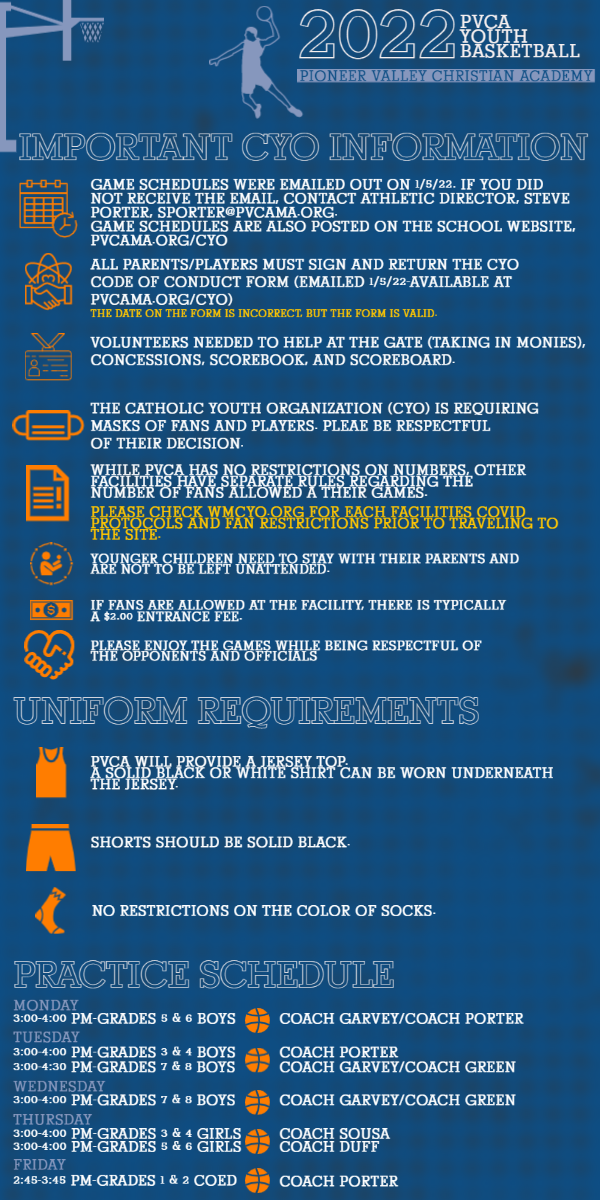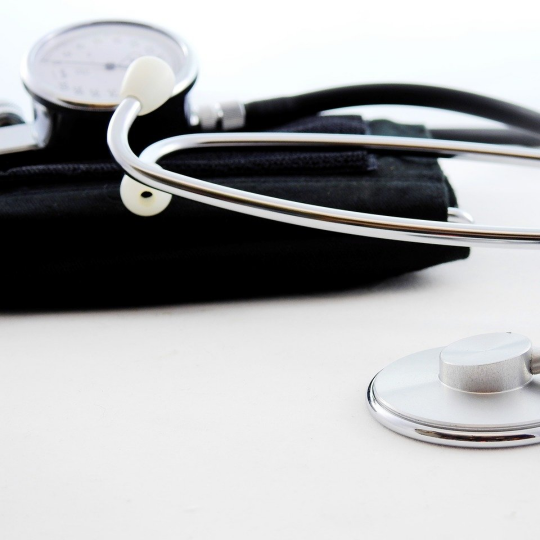 A MESSAGE FROM THE SCHOOL NURSE
The Massachusetts Department of Public Health requires all school-age children to have an updated Physical Examination Form and a Physician Certificate of Immunization on file. Our records indicate that your child needs an updated Physical Examination (or an updated Physician Certificate of Immunization).
If your child has had a current physical, please submit it to the school nurse. In order for a student to be exempt from the Massachusetts immunization requirements a medical or religious exemption form must be annually submitted. Please refer to the following link for further information. https://pvcama.org/wp-content/uploads/2020/09/Exemption-Letter-Final-Draft-PDF.pdf
Paperwork needs to be submitted to the front office, faxed to 413-782-8033, or emailed to mgunn@pvcama.org.
If you have further questions please call 413-782-8031 and ask to speak with the school nurse. Thank you for your cooperation.
Mylah Gunn
School Nurse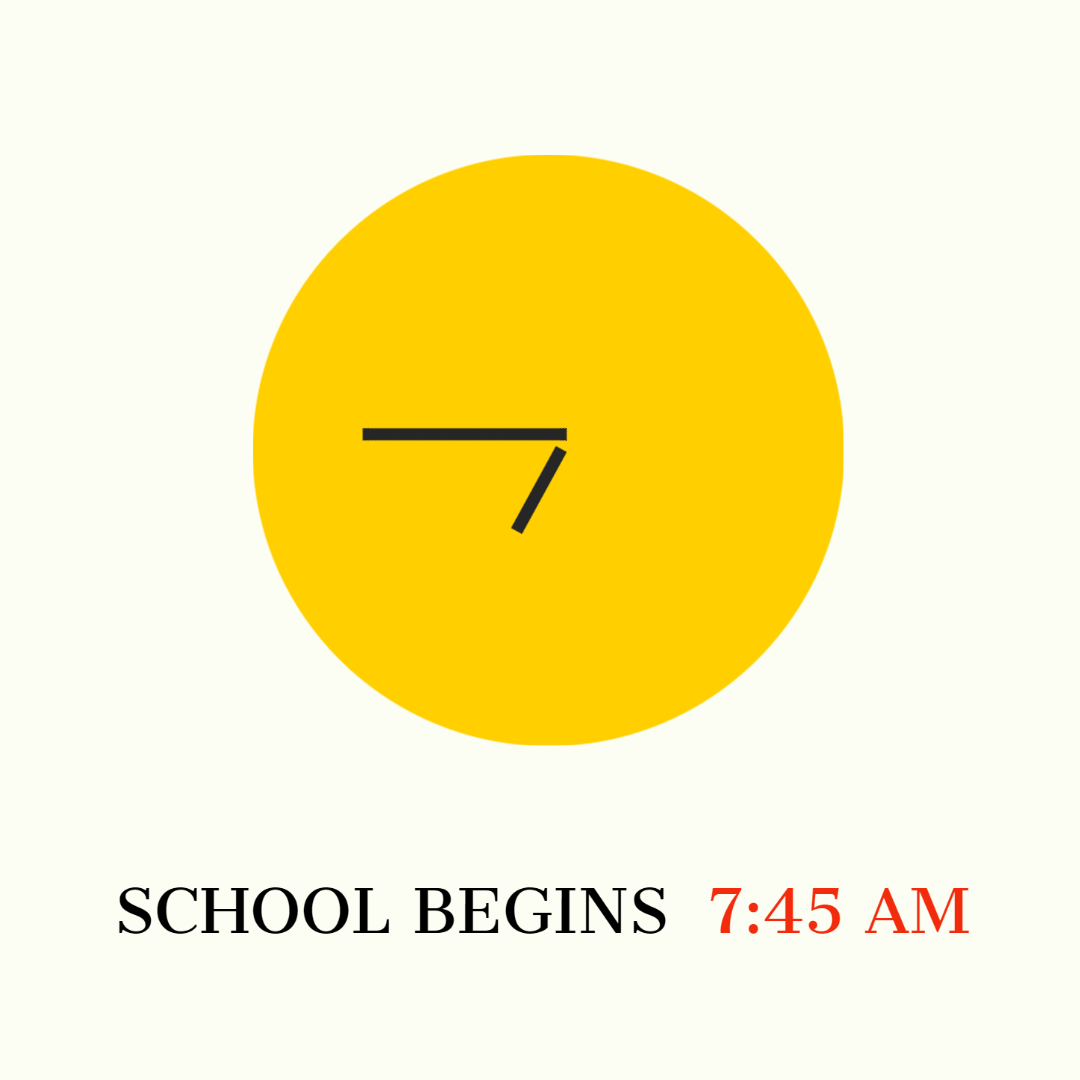 Although we understand unforeseen circumstances can occur which prevent a student from arriving to school on time, Tardiness often results in missed important information in the classroom, as well as interruption of the learning environment for the teacher and other students.
Excused tardies include illness, death in the family, medical appointments, unforeseen emergency, (to be determined by the Administration) or prior arrangement with the Principal. Without a phone call or a note, your child's tardy will be marked unexcused.
As a reminder, our school day begins at 7:45 AM. We appreciate your cooperation in having your student arrive on time to school. If you have any questions, or if we can be of assistance in any way, please do not hesitate to contact one of us via email Malissa Feragne / Edward Campolongo or by phone (413.782.8031).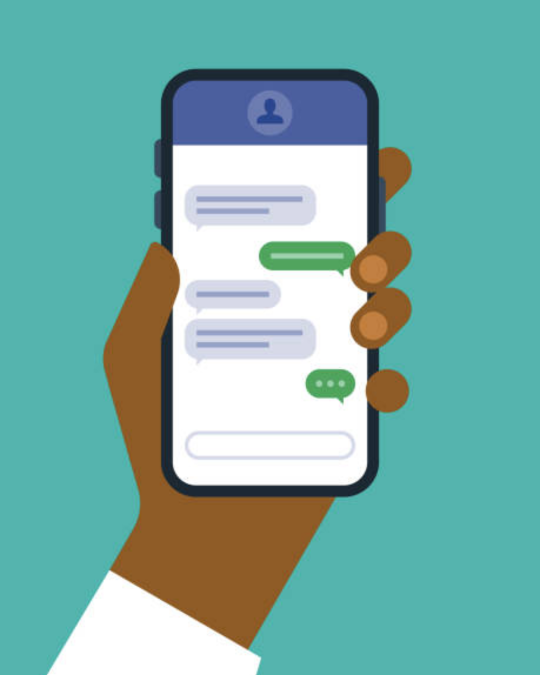 To sign up:
text
ALERT


to 22300
It is that EASY!
School cancellations, classroom announcements, and/or special notifications will be sent to your phone via text message.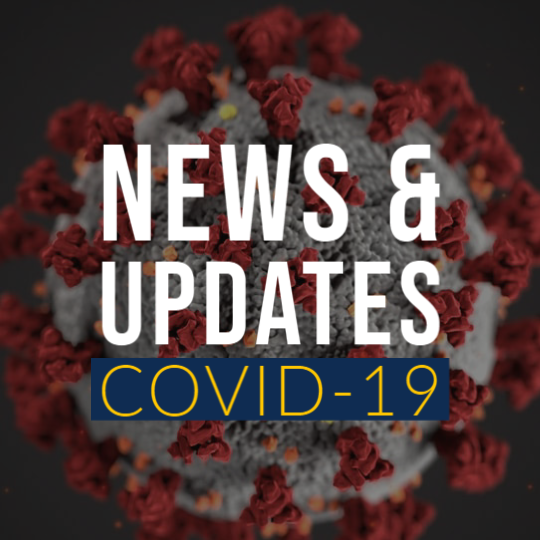 COVID HOME TESTS
With the rise of covid cases in Massachusetts PVCA has been accepting Covid Home Tests
If your child becomes symptomatic please keep them home and notify the school nurse or the front office staff.
Home kits are convenient and can be purchased at most pharmacies and grocery stores. You may also inquire about FREE testing kits available through your home town or city.
PCR Testing
For contact tracing, PVCA requires a copy of your child's COVID result.
Prior to submitting the form, please print your child's first/last name and date of birth on the form, and then take a photo of the form and email it to the school nurse.
Home Testing
When administering the home test, follow the manufacturer's instructions to recieve the most accuarate test result.
When swabbing, make sure to use a circular motion in both nostrils for at least 5 seconds
Once the result is revealed, take a photo of the test and email it to the school nurse with the following information: student's first and last name, date of birth, symptom start date, test date, test result, and home test brand, or fill out the form listed below.
PLEASE HAVE A MEDICAL PROFESSIONAL PERFORM A REPEAT COVID TEST IF
Your home test was not done properly

If your child's result was negative, but is experiencing covid symptoms
PVCA RAPID COVID HOME TEST FORM

Thank you to all of the parents who have expressed a desire to volunteer their time at PVCA this year. We would love for you to fill out the attached form and join our Parent Volunteer Organization, or PVO. If you have questions regarding the PVO, you can contact:
Caroline Funchion


Director of Marketing
cfunchion@pvcama.org
*volunteers for school events, PVO fundraisers, and teacher appreciation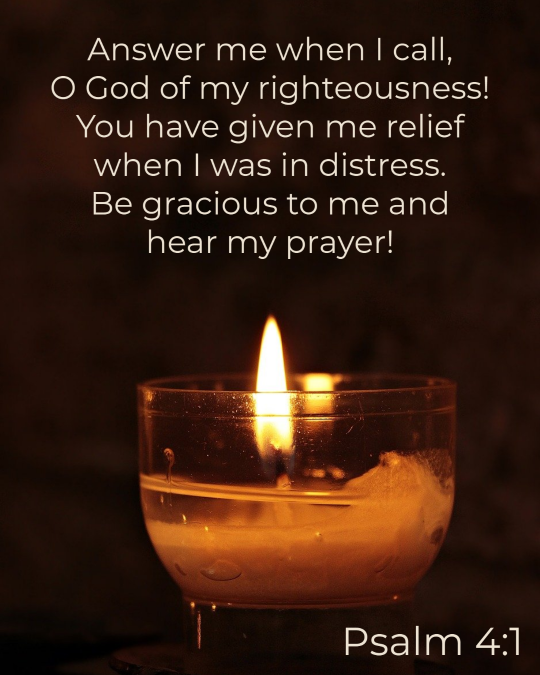 NEED PRAYER?
THE PVCA PRAYER LIST
The PVCA prayer list is updated daily and sent out monthly to subscribers. If you would like to sign-up for the PVCA prayer list or have a prayer request, fill out the form(s) below.
SUBSCRIBE TO THE PVCA PRAYER LIST
SCHOOL CLOSINGS & DELAYS
All notifications will be released by 6:00 AM
PVCA One Call Now
One Call Now is a service PVCA uses to alert the community with important notifications. Voice or text messages will be sent to you if our school must close or delay opening due to weather.
ALL PVCA families are automatically signed up for One Call Now unless they opt out.
PVCA Text Update
To receive text updates, text "ALERT" to 22300.
Be sure PVCA has your cell phone # on file and your cell provider allows you to receive text messages from a third party number.
Local News & Radio
Local News Channels
 – ABC 40, WFSB 3, WWLP 22
Local Radio Station – WIHS 104.9 FM

The PVCA dress code, or standard of dress, is posted on the website under the parents tab. Please review the dress code to be sure your son or daughter is following it.
Common dress code violations are:
wearing shirts that are not polos such as t-shirts

wearing sweatshirts and hoodies with words or images

wearing shorts, dresses, or skirts that do not follow the fit requirements
Shorts and skirts must be no shorter than three inches above the middle of the knee for the purposes of modesty and ease at play times.
Leggings are also not allowed unless they are being worn for warmth underneath a skirt or dress.
Sneakers are required on gym days or the student will not be permitted to participate in gym class activities.