"I, to this day, fall back on the scriptural truths I learned in these classrooms. It's really important when you go into the world, to college, to work, to know what you believe in, and I have learned a lot of those things at Pioneer Valley Christian Academy."
THE ALUMNI COURTYARD

Make a Lasting Impression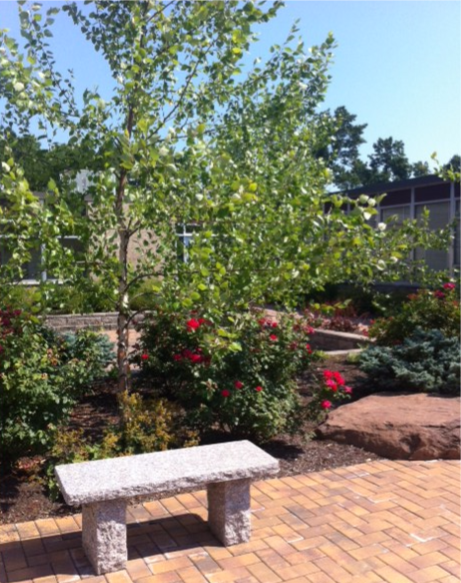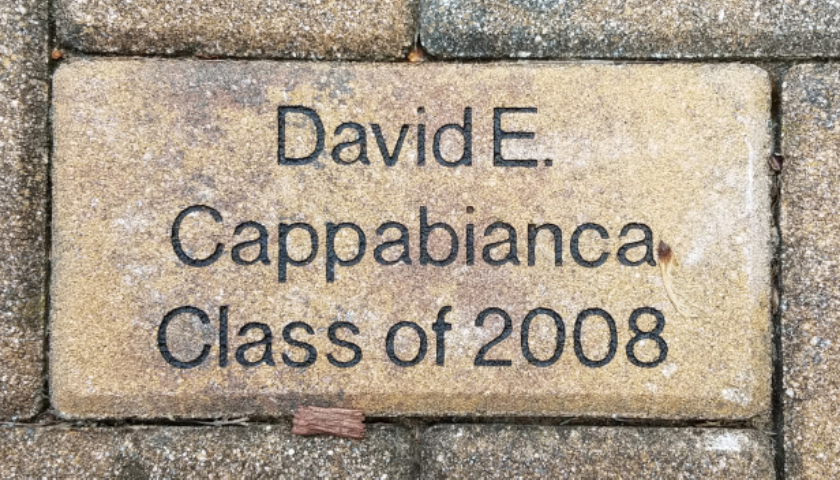 Your days at Pioneer Valley Christian Academy, brought new experiences, new friends, and knowledge that made a lasting impression on your life.
MAKE A LASTING IMPRESSION ON YOUR ALMA MATER
Now it is time for you to make a lasting impression on your alma mater.  You have the opportunity to purchase a personalized brick inscribed with your name and year of graduation.
Each personalized brick can be purchased for $100 payable to Pioneer Valley Christian Academy. We will inscribe your brick with your name and class year; and, yes, the $100 gift is tax-deductible while it helps ensure your legacy for future generations.
What is the Alumni Courtyard?
The Alumni Courtyard is dedicated to our alumni. For several years, we have been inviting alumni and their parents to purchase a personalized brick for $100. The bricks will be engraved with the alumnus(a)'s name and year of graduation.
The Alumni Courtyard is a visible tribute on the PVCA campus to alumni who have supported the school through their donations. It also reflects a network of friendships and relationships as well as personal and family milestones.
Where is the Alumni Courtyard located?
The Alumni Courtyard is enclosed all the way around by the school building. It is located between the senior lounge and science classrooms.
Why should I purchase a brick?
Your brick in the courtyard will be a            permanent tribute on the PVCA campus. In years to come, your family members and many students, alumni, faculty, and visitors will see your brick and recognize your   loyalty to PVCA. It is a one-time donation that will last a lifetime.
Who can have their name on a brick?
The privilege of having a name inscribed on a brick is reserved for alumni only.
Is there a deadline for ordering a brick?
There is no deadline. Orders are collected for purchases and installations every summer.
What size are the bricks?
The bricks are standard 4″ x 8″.
How much of the brick's purchase price is tax deductible?
The total cost of each brick is one hundred percent tax deductible as allowed under current tax laws.
What can be inscribed on the bricks?
Our intent is to honor the legacy of our alumni by simply listing the alumnus(a)'s name and year of graduation. If you are a married alumna, your maiden name will be included. There are up to three lines of copy available, 17 characters (including spaces) per line.
To what fund is my donation applied?
Donations will be applied to the Alumni Courtyard Fund.
A MESSAGE FROM HEAD OF SCHOOL, MR. TIMOTHY DUFF
It has been my privilege to serve at Pioneer Valley Christian Academy for 40 years and witness God's faithfulness to our school. I appreciate the many people who have sacrificially given over the years and their willingness to support the work of the Lord. It is an encouragement to me and to all of the staff and faculty.
Many of you might not be aware that the cost of educating students at PVCA is much greater than what the tuition covers. Like any quality academic institution, PVCA relies on support above and beyond tuition in the form of donors who fill the gap between tuition and operating expenses.
WOULD YOU PRAYERFULLY CONSIDER GIVING TO PIONEER VALLEY CHRISTIAN ACADEMY
This year we did not reach our enrollment goal of 361 students, bringing our annual fund need to $348,000. Therefore, your partnership with our school is critically important. We truly need your help now. I would ask that you prayerfully consider what the Lord would have you give. Your donation of any amount demonstrates your support of PVCA and Christian education. Remember that all contributions are tax-deductible.
Timothy Duff
Headmaster
MATCHING GIFT PROGRAM
Whether you make a gift of cash or stock, your employer may offer a matching gift program that will leverage your contribution to Pioneer Valley Christian Academy. Some companies match their employee's gift at 100%, some at a lower percentage; however, all matches benefit Pioneer Valley Christian Academy. If your company offers a matching gift program but is not listed as one of our current partners, please contact our advancement department so we can review their application requirement and add them as a PVCA partner.
Matching Gift Partners:
United Technology
Hamilton Sundstrand
VOYA Financial
Raytheon
United Healthcare Group
PAYROLL DEDUCTIONS
Workplace giving is an easy option when making a contribution to Pioneer Valley Christian Academy. You choose the gift amount, and your employer forwards your scheduled gift to PVCA. If your employer participates in the United Way Program, you may be able to specify PVCA as the designated beneficiary of your contributions.
GIFTS IN KIND
Pioneer Valley Christian Academy appreciates and welcomes gifts-in-kind. The donor, through appraisal or market comparisons, determines the fair market value of the gift.
Gifts of Stock

Gifts of stock that have grown in value can be given to Pioneer Valley Christian Academy with no capital gains tax paid by the donor. Donors can take a charitable deduction on their federal income tax for the market value of securities at the time of stock transfer.
Real Estate
Gifts of real estate, including land, commercial, and residential properties may offer exceptional tax benefits for donors while supporting Pioneer Valley Christian Academy.
Vehicle Donations
Vehicle donations may be made through v-dac.com or by calling 1-877-999-8322.
AMAZON SMILE
Support Pioneer Valley Christian Academy by using AmazonSmile.  When you shop on smile.amazon.com, The Amazonsmile foundation will donate .5% of the price of eligible purchases to PVCA.
What is Amazon Smile?
DISCOVER PIONEER VALLEY CHRISTIAN ACADEMY

Pioneer Valley Christian Academy
965 Plumtree Rd. Springfield, MA 01119
P: (413) 782-8031  |  F: (413) 782-8033
admissions@pvcama.org
Pioneer Valley Christian Academy is one of New England's Private Christian Schools located in Springfield, MA. We offer students access to leading-edge opportunities for intellectual, professional, and leadership development to address the increasingly complex challenges of a global society. Pioneer Valley Christian Academy stands apart from other outstanding schools in New England by combining an exceptional education with Christian faith.
Pioneer Valley Christian Academy admits students of any race, color, and national and ethnic origin to all the rights, privileges, programs, and activities generally accorded or made available to students at the academy. The academy does not discriminate on the basis of race, color, or national and ethnic origin in administration of its educational policies, admissions policies, scholarship and financial aid, athletics, and other school-administered programs.