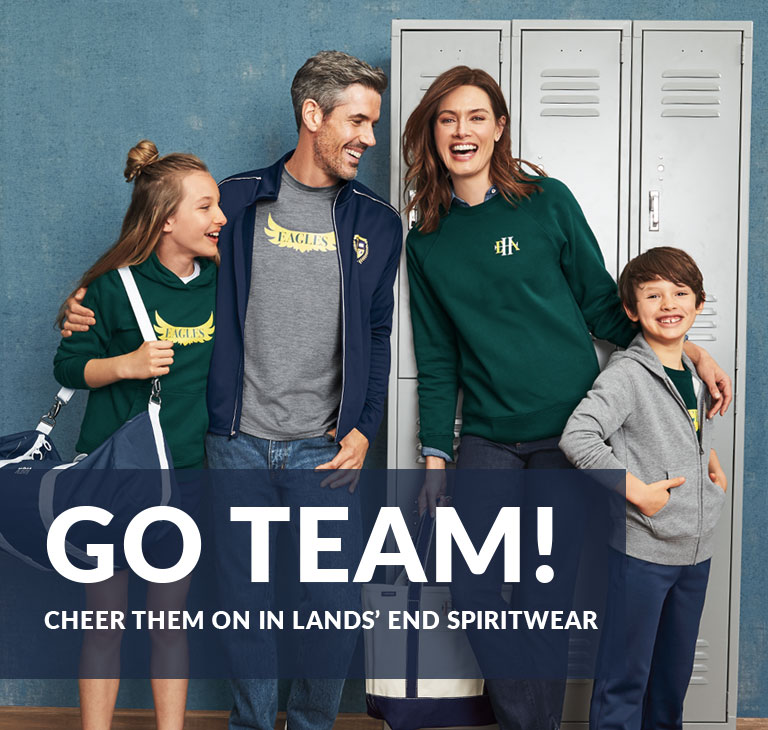 Enter School Code #900166893
PURCHASING SPIRITWEAR – HOW DOES IT WORK?
Go PVCA Eagles! Pioneer Valley Christian Academy spiritwear is a great way to showcase the Academy. With sizes ranging from preschool through adult, there is something for everyone.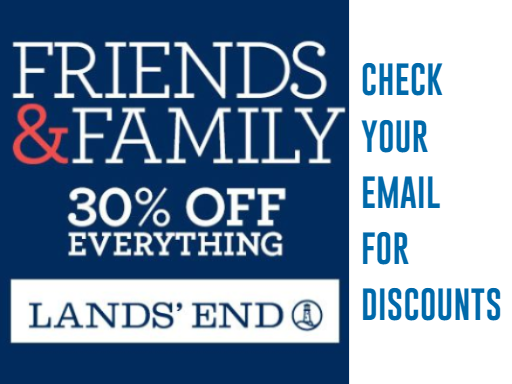 DRESS CODE OR CASUAL WEAR?
The PVCA Lands' End store offers both PVCA dress code approved spiritwear as well as Eagles active wear.
Browse the displayed spiritwear on this page to learn which items are dress code approved during school hours. Short sleeved t-shirts, sweatpants, and shorts are considered Eagles active wear to be worn after school. 

WHAT ARE MY LOGO OPTIONS?

HOW DO I PURCHASE?
To purchase spiritwear, click on the "SHOP LANDS' END NOW" button above, or click here.
The Pioneer Valley Christian Academy school code is 900166893 or simply fill out the School Search Inquiry by typing in
Pioneer Valley Christian Academy, Springfield, Massachusetts

Before placing each item in the cart, make sure to select the logo of your choice.
ADULT SIZES (SM, MEDIUM, LARGE, X-LARGE, XX-LARGE)*
*Larger sizes available through the PVCA Marketing Department.
HOODIE PULLOVER SWEATSHIRT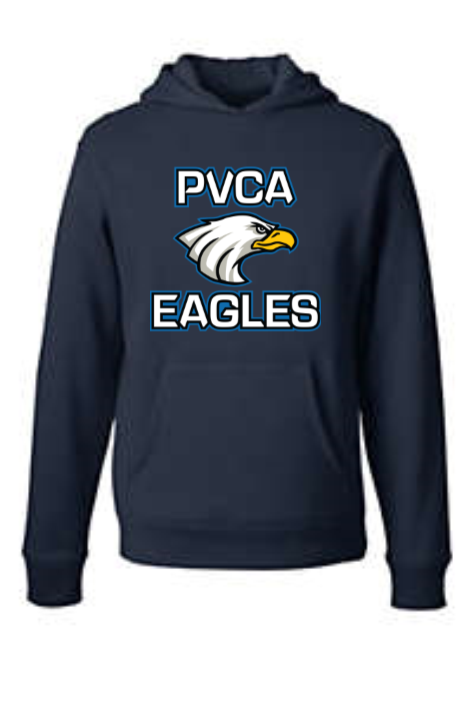 Hoodie Pullover Sweatshirt
Lands' End Item #393709-BR5
Classic Navy with LG PVCA Eagle
*Full chest heat transfer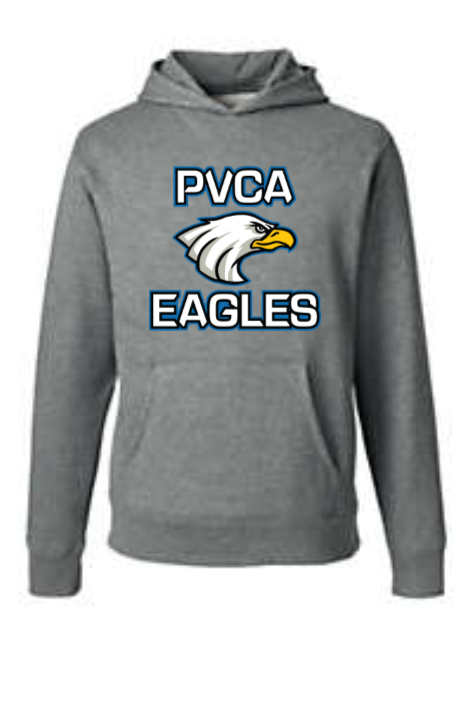 Hoodie Pullover Sweatshirt
Lands' End Item #393709-BR5
Heather with LG PVCA Eagle
*Full chest heat transfer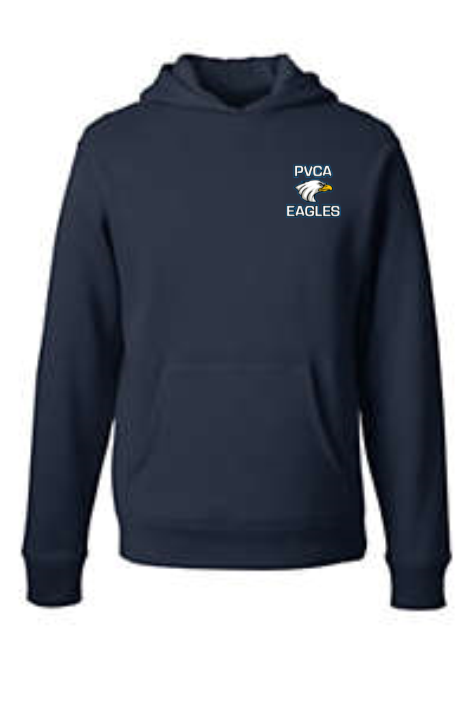 Hoodie Pullover Sweatshirt
Lands' End Item #393709-BR5
Classic Navy with SM PVCA Eagle
*Left chest heat transfer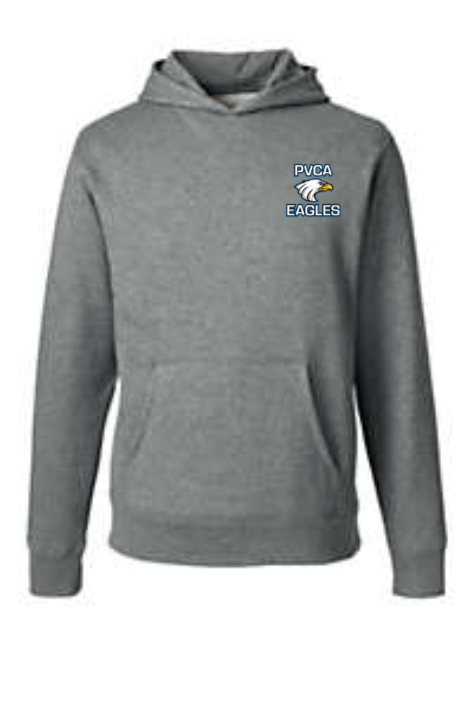 Hoodie Pullover Sweatshirt
Lands' End Item #393709-BR5
Heather with SM PVCA Eagle
*Left chest heat transfer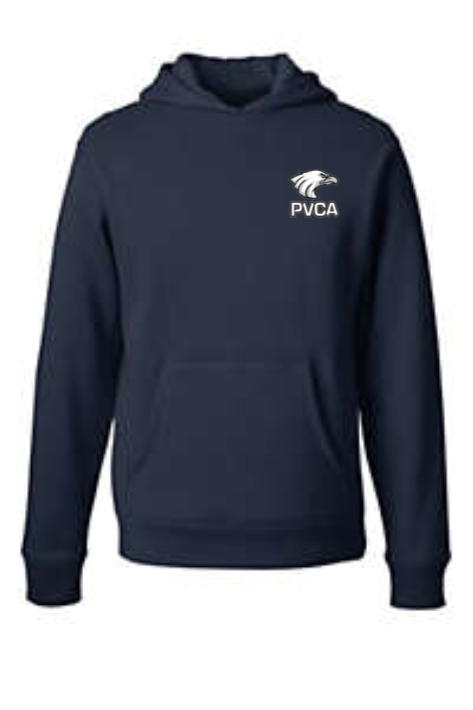 Hoodie Pullover Sweatshirt
Lands' End Item #393709-BR5
Classic Navy with Eagle PVCA
*Left chest embroidery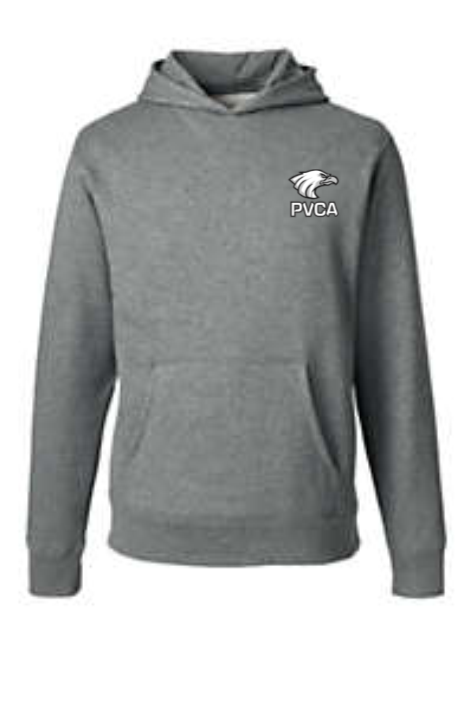 Hoodie Pullover Sweatshirt
Lands' End Item #393709-BR5
Heather with Eagle PVCA
*Left chest embroidery
CREW NECK SWEATSHIRT
*The Crew Neck Sweatshirt may also be ordered in Heather Grey
**Left chest embroidery also available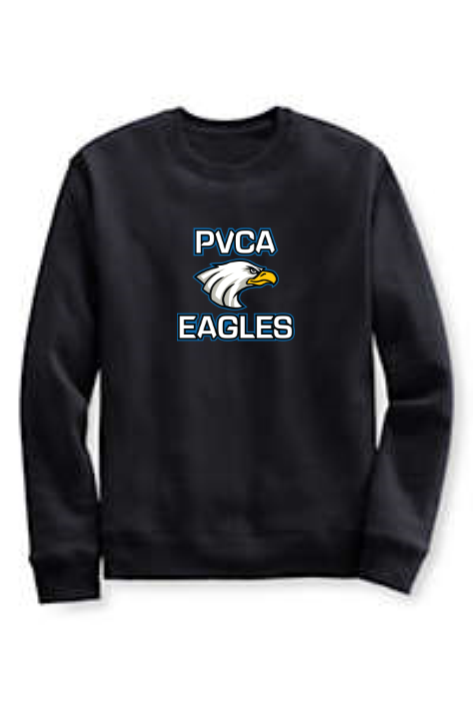 Crewneck Sweatshirt
Lands' End Item #393699-BR5
Black with LG PVCA Eagle
*Full chest heat transfer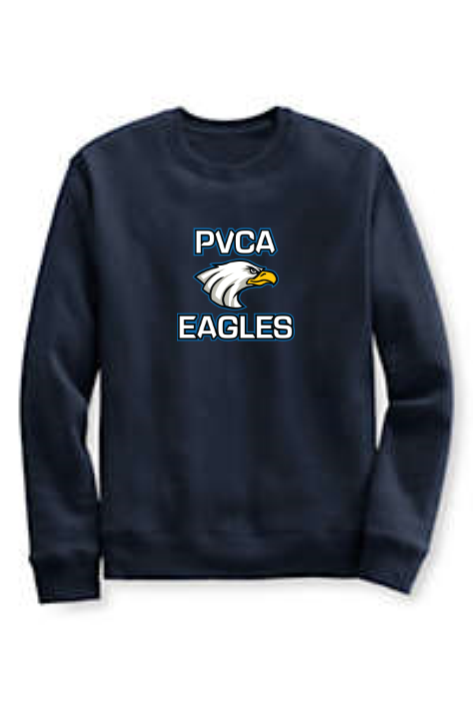 Crewneck Sweatshirt
Lands' End Item #393699-BR5
Navy with LG PVCA Eagle
*Full chest heat transfer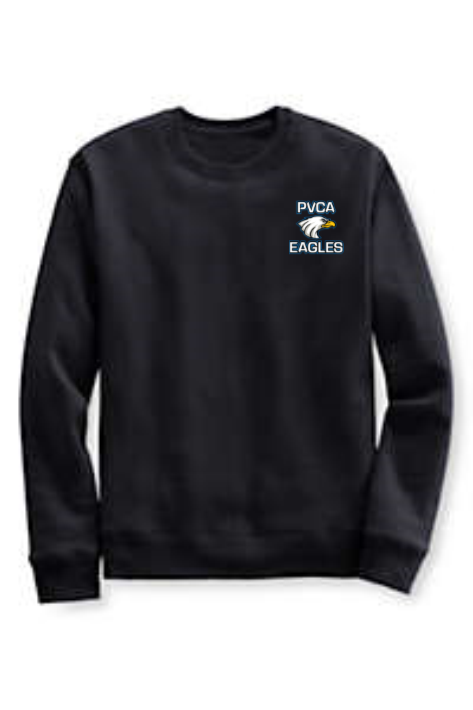 Crewneck Sweatshirt
Lands' End Item #393699-BR5
Black with SM PVCA Eagle
*Left chest heat transfer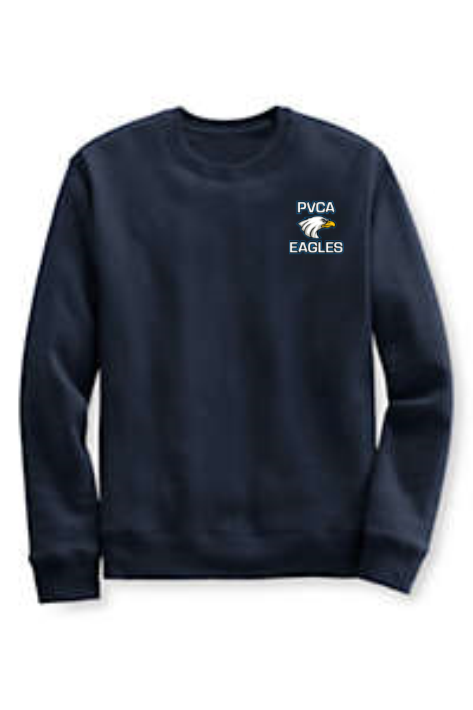 Crewneck Sweatshirt
Lands' End Item #393699-BR5
Navy with SM PVCA Eagle
*Left chest heat transfer
Zip-Front Sweatshirt
Lands' End Item #393715-BR0
Black with SM PVCA Eagle
*Left chest heat transfer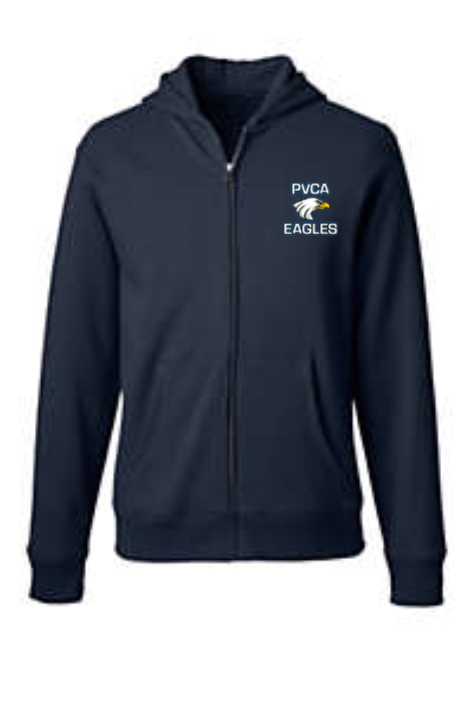 Zip-Front Sweatshirt
Lands' End Item #393715-BR0
Navy with SM PVCA Eagle
*Left chest heat transfer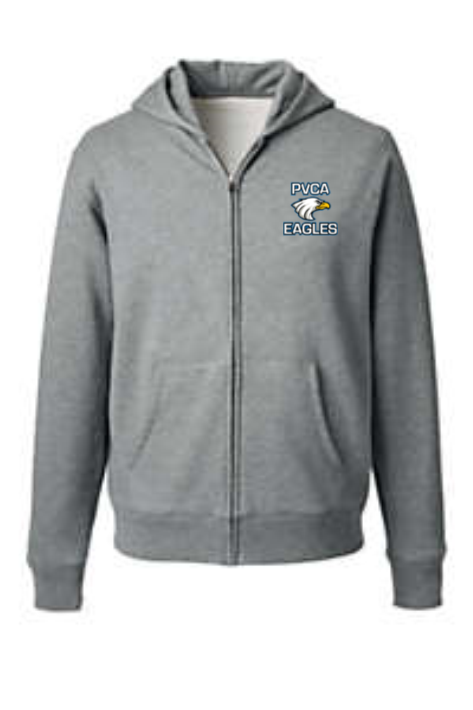 Zip-Front Sweatshirt
Lands' End Item #393715-BR0
Heather with SM PVCA Eagle
*Left chest heat transfer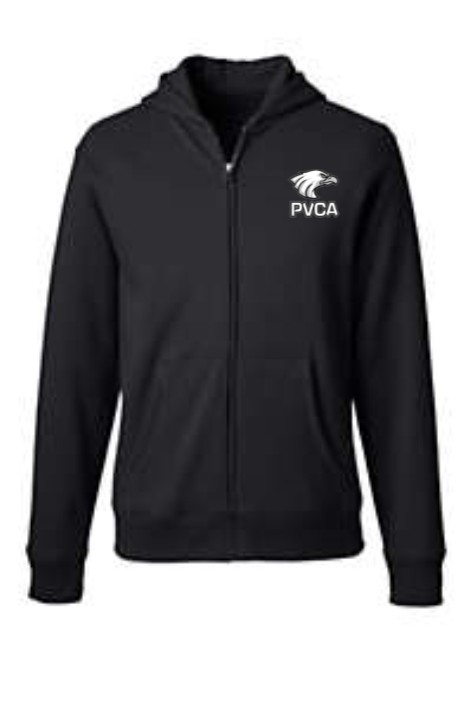 Zip-Front Sweatshirt
Lands' End Item #393715-BR0
Black with Eagle PVCA
*Left chest embroidery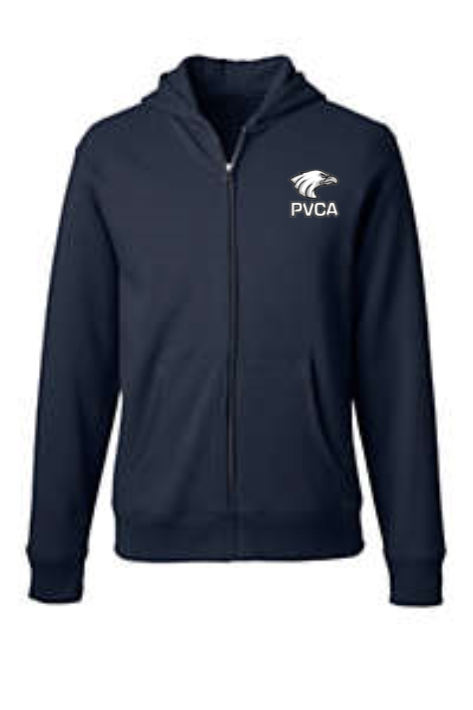 Zip-Front Sweatshirt
Lands' End Item #393715-BR0
Navy with Eagle PVCA
*Left chest embroidery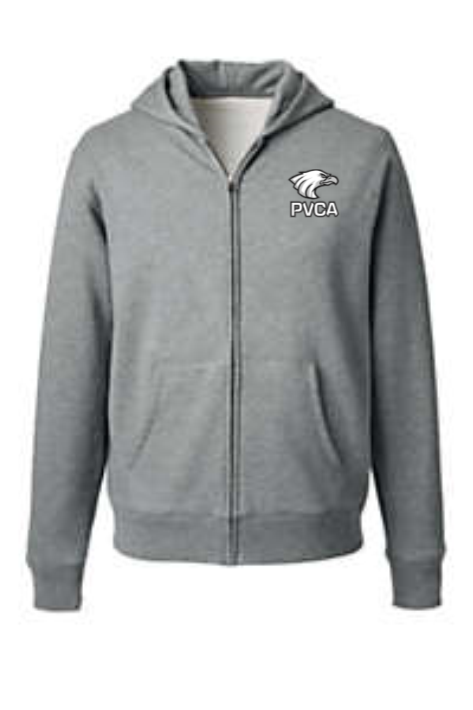 Zip-Front Sweatshirt
Lands' End Item #393715-BR0
Heather with Eagle PVCA
*Left chest embroidery
Active Track Jacket
Lands' End Item #486431-BR5
Black with Eagle PVCA
*Left chest embroidery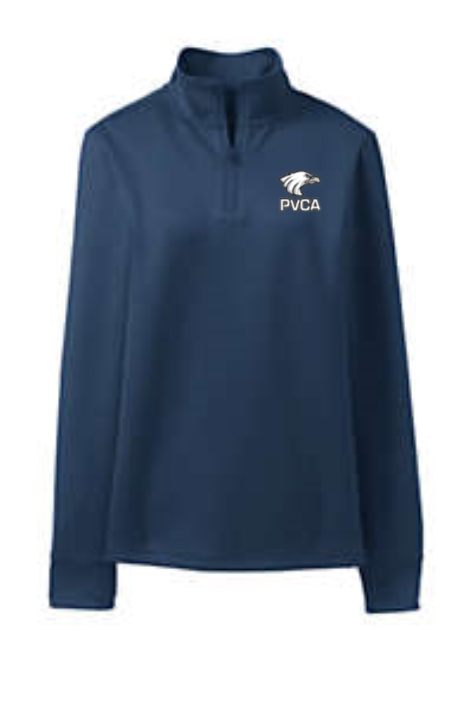 Quarter-Zip Pullover
Lands' End Item #510797-BR4
Navy with Eagle PVCA
*Left chest embroidery
Quarter-Zip Pullover
Lands' End Item #510797-BR4
Black with Eagle PVCA
*Left chest embroidery
LONG SLEEVED T-SHIRT
*Left chest embroidery also available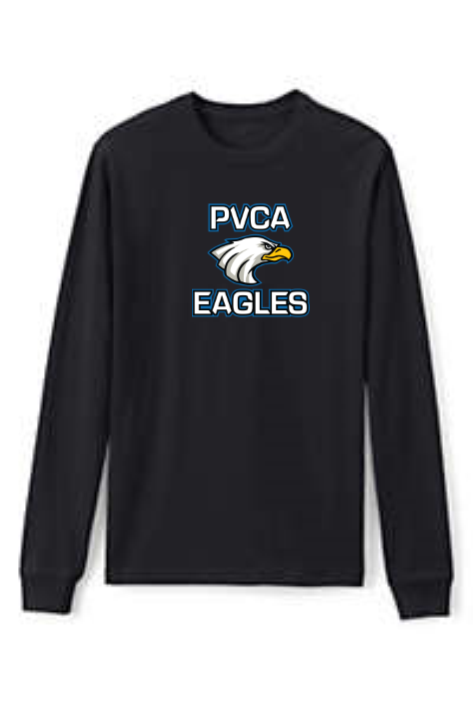 Long Sleeved T-Shirt
Lands' End Item #395792-BRX
Black with LG PVCA Eagle
*Full chest heat transfer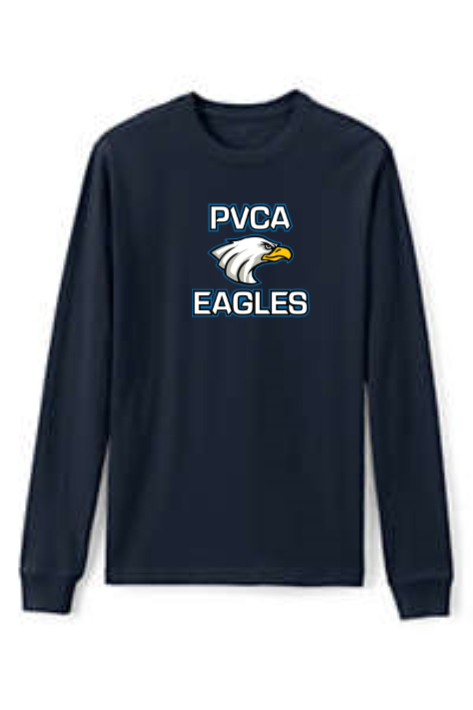 Long Sleeved T-Shirt
Lands' End Item #395792-BRX
Navy with LG PVCA Eagle
*Full chest heat transfer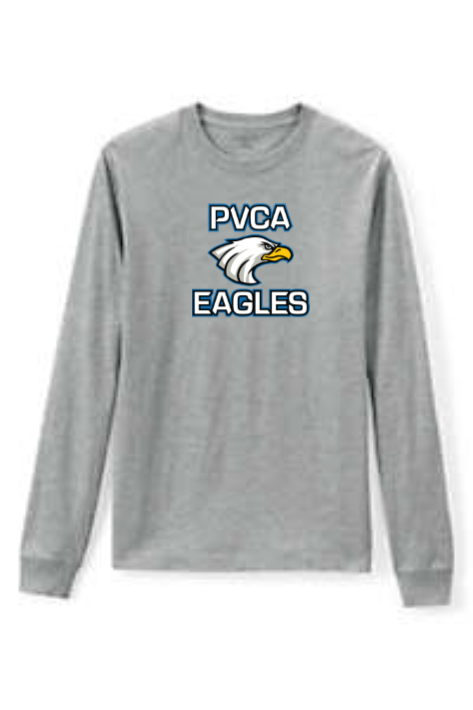 Long Sleeved T-Shirt
Lands' End Item #395792-BRX
Heather with LG PVCA Eagle
*Full chest heat transfer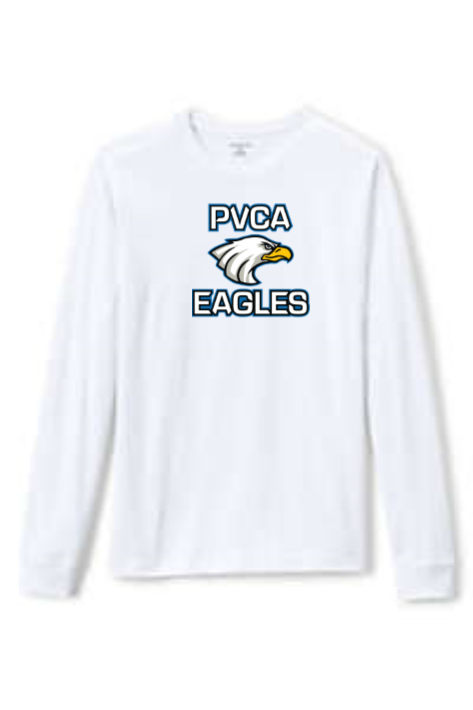 Long Sleeved T-Shirt
Lands' End Item #395792-BRX
White with LG PVCA Eagle
*Full chest heat transfer
Long Sleeved T-Shirt
Lands' End Item #395792-BRX
Black with SM PVCA Eagle
*Left chest heat transfer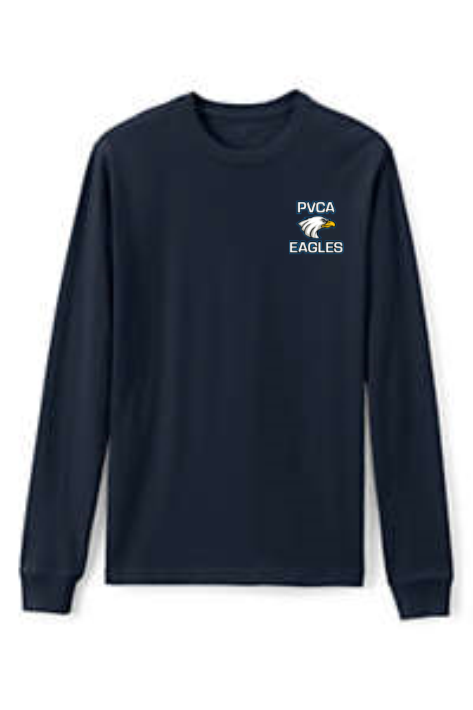 Long Sleeved T-Shirt
Lands' End Item #395792-BRX
Navy with SM PVCA Eagle
*Left chest heat transfer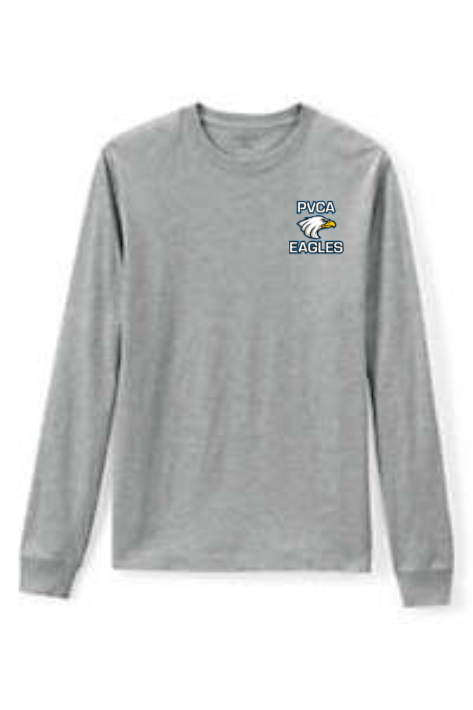 Long Sleeved T-Shirt
Lands' End Item #395792-BRX
Heather with SM PVCA Eagle
*Left chest heat transfer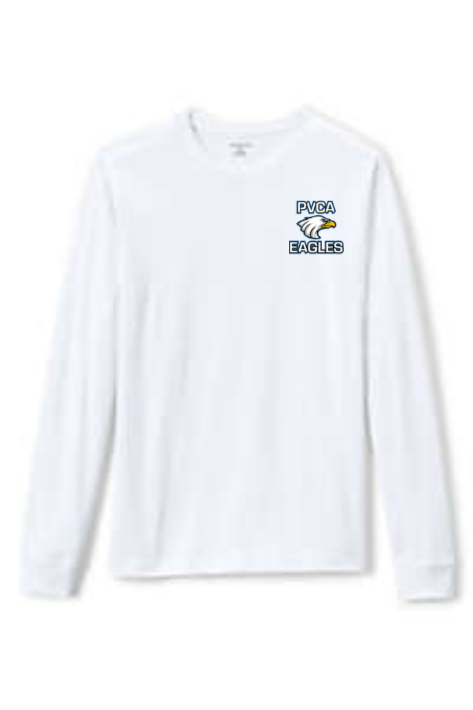 Long Sleeved T-Shirt
Lands' End Item #395792-BRX
White with SM PVCA Eagle
*Left chest heat transfer
SHORT SLEEVED T-SHIRT-EAGLES ACTIVE WEAR
*Left chest embroidery also available
*Not approved for dress code during school hours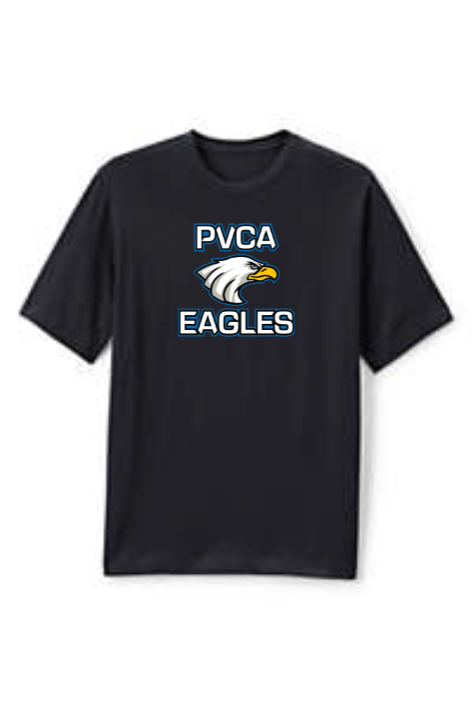 Short Sleeved T-Shirt
Lands' End Item #393753-BR6
Black with LG PVCA Eagle
*Full chest heat transfer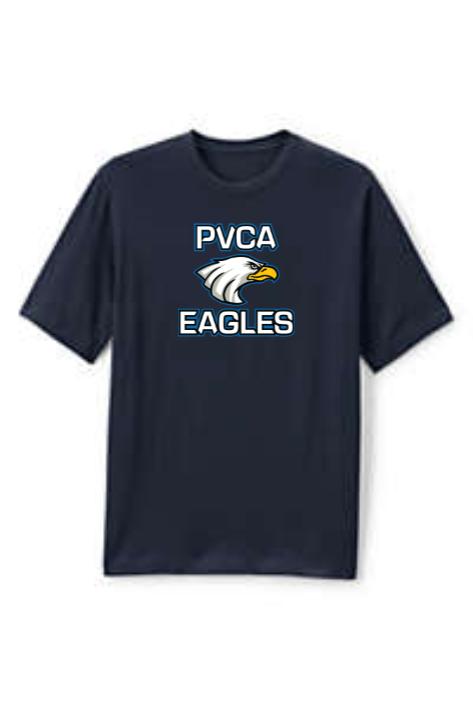 Short Sleeved T-Shirt
Lands' End Item #393753-BR6
Navy with LG PVCA Eagle
*Full chest heat transfer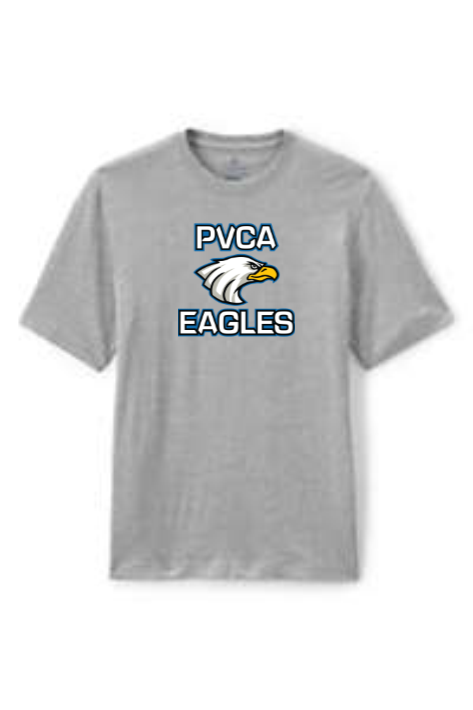 Short Sleeved T-Shirt
Lands' End Item #393753-BR6
Heather with LG PVCA Eagle
*Full chest heat transfer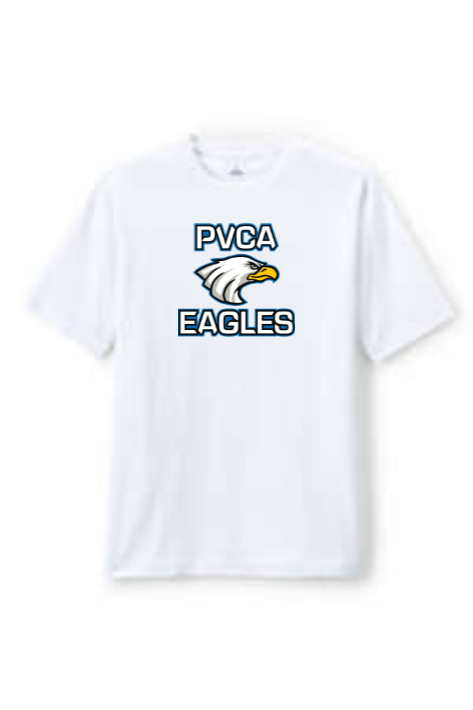 Short Sleeved T-Shirt
Lands' End Item #393753-BR6
White with LG PVCA Eagle
*Full chest heat transfer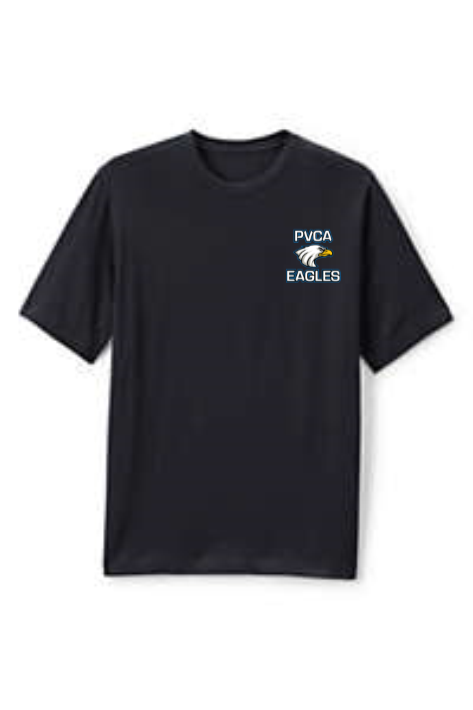 Short Sleeved T-Shirt
Lands' End Item #393753-BR6
Black with SM PVCA Eagle
*Left chest heat transfer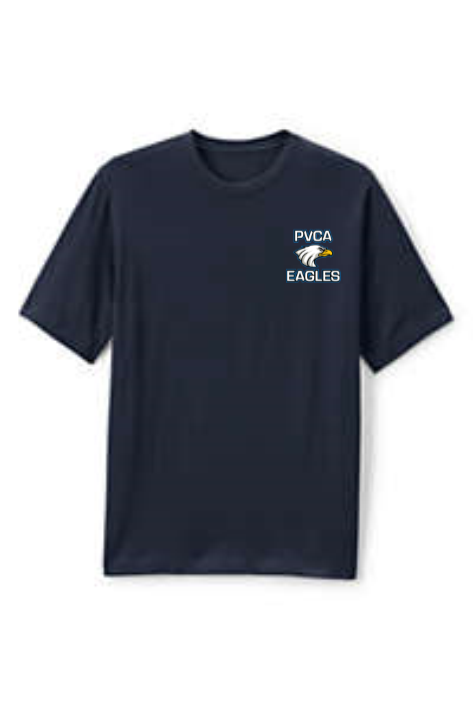 Short Sleeved T-Shirt
Lands' End Item #393753-BR6
Navy with SM PVCA Eagle
*Left chest heat transfer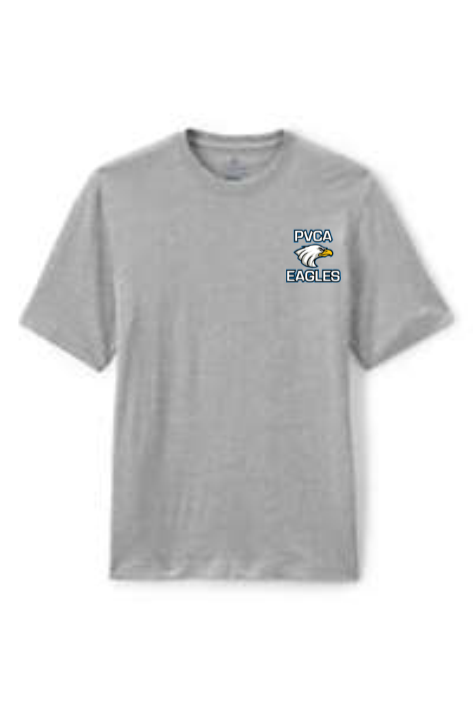 Short Sleeved T-Shirt
Lands' End Item #393753-BR6
Heather with SM PVCA Eagle
*Left chest heat transfer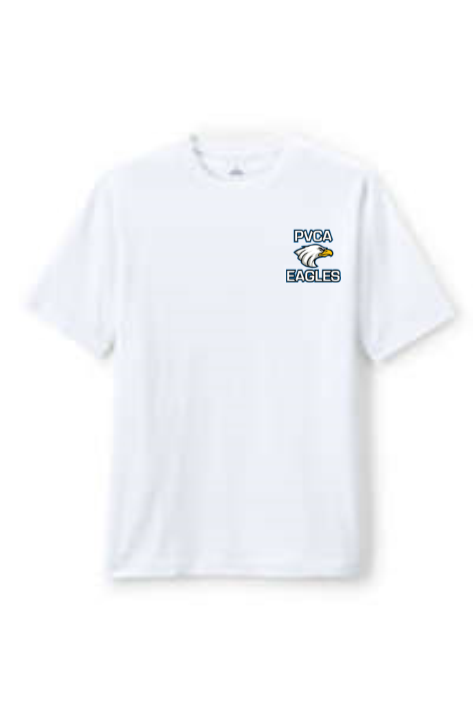 Short Sleeved T-Shirt
Lands' End Item #393753-BR6
White with SM PVCA Eagle
*Left chest heat transfer
GYM SHORTS – EAGLES ACTIVE WEAR
*Not approved for dress code during school hours
ACTIVE GYM SHIRT – EAGLES ACTIVE WEAR
*Also available in Heather Grey
*Not approved for dress code during school hours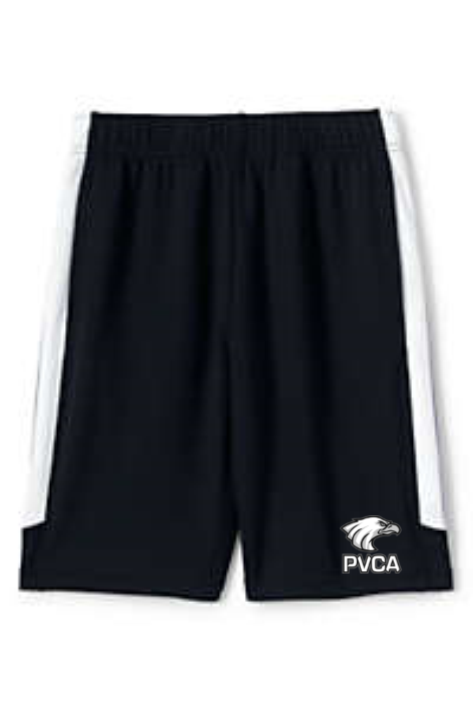 Mesh Athletic Gym Shorts
Lands' End Item #486434-BR9
Black with Eagle PVCA
*Left leg embroidery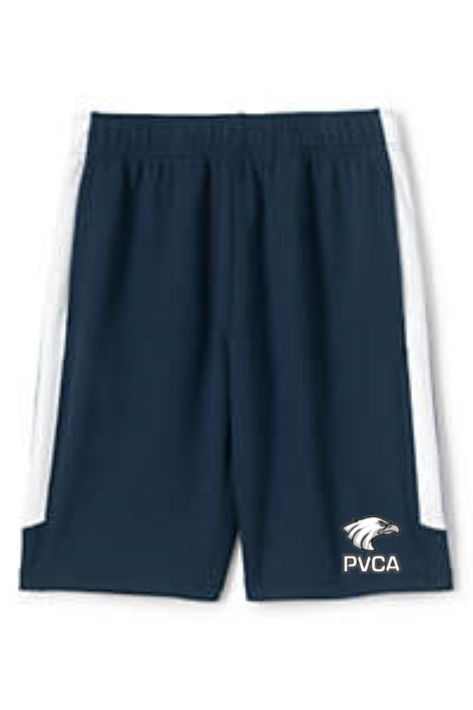 Mesh Athletic Gym Shorts
Lands' End Item #486434-BR9
Navy with Eagle PVCA
*Left leg embroidery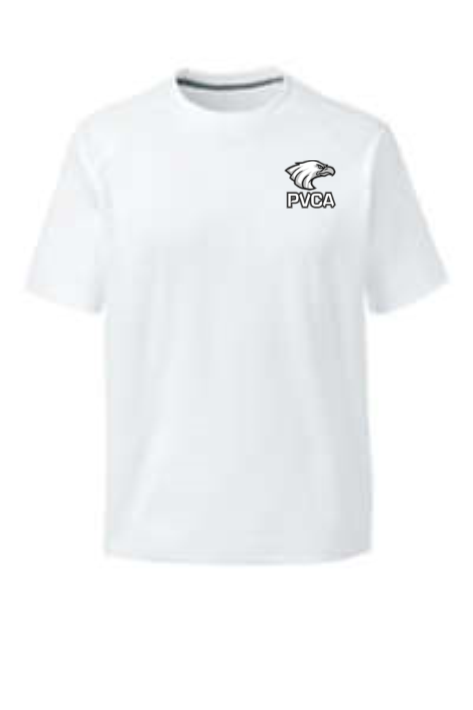 Active Gym T-Shirt
Lands' End Item #486455-BR0
White with Eagle PVCA
*Left chest embroidery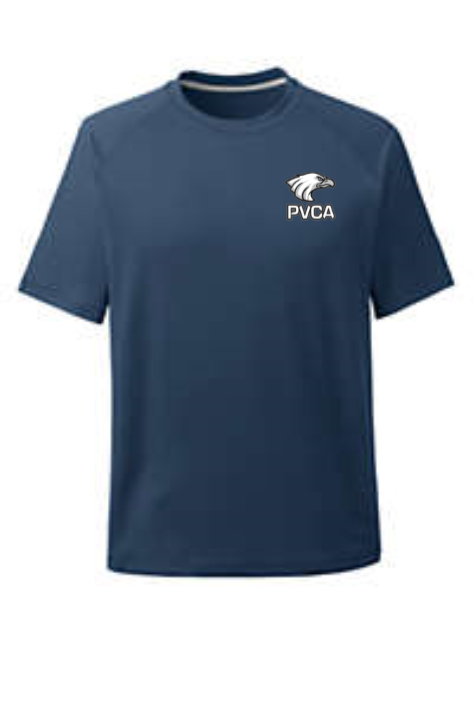 Active Gym T-Shirt
Lands' End Item #486455-BR0
Navy with Eagle PVCA
*Left chest embroidery
SWEATPANTS – EBROIDERED EAGLES ACTIVE WEAR
*Also available in Navy
*Not approved for dress code during school hours
SWEATPANTS – HEAT TRANSFER EAGLES ACTIVE WEAR
*Also available in Black
*Not approved for dress code during school hours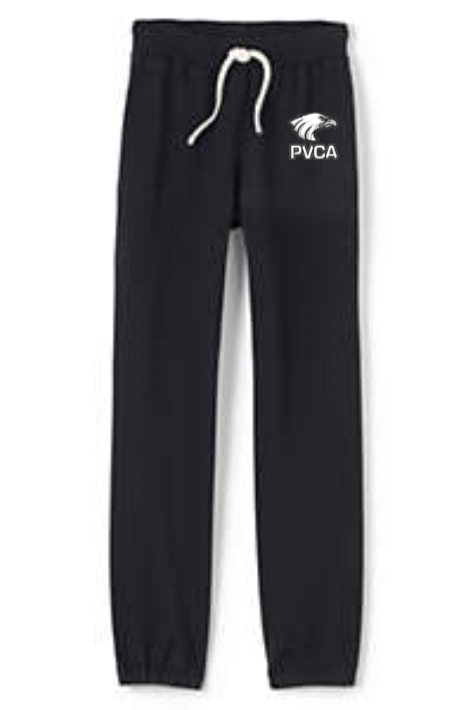 Sweatpants
Lands' End Item #393721-BR6
Black with Eagle PVCA
*Left leg embroidery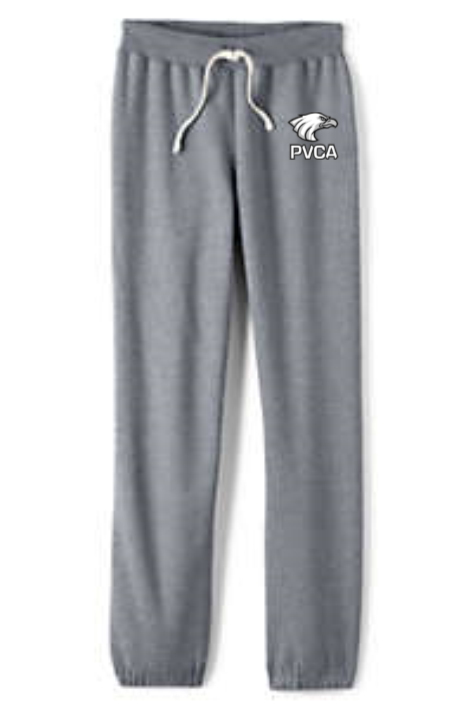 Sweatpants
Lands' End Item #393721-BR6
Heather with Eagle PVCA
*Left leg embroidery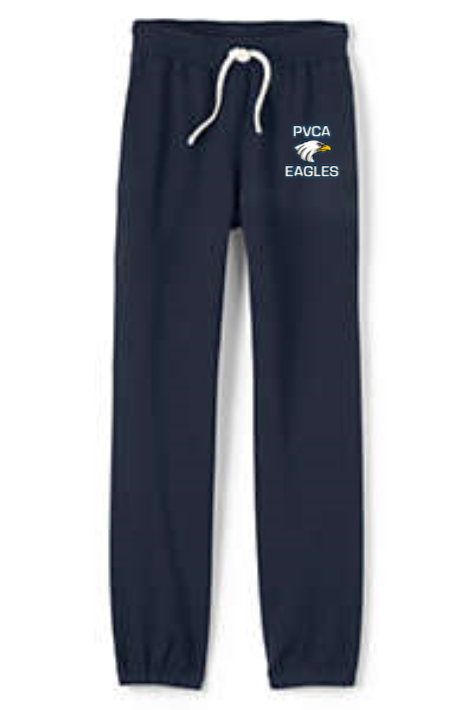 Sweatpants
Lands' End Item #393721-BR6
Navy with SM PVCA Eagle
*Left leg heat transfer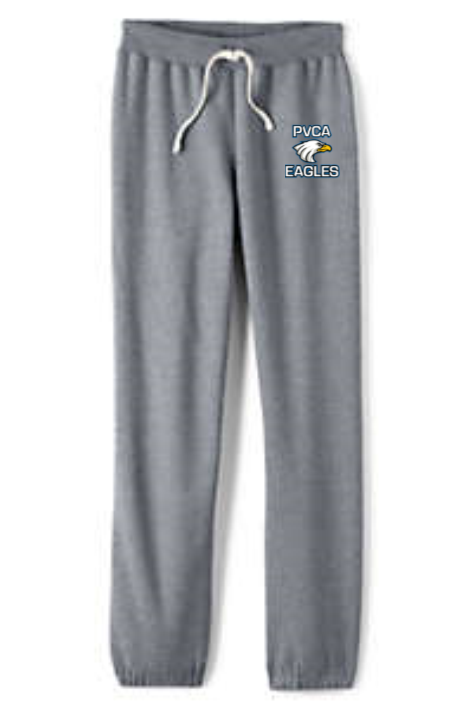 Sweatpants
Lands' End Item #393721-BR6
Heather with SM PVCA Eagle
*Left leg heat transfer
HOODIE PULLOVER SWEATSHIRT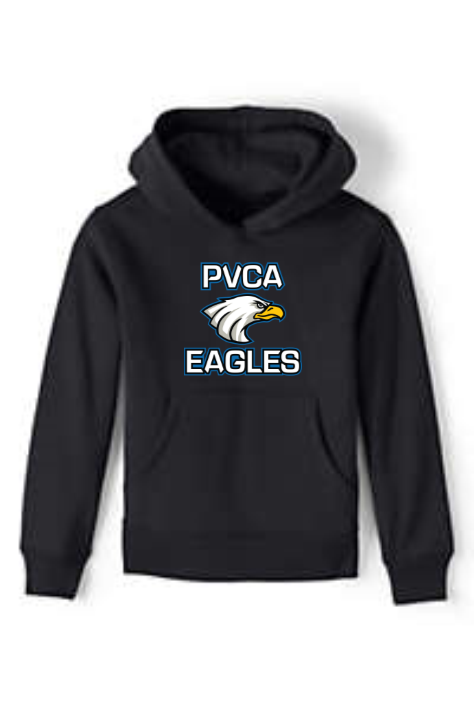 Hoodie Pullover Sweatshirt
Lands' End Item #393708-BR0
Black with LG PVCA Eagle
*Full chest heat transfer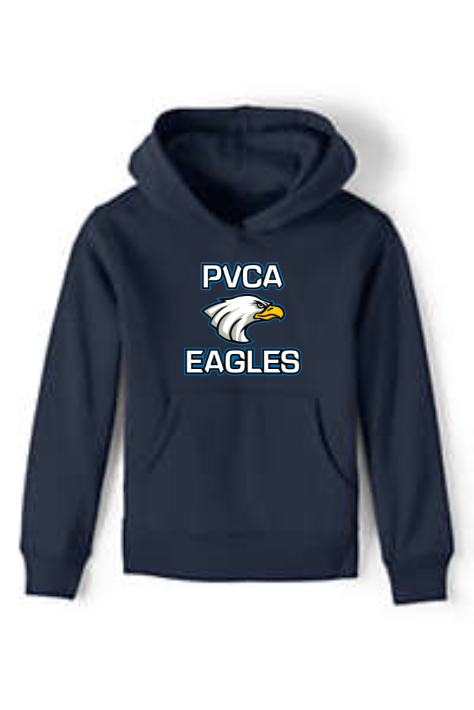 Hoodie Pullover Sweatshirt
Lands' End Item #393708-BR0
Navy with LG PVCA Eagle
*Full chest heat transfer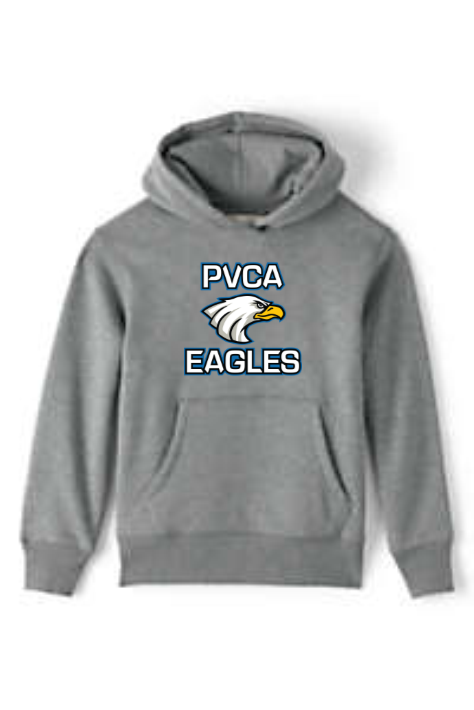 Hoodie Pullover Sweatshirt
Lands' End Item #393708-BR0
Heather with LG PVCA Eagle
*Full chest heat transfer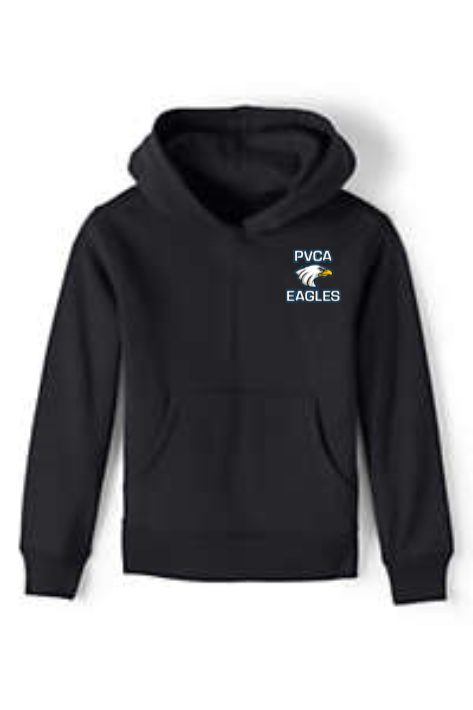 Hoodie Pullover Sweatshirt
Lands' End Item #393708-BR0
Black with SM PVCA Eagle
*Left chest heat transfer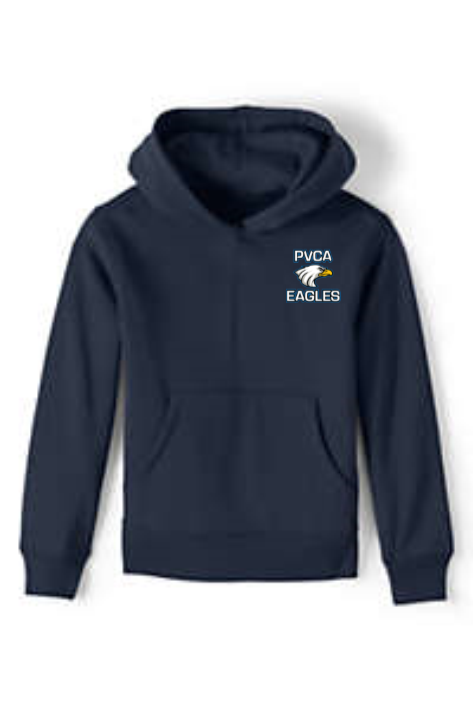 Hoodie Pullover Sweatshirt
Lands' End Item #393708-BR0
Navy with SM PVCA Eagle
*Left chest heat transfer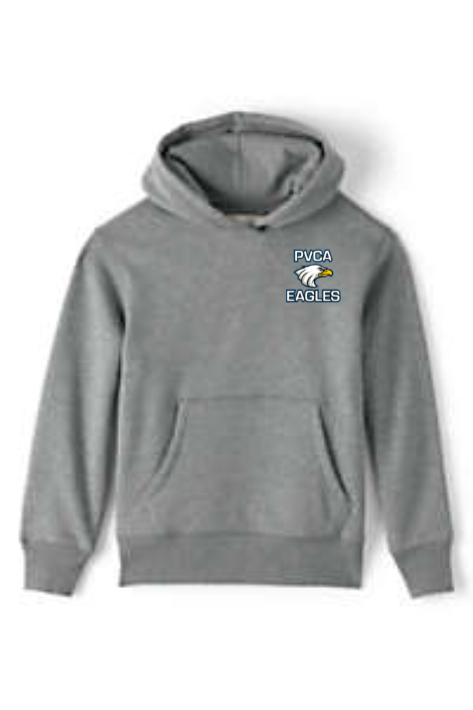 Hoodie Pullover Sweatshirt
Lands' End Item #393708-BR0
Heather with SM PVCA Eagle
*Left chest heat transfer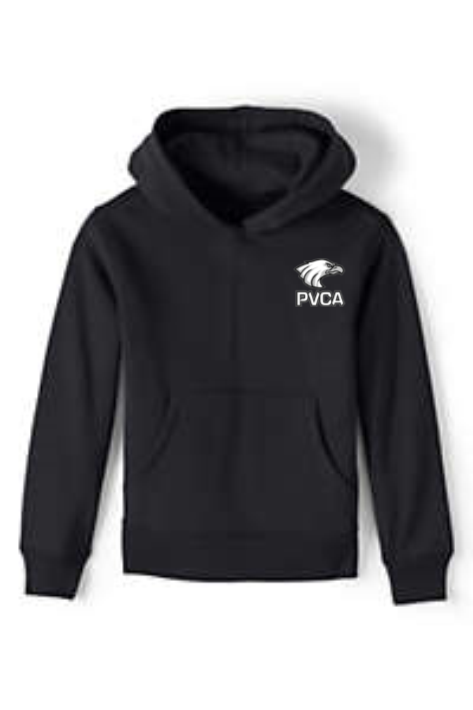 Hoodie Pullover Sweatshirt
Lands' End Item #393708-BR0
Black with Eagle PVCA
*Left chest embroidery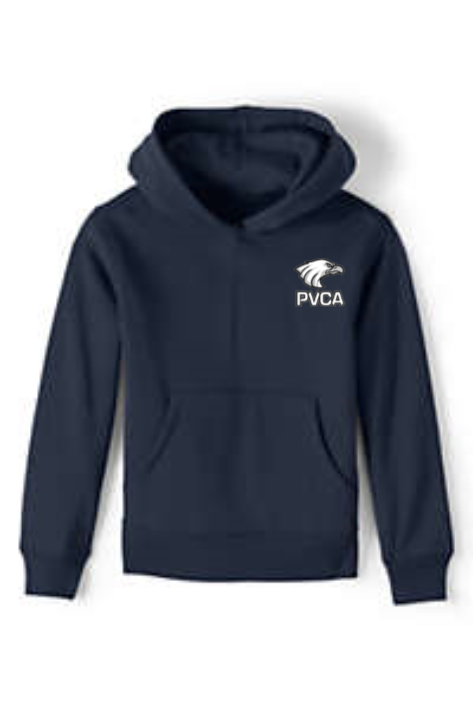 Hoodie Pullover Sweatshirt
Lands' End Item #393708-BR0
Navy with Eagle PVCA
*Left chest embroidery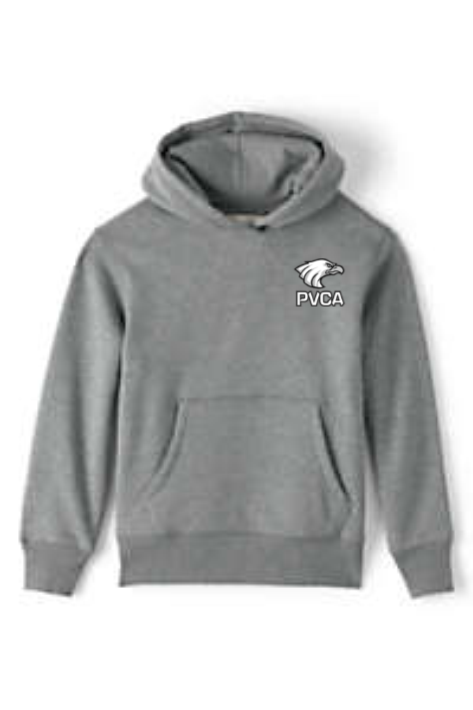 Hoodie Pullover Sweatshirt
Lands' End Item #393708-BR0
Heather with Eagle PVCA
*Left chest embroidery
CREW NECK SWEATSHIRT
*The Crew Neck Sweatshirt may also be ordered in Heather Grey
**Left chest embroidery also available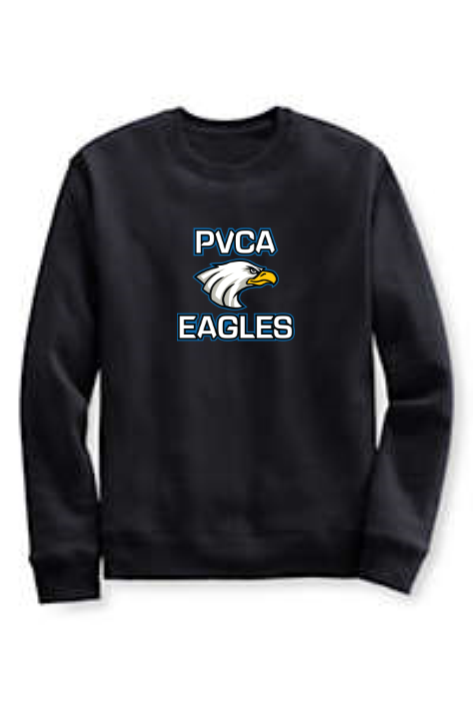 Crewneck Sweatshirt
Lands' End Item #393695-BR7
Black with LG PVCA Eagle
*Full chest heat transfer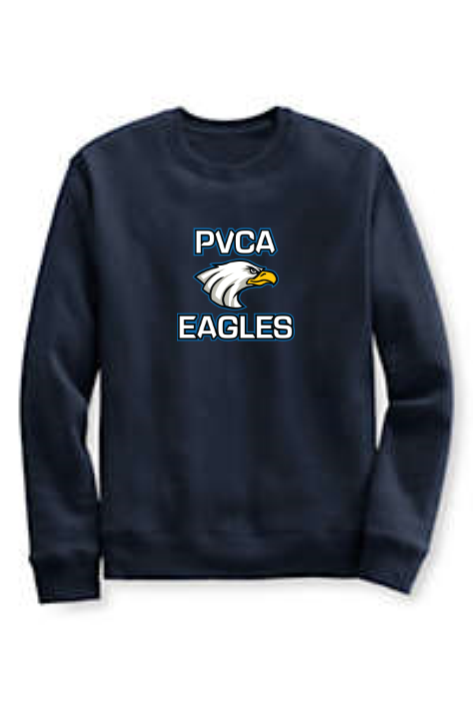 Crewneck Sweatshirt
Lands' End Item #393695-BR7
Navy with LG PVCA Eagle
*Full chest heat transfer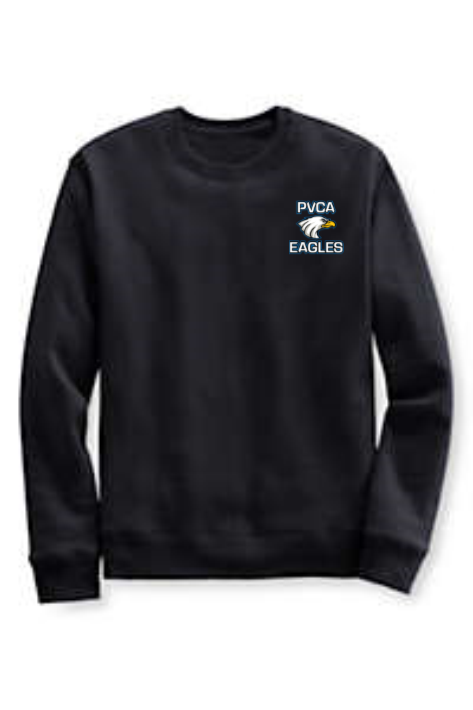 Crewneck Sweatshirt
Lands' End Item #393695-BR7
Black with SM PVCA Eagle
*Left chest heat transfer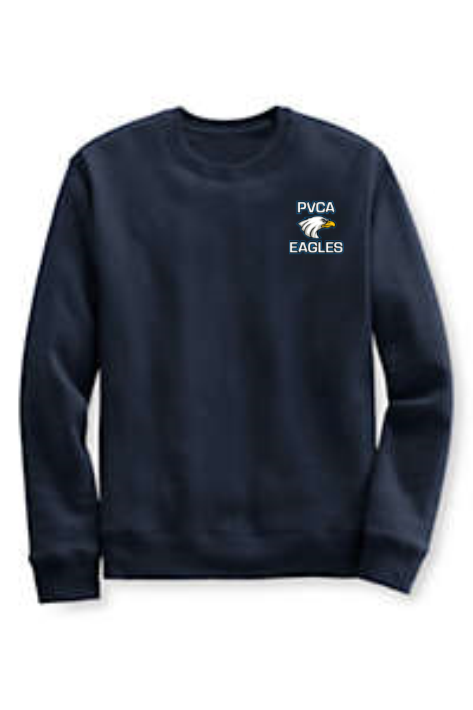 Crewneck Sweatshirt
Lands' End Item #393695-BR7
Navy with SM PVCA Eagle
*Left chest heat transfer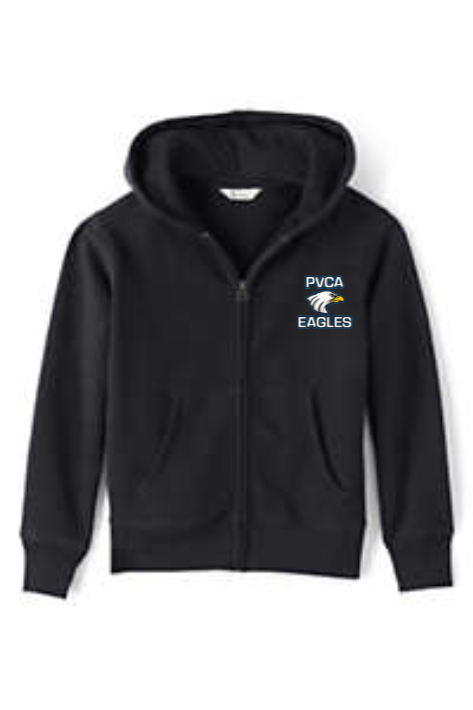 Zip-Front Sweatshirt
Lands' End Item #393714-BR6
Black with SM PVCA Eagle
*Left chest heat transfer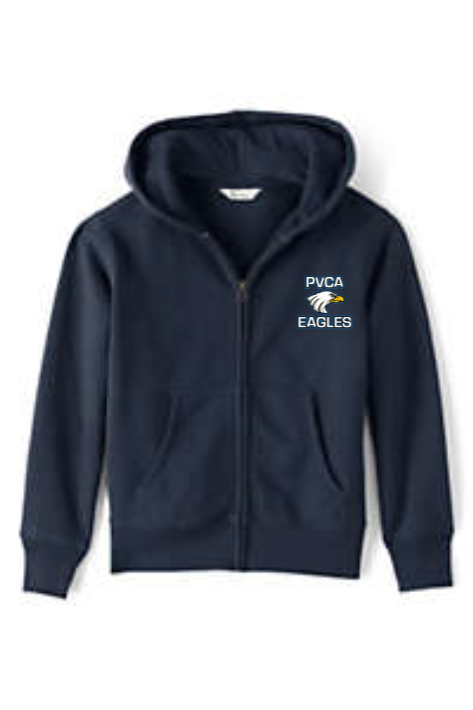 Zip-Front Sweatshirt
Lands' End Item #393714-BR6
Navy with SM PVCA Eagle
*Left chest heat transfer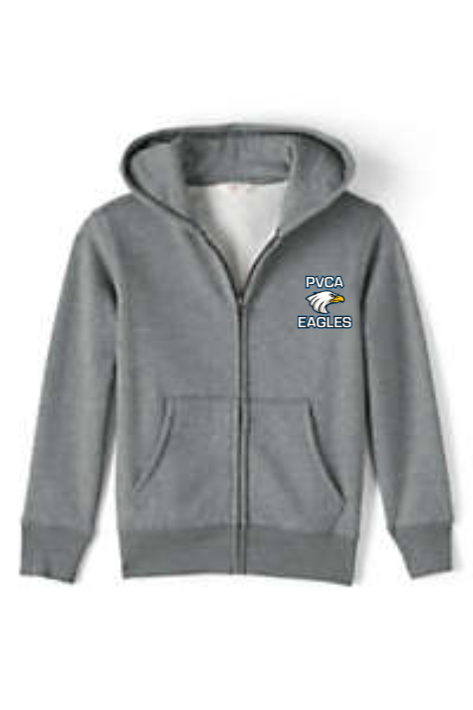 Zip-Front Sweatshirt
Lands' End Item #393714-BR6
Heather with SM PVCA Eagle
*Left chest heat transfer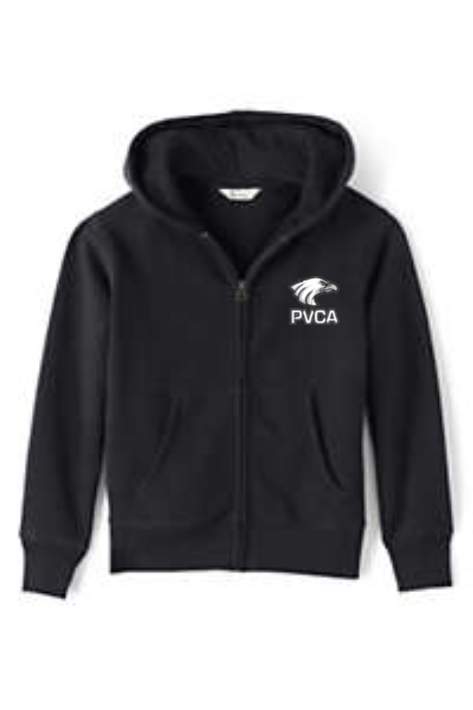 Zip-Front Sweatshirt
Lands' End Item #393714-BR6
Black with Eagle PVCA
*Left chest embroidery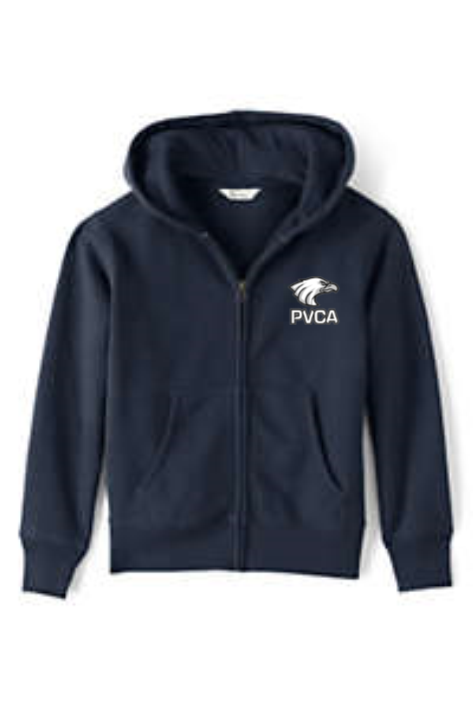 Zip-Front Sweatshirt
Lands' End Item #393714-BR6
Navy with Eagle PVCA
*Left chest embroidery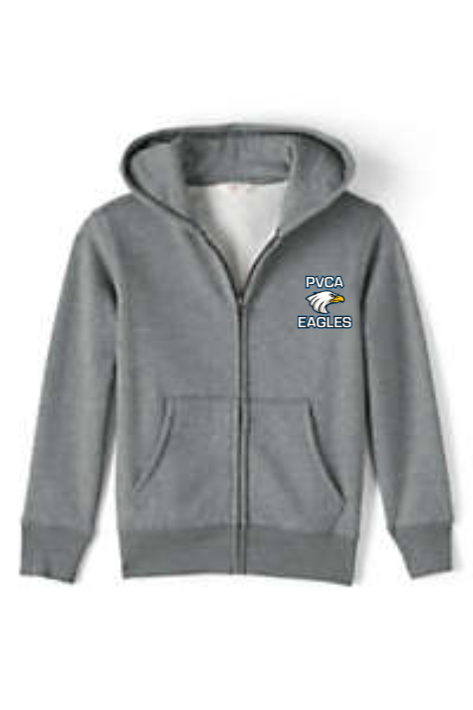 Zip-Front Sweatshirt
Lands' End Item #393714-BR6
Heather with Eagle PVCA
*Left chest embroidery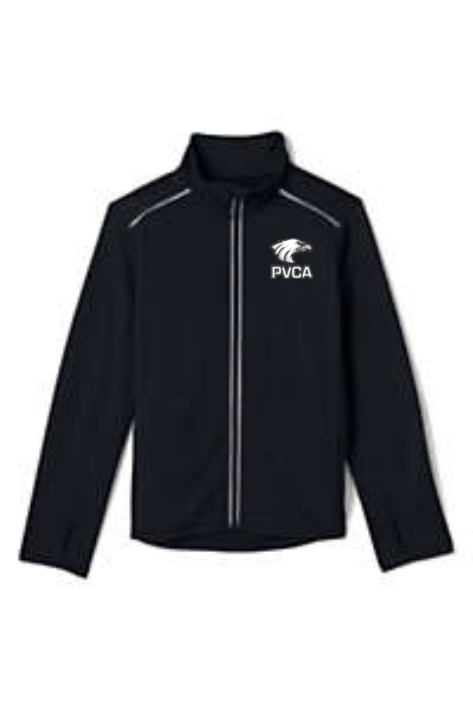 Active Track Jacket
Lands' End Item #486430-BR0
Black with Eagle PVCA
*Left chest embroidery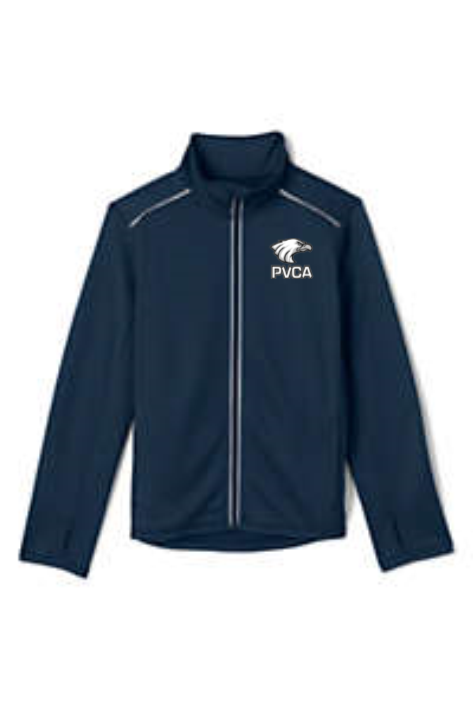 Active Track Jacket
Lands' End Item #486430-BR0
Navy with Eagle PVCA
*Left chest embroidery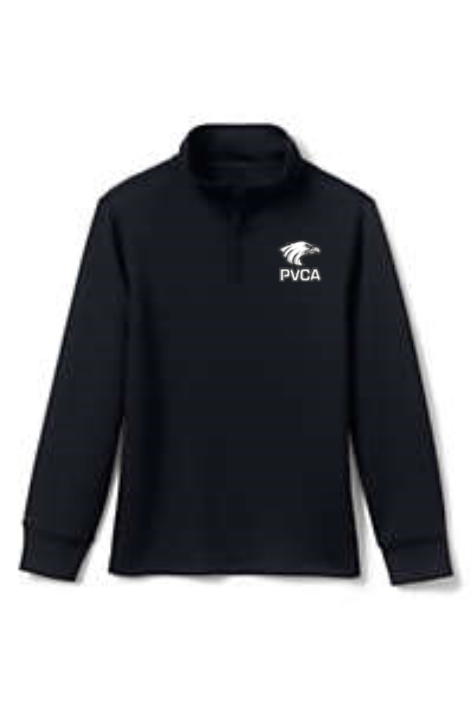 Quarter-Zip Pullover
Lands' End Item #510784-BR7
Black with Eagle PVCA
*Left chest embroidery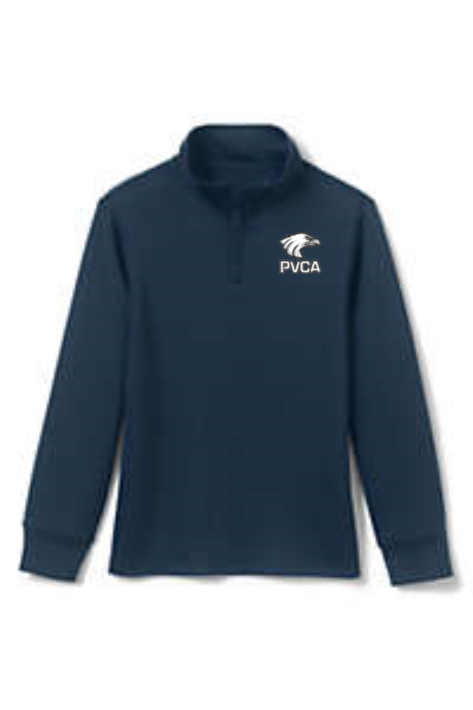 Quarter-Zip Pullover
Lands' End Item #510784-BR7
Navy with Eagle PVCA
*Left chest embroidery
LONG SLEEVED T-SHIRTS
*Left chest embroidery also available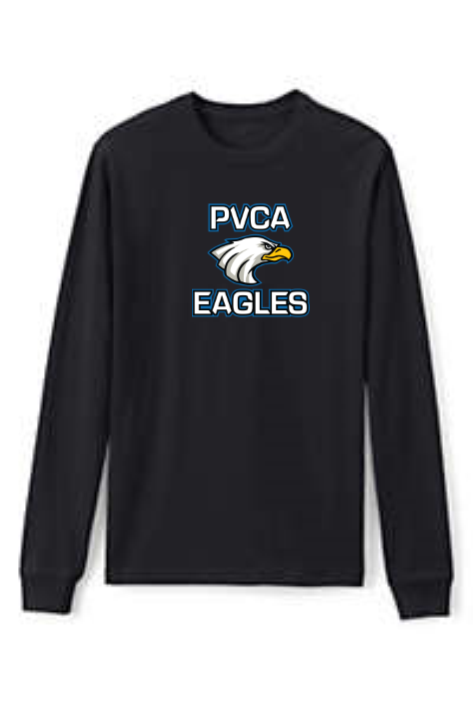 Long Sleeved T-Shirt
Lands' End Item #395791-BR5
Black with LG PVCA Eagle
*Full chest heat transfer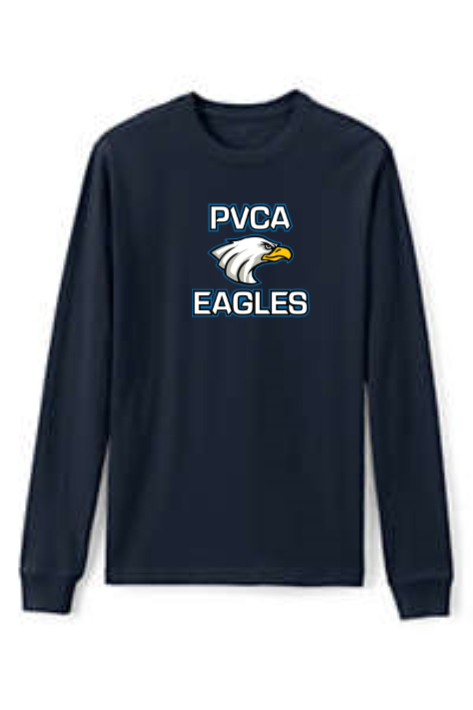 Long Sleeved T-Shirt
Lands' End Item #395791-BR5
Navy with LG PVCA Eagle
*Full chest heat transfer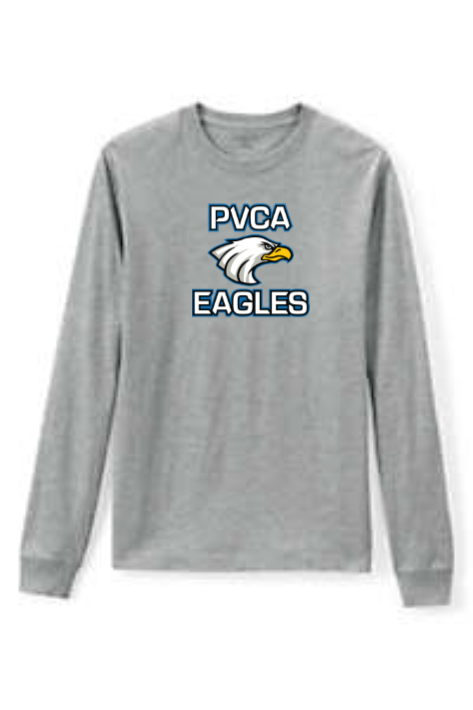 Long Sleeved T-Shirt
Lands' End Item #395791-BR5
Heather with LG PVCA Eagle
*Full chest heat transfer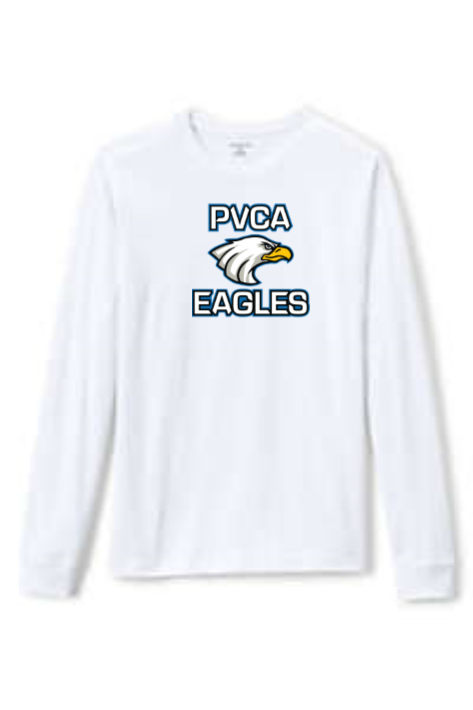 Long Sleeved T-Shirt
Lands' End Item #395791-BR5
White with LG PVCA Eagle
*Full chest heat transfer
Long Sleeved T-Shirt
Lands' End Item #395791-BR5
Black with SM PVCA Eagle
*Left chest heat transfer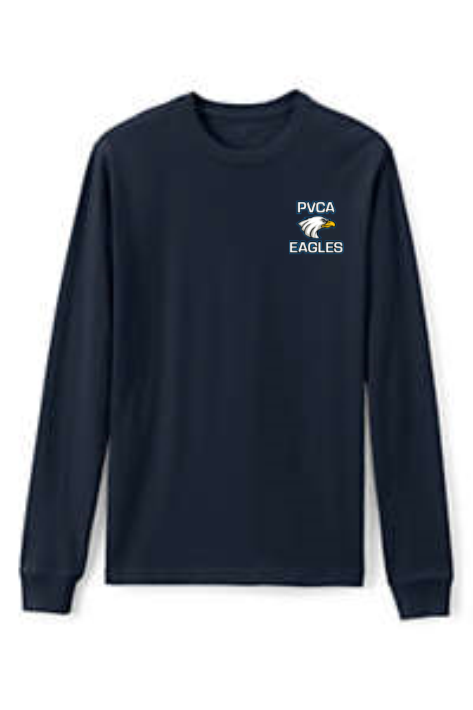 Long Sleeved T-Shirt
Lands' End Item #395791-BR5
Navy with SM PVCA Eagle
*Left chest heat transfer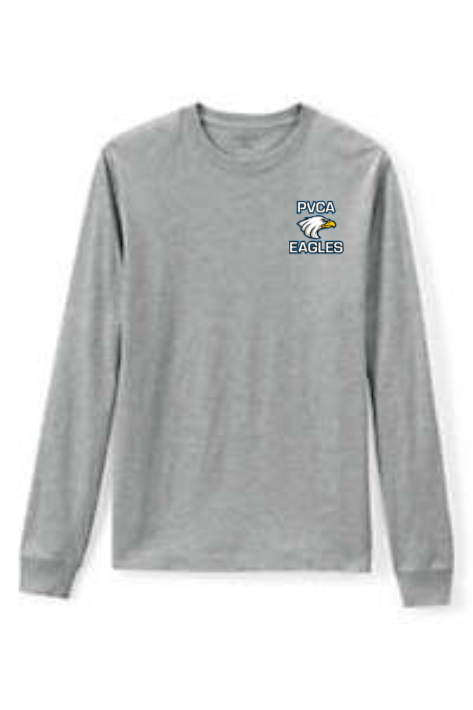 Long Sleeved T-Shirt
Lands' End Item #395791-BR5
Heather with SM PVCA Eagle
*Left chest heat transfer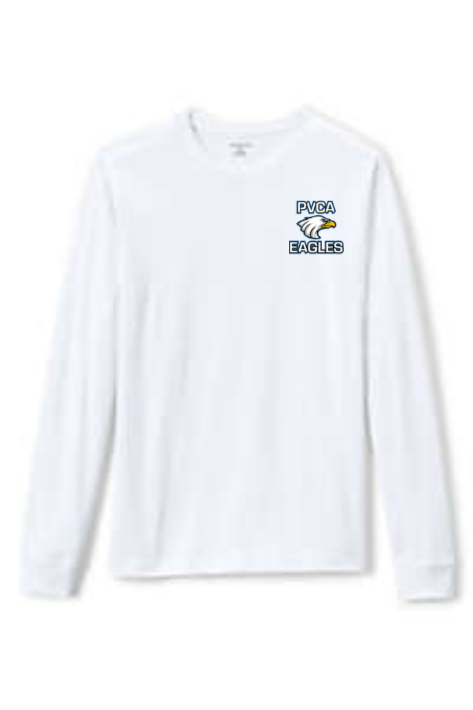 Long Sleeved T-Shirt
Lands' End Item #395791-BR5
White with SM PVCA Eagle
*Left chest heat transfer
SHORT SLEEVED T-SHIRT – EAGLES ACTIVE WEAR
*Left chest embroidery also available
*Not approved for dress code during school hours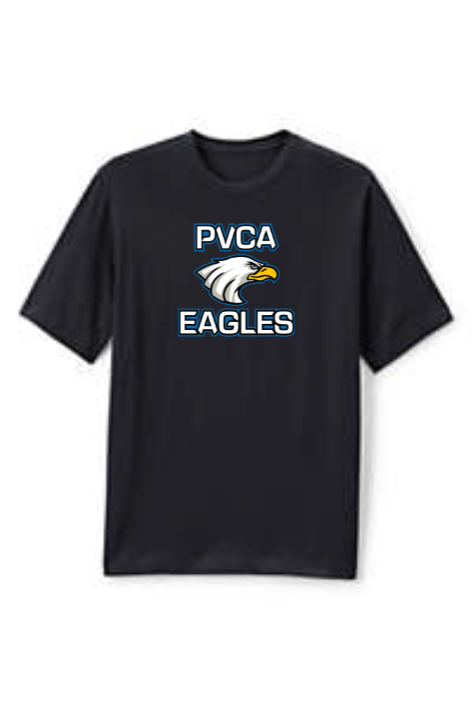 Short Sleeved T-Shirt
Lands' End Item #393752-BR1
Black with LG PVCA Eagle
*Full chest heat transfer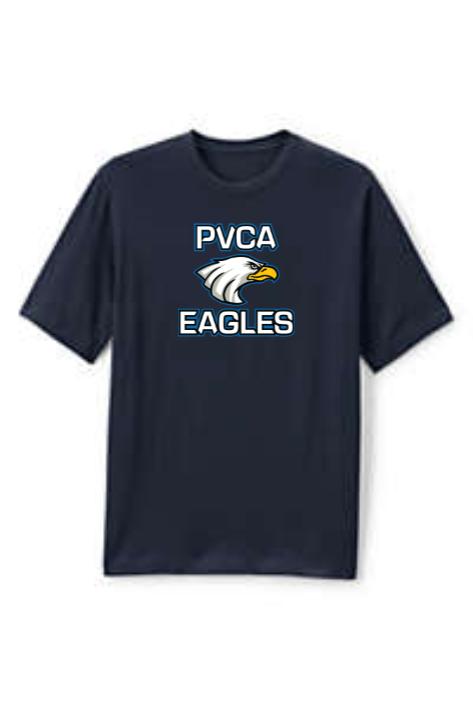 Short Sleeved T-Shirt
Lands' End Item #393752-BR1
Navy with LG PVCA Eagle
*Full chest heat transfer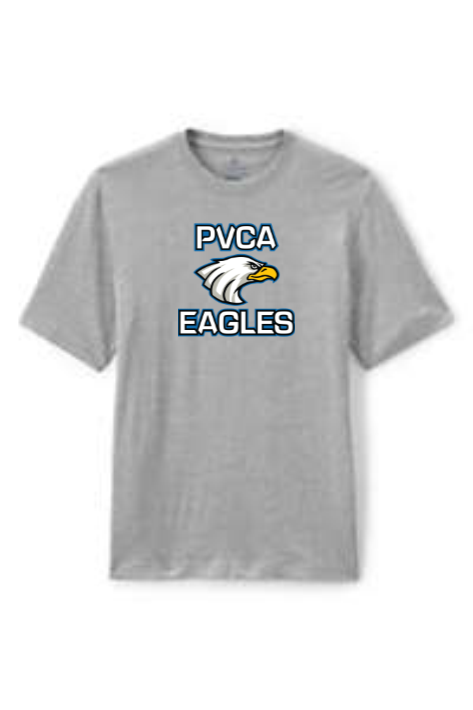 Short Sleeved T-Shirt
Lands' End Item #393752-BR1
Heather with LG PVCA Eagle
*Full chest heat transfer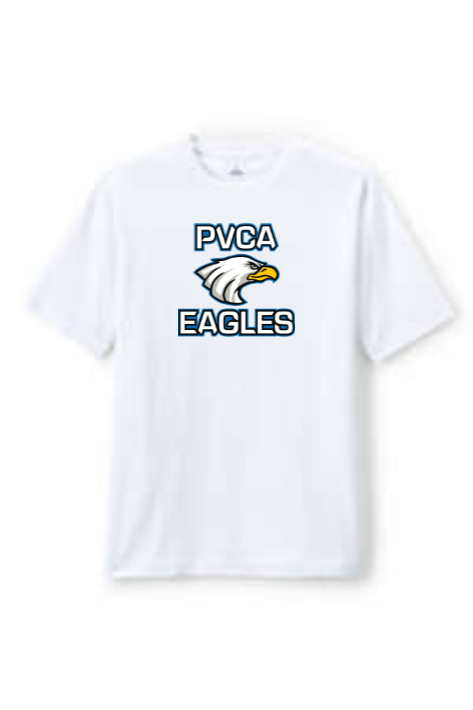 Short Sleeved T-Shirt
Lands' End Item #393752-BR1
White with LG PVCA Eagle
*Full chest heat transfer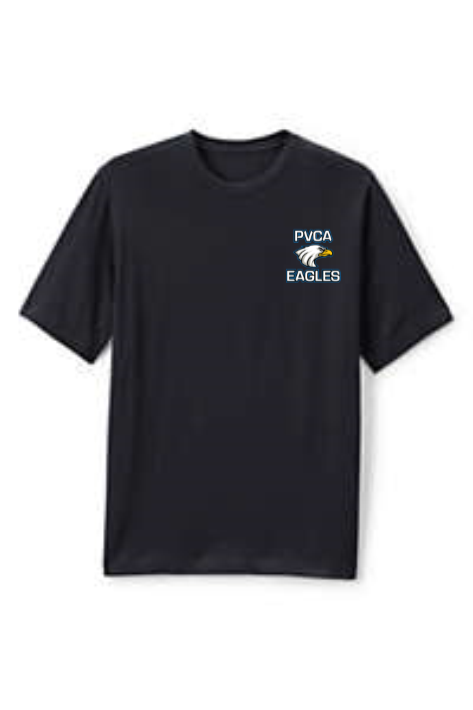 Short Sleeved T-Shirt
Lands' End Item #393752-BR1
Black with SM PVCA Eagle
*Left chest heat transfer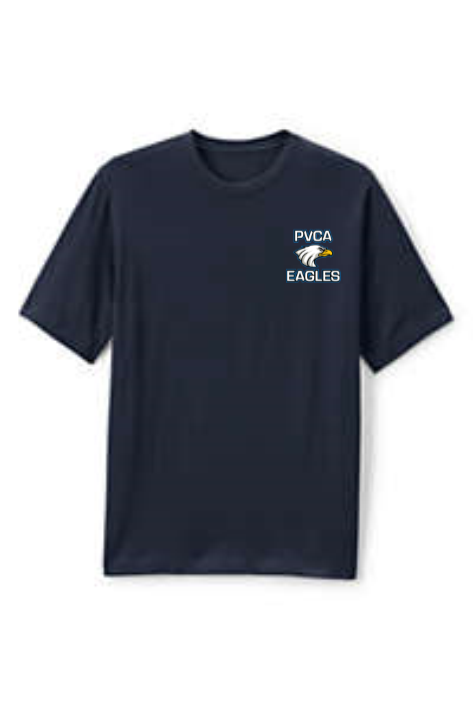 Short Sleeved T-Shirt
Lands' End Item #393752-BR1
Navy with SM PVCA Eagle
*Left chest heat transfer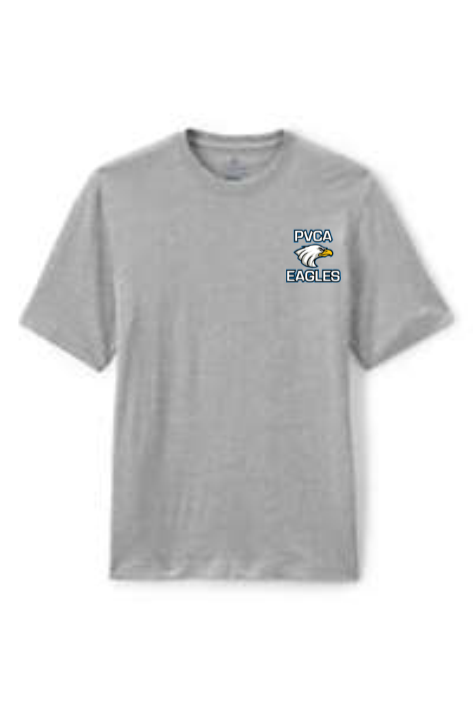 Short Sleeved T-Shirt
Lands' End Item #393752-BR1
Heather with SM PVCA Eagle
*Left chest heat transfer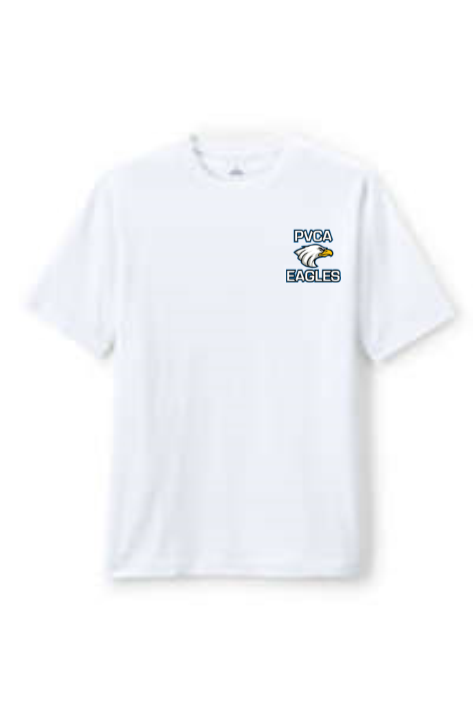 Short Sleeved T-Shirt
Lands' End Item #393752-BR1
White with SM PVCA Eagle
*Left chest heat transfer
GYM SHORTS – EAGLES ACTIVE WEAR
*Not approved for dress code during school hours
ACTIVE GYM SHIRT – EAGLES ACTIVE WEAR
*Also available in Heather Grey
*Not approved for dress code during school hours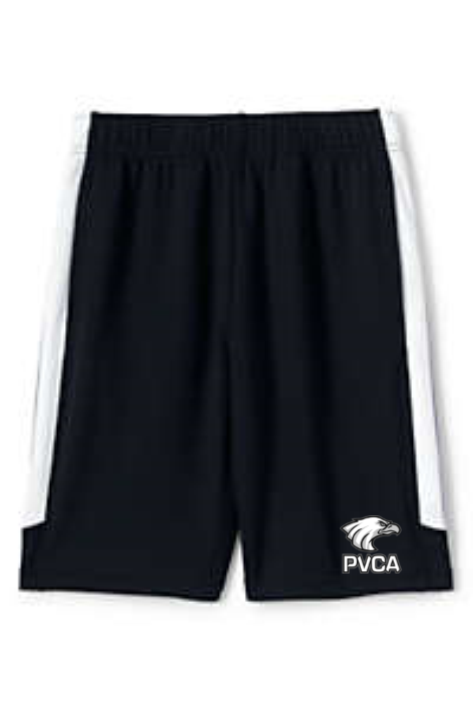 Mesh Athletic Gym Shorts
Lands' End Item #486433-BR4
Black with Eagle PVCA
*Left leg embroidery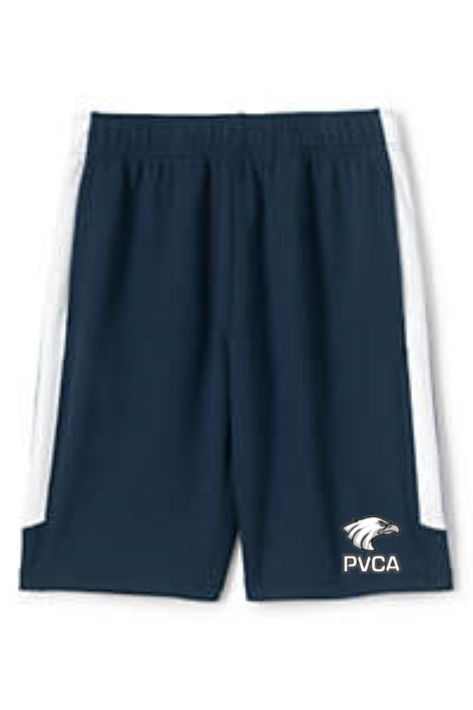 Mesh Athletic Gym Shorts
Lands' End Item #486433-BR4
Navy with Eagle PVCA
*Left leg embroidery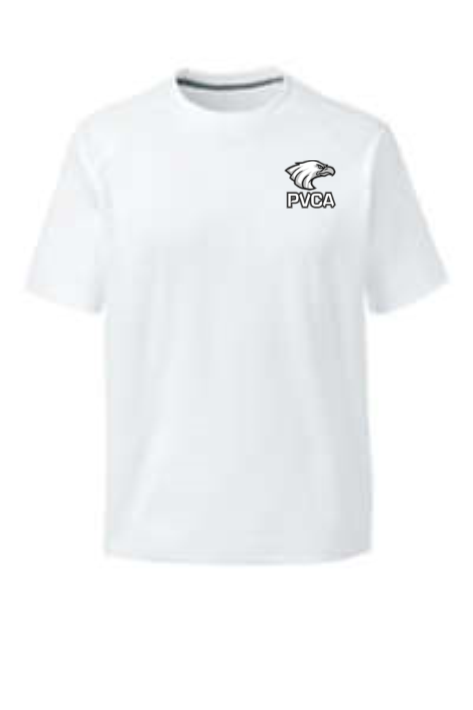 Active Gym T-Shirt
Lands' End Item #486454-BR6
White with Eagle PVCA
*Left chest embroidery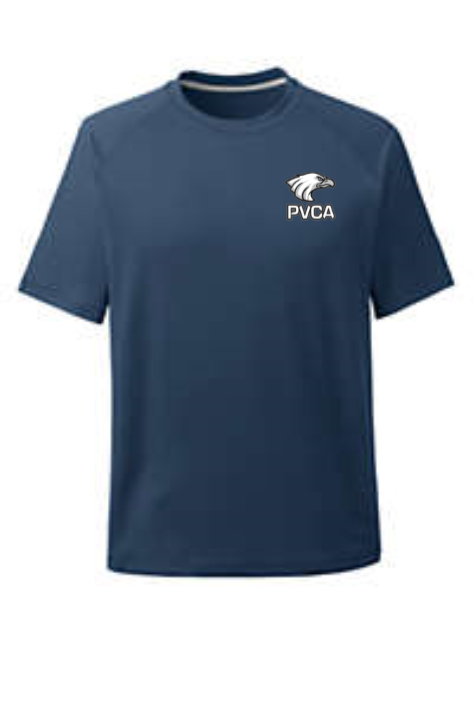 Active Gym T-Shirt
Lands' End Item #486454-BR6
Navy with Eagle PVCA
*Left chest embroidery
SWEATPANTS – EMBROIDERED EAGLES ACTIVE WEAR
*Also available in Navy
*Not approved for dress code during school hours
SWEATPANTS – HEAT TRANSFER EAGLES ACTIVE WEAR
*Also available in Black
*Not approved for dress code during school hours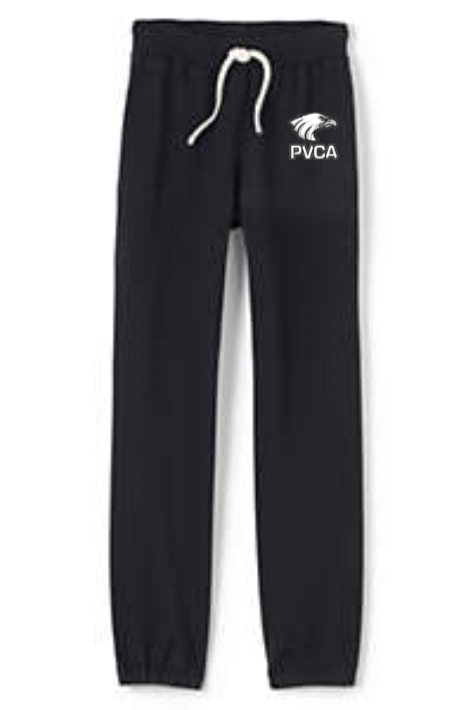 Sweatpants
Lands' End Item #393720-BR1
Black with Eagle PVCA
*Left leg embroidery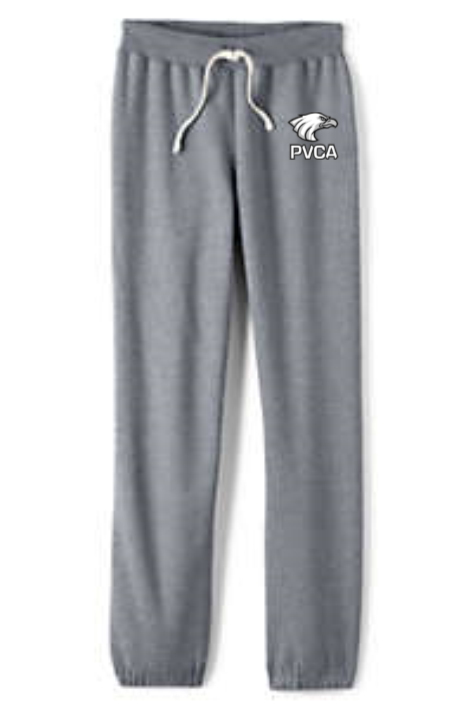 Sweatpants
Lands' End Item #393720-BR1
Heather with Eagle PVCA
*Left leg embroidery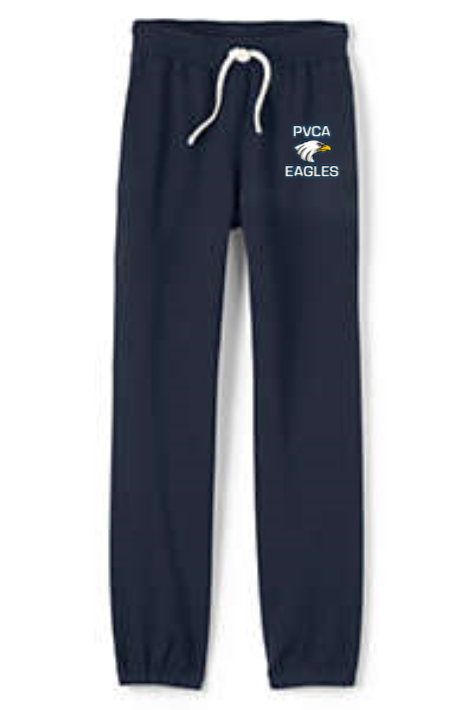 Sweatpants
Lands' End Item #393720-BR1
Navy with SM PVCA Eagle
*Left leg heat transfer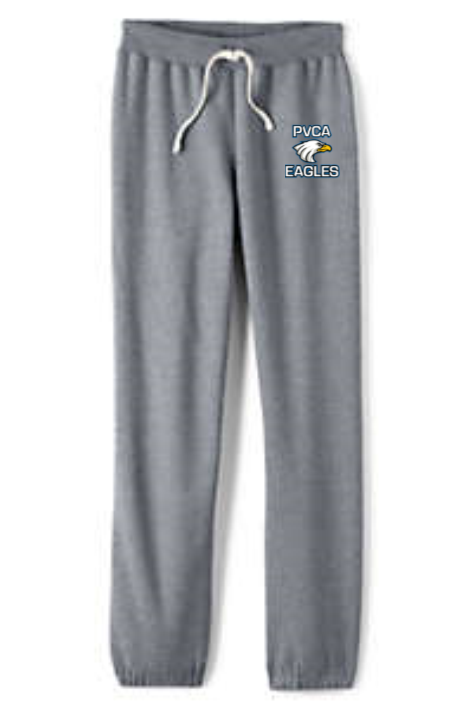 Sweatpants
Lands' End Item #393720-BR1
Heather with SM PVCA Eagle
*Left leg heat transfer
HOODIE PULLOVER SWEATSHIRT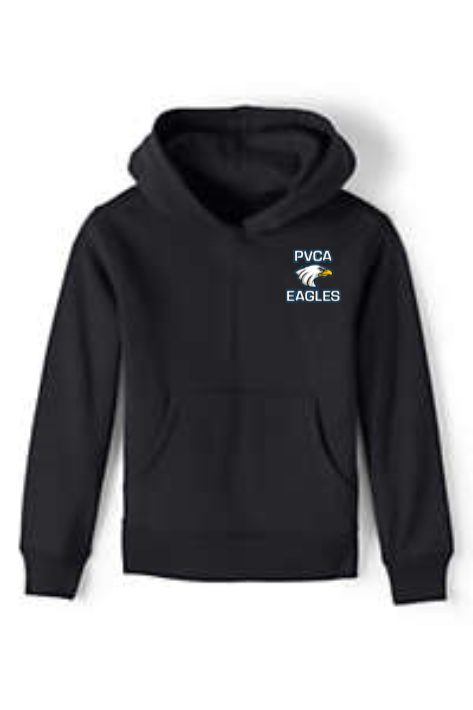 Hoodie Pullover Sweatshirt
Lands' End Item #393706-BR1
Black with SM PVCA Eagle
*Left chest heat transfer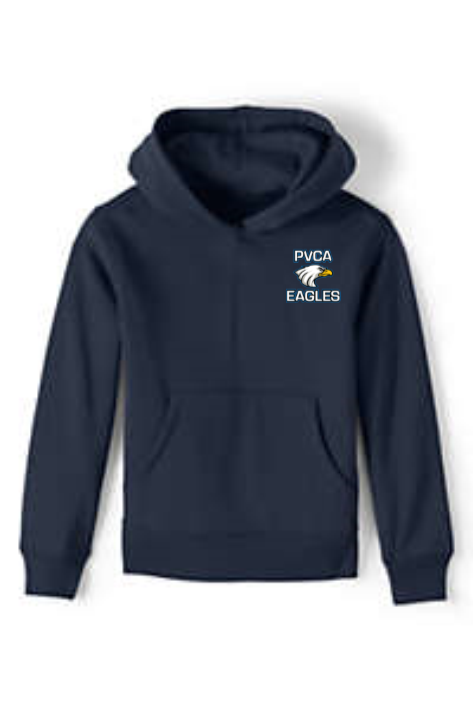 Hoodie Pullover Sweatshirt
Lands' End Item #393706-BR1
Navy with SM PVCA Eagle
*Left chest heat transfer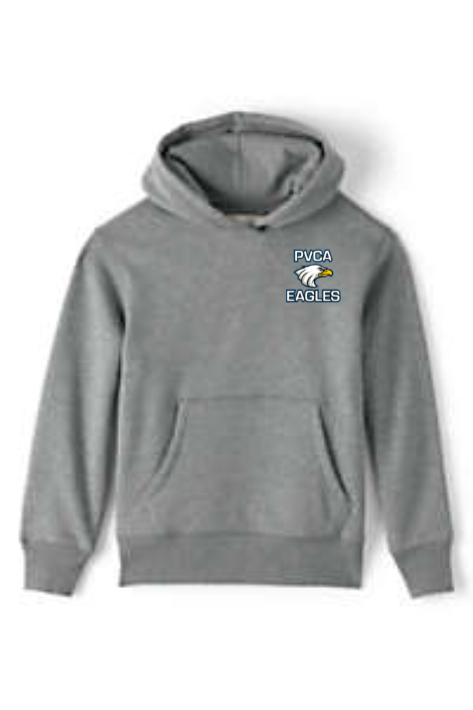 Hoodie Pullover Sweatshirt
Lands' End Item #393706-BR1
Heather with SM PVCA Eagle
*Left chest heat transfer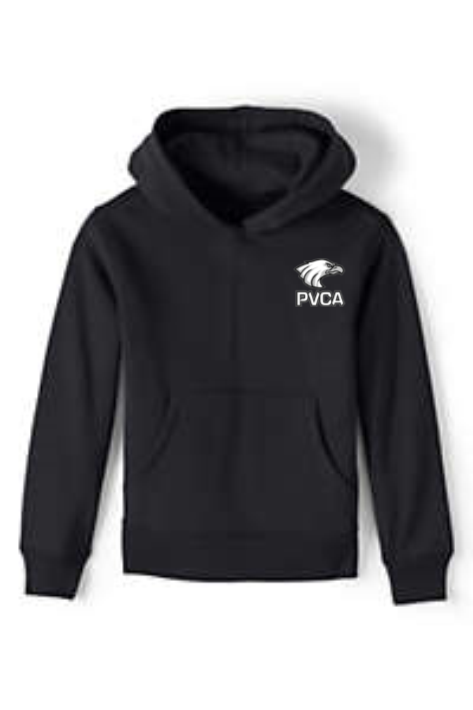 Hoodie Pullover Sweatshirt
Lands' End Item #393706-BR1
Black with Eagle PVCA
*Left chest embroidery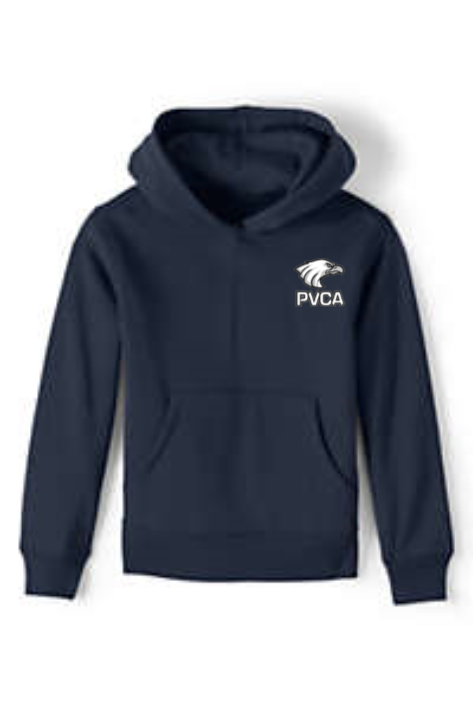 Hoodie Pullover Sweatshirt
Lands' End Item #393706-BR1
Navy with Eagle PVCA
*Left chest embroidery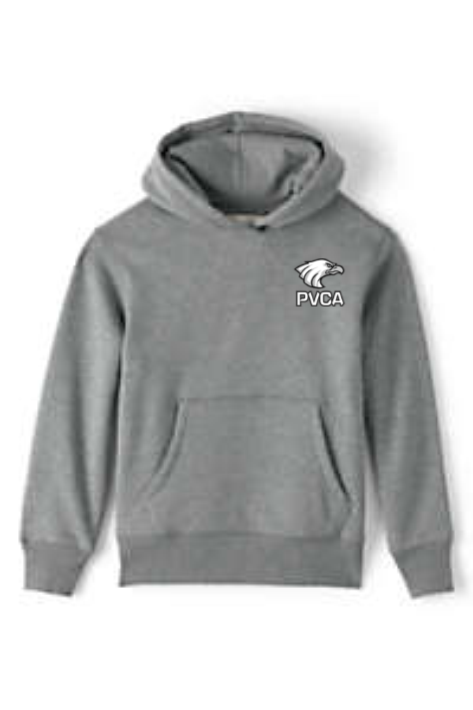 Hoodie Pullover Sweatshirt
Lands' End Item #393706-BR1
Heather with Eagle PVCA
*Left chest embroidery
CREW NECK SWEATSHIRT
*The Crew Neck Sweatshirt may also be ordered in Heather Grey
**Left chest embroidery also available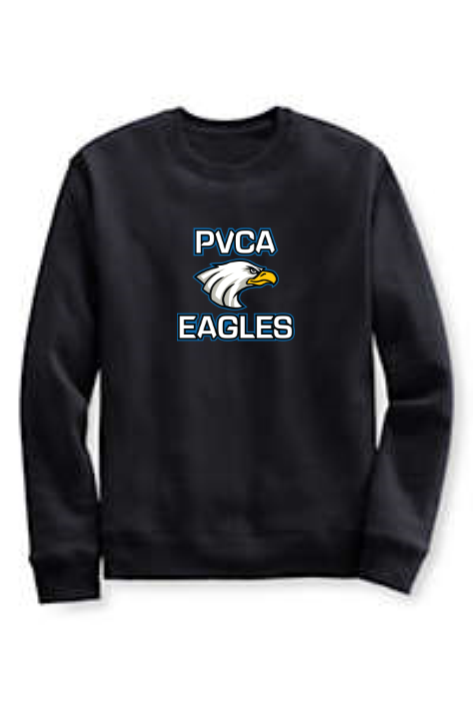 Crewneck Sweatshirt
Lands' End Item #393693-BR8
Black with LG PVCA Eagle
*Full chest heat transfer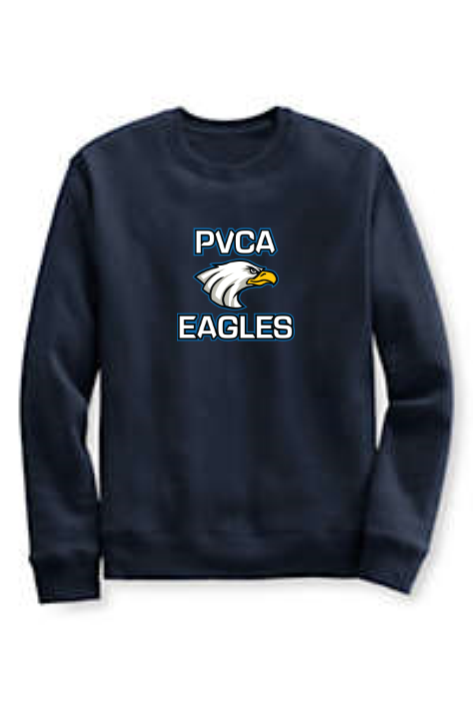 Crewneck Sweatshirt
Lands' End Item #393693-BR8
Navy with LG PVCA Eagle
*Full chest heat transfer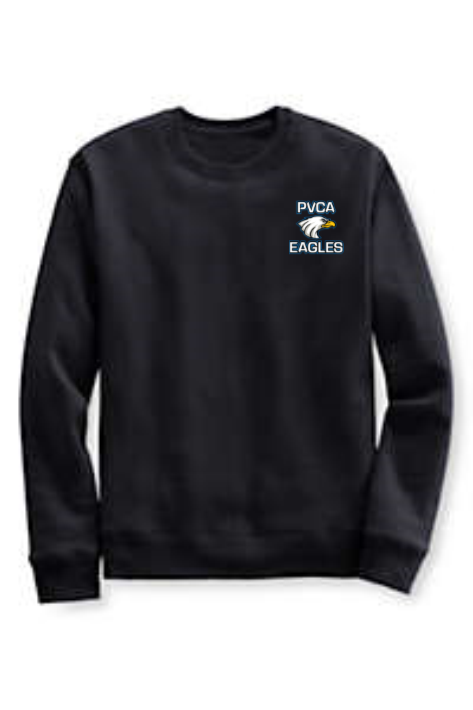 Crewneck Sweatshirt
Lands' End Item #393693-BR8
Black with SM PVCA Eagle
*Left chest heat transfer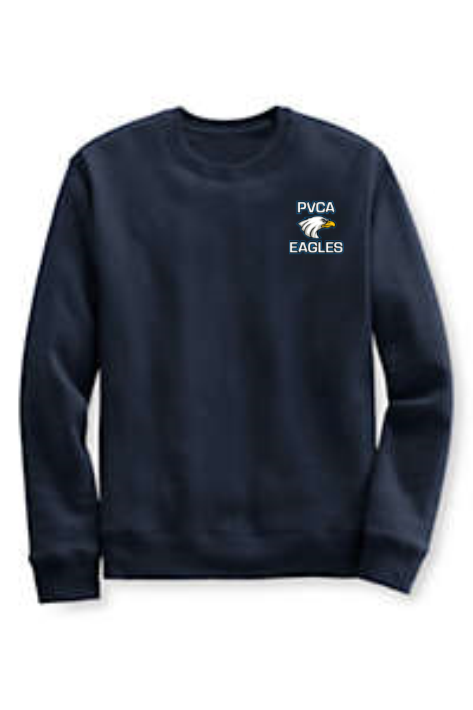 Crewneck Sweatshirt
Lands' End Item #393693-BR8
Navy with SM PVCA Eagle
*Left chest heat transfer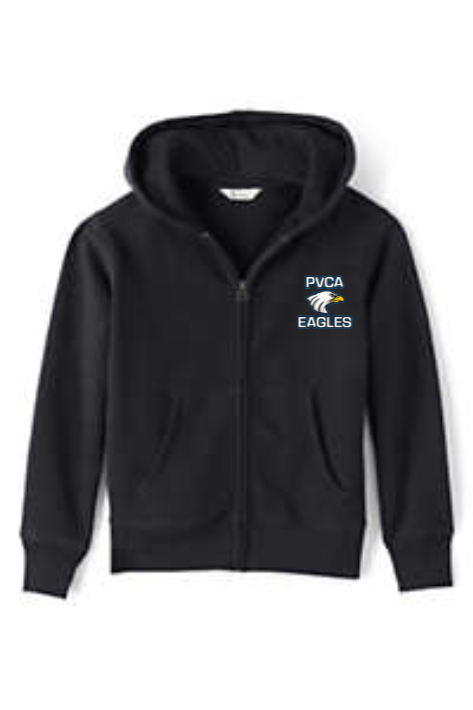 Zip-Front Sweatshirt
Lands' End Item #393713-BR1
Black with SM PVCA Eagle
*Left chest heat transfer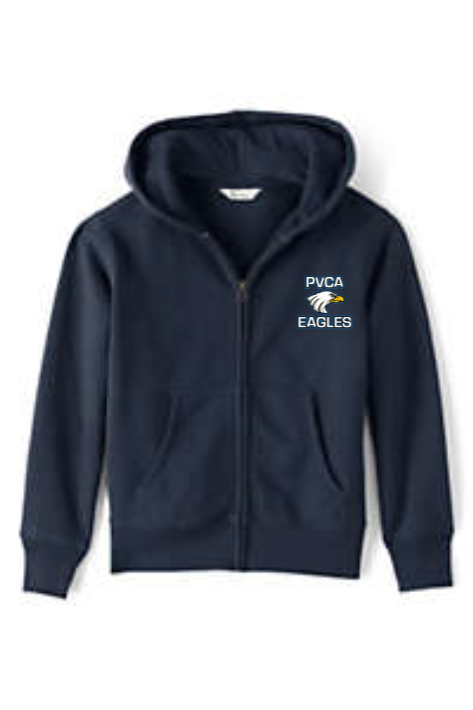 Zip-Front Sweatshirt
Lands' End Item #393713-BR1
Navy with SM PVCA Eagle
*Left chest heat transfer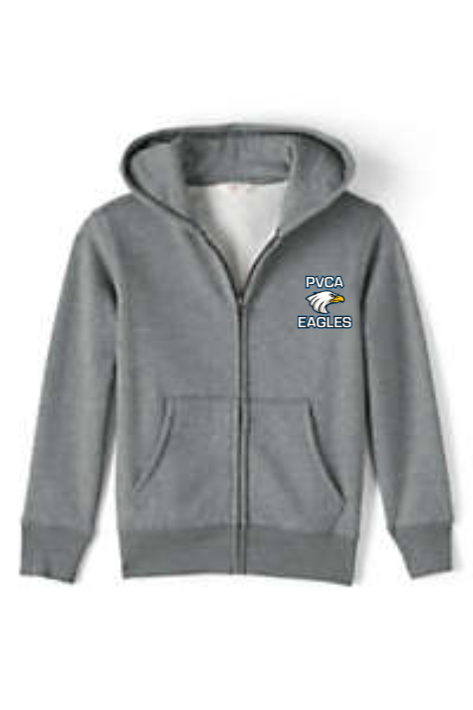 Zip-Front Sweatshirt
Lands' End Item #393713-BR1
Heather with SM PVCA Eagle
*Left chest heat transfer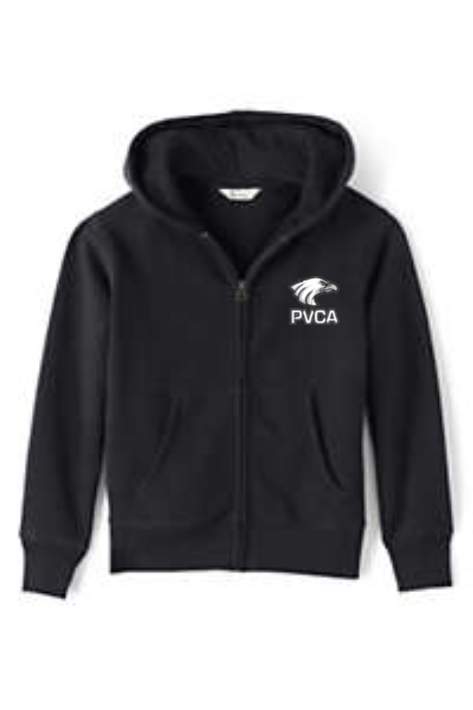 Hoodie Pullover Sweatshirt
Lands' End Item #393713-BR1
Black with Eagle PVCA
*Left chest embroidery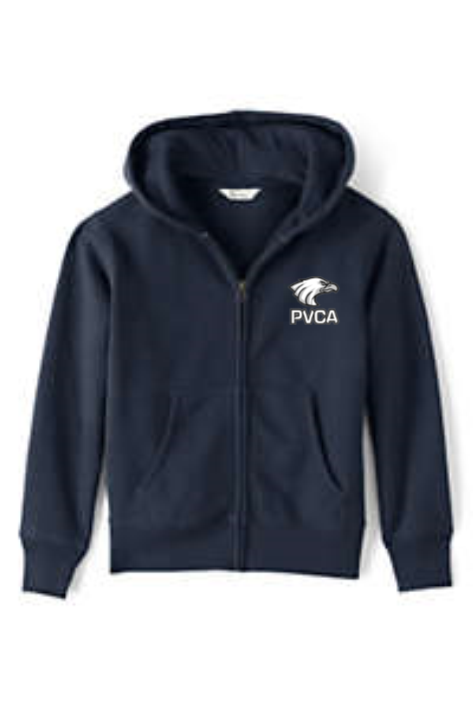 Hoodie Pullover Sweatshirt
Lands' End Item #393713-BR1
Navy with Eagle PVCA
*Left chest embroidery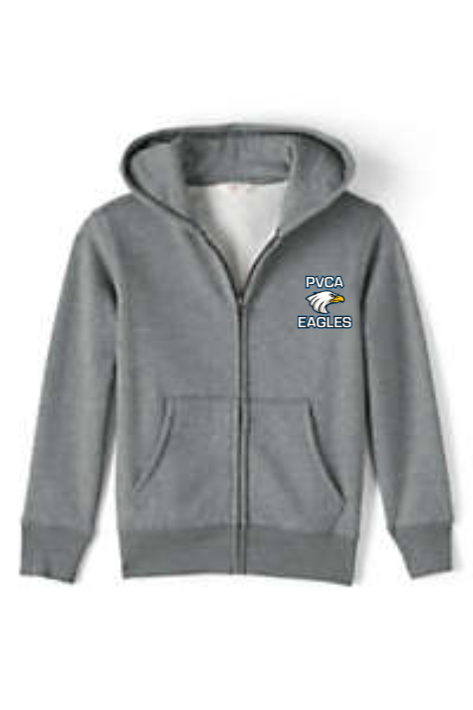 Hoodie Pullover Sweatshirt
Lands' End Item #393713-BR1
Heather with Eagle PVCA
*Left chest embroidery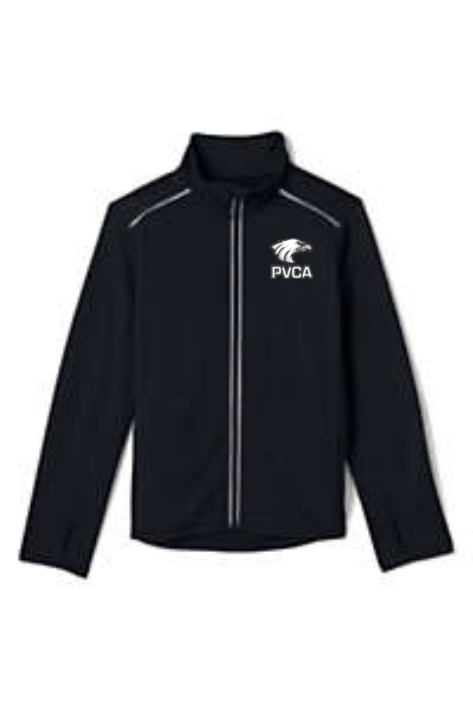 Active Track Jacket
Lands' End Item #486429-BR8
Black with Eagle PVCA
*Left chest embroidery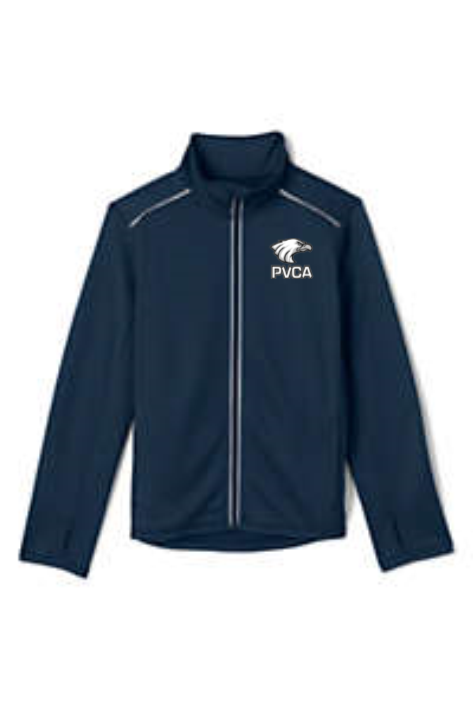 Active Track Jacket
Lands' End Item #486429-BR8
Navy with Eagle PVCA
*Left chest embroidery
LONG SLEEVED T-SHIRTS
*Left chest embroidery also available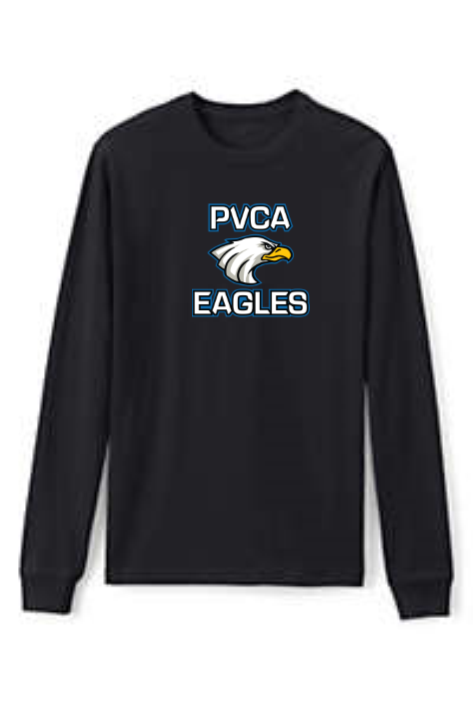 Long Sleeved T-Shirt
Lands' End Item #395790-BR0
Black with LG PVCA Eagle
*Full chest heat transfer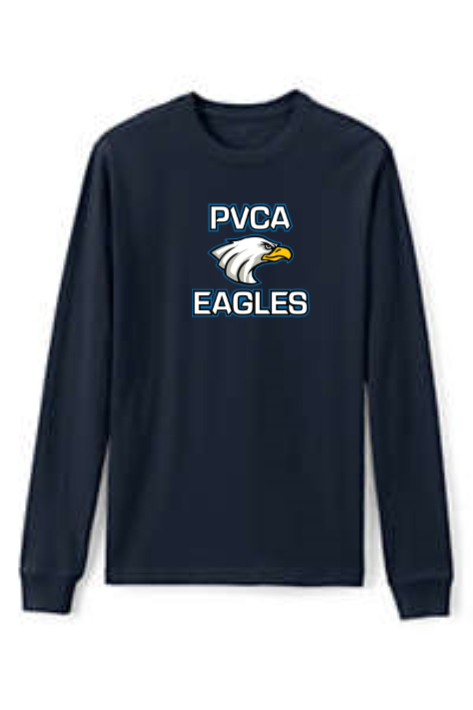 Long Sleeved T-Shirt
Lands' End Item #395790-BR0
Navy with LG PVCA Eagle
*Full chest heat transfer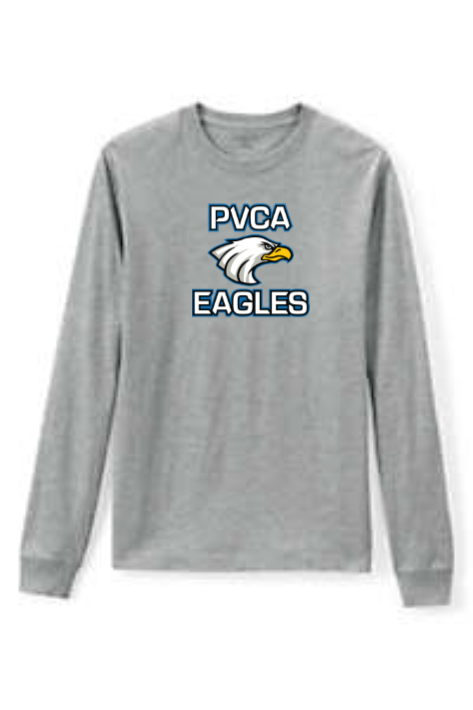 Long Sleeved T-Shirt
Lands' End Item #395790-BR0
Heather with LG PVCA Eagle
*Full chest heat transfer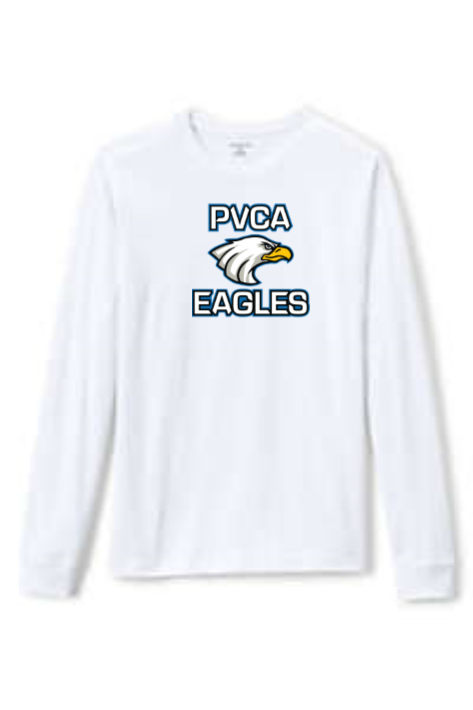 Long Sleeved T-Shirt
Lands' End Item #395790-BR0
White with LG PVCA Eagle
*Full chest heat transfer
Long Sleeved T-Shirt
Lands' End Item #395790-BR0
Black with SM PVCA Eagle
*Left chest heat transfer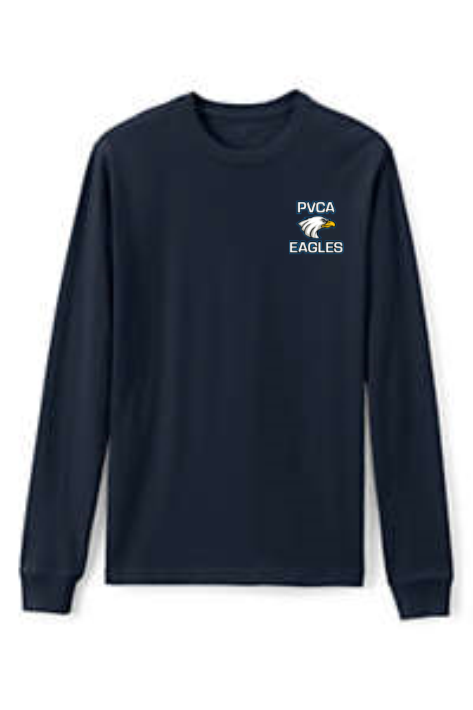 Long Sleeved T-Shirt
Lands' End Item #395790-BR0
Navy with SM PVCA Eagle
*Left chest heat transfer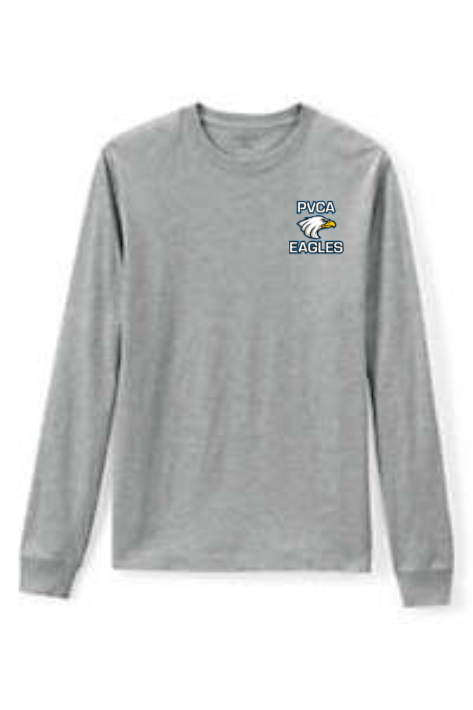 Long Sleeved T-Shirt
Lands' End Item #395791-BR5
Heather with SM PVCA Eagle
*Left chest heat transfer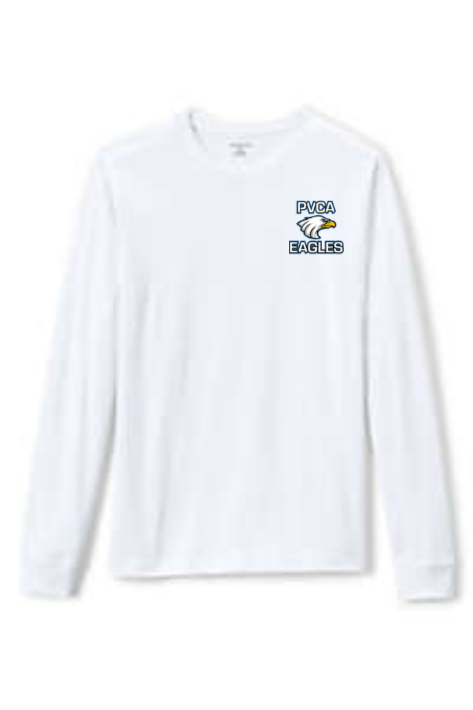 Long Sleeved T-Shirt
Lands' End Item #395790-BR0
White with SM PVCA Eagle
*Left chest heat transfer
SHORT SLEEVED T-SHIRT – EAGLES ACTIVE WEAR
*Left chest embroidery also available
*Not approved for dress code during school hours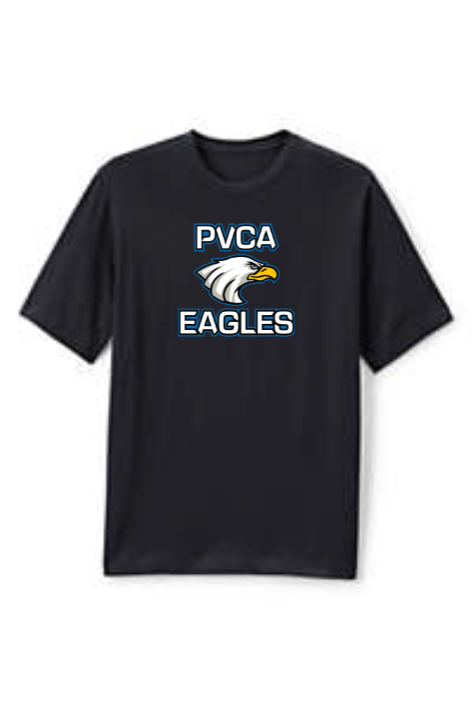 Short Sleeved T-Shirt
Lands' End Item #393751-BR7
Black with LG PVCA Eagle
*Full chest heat transfer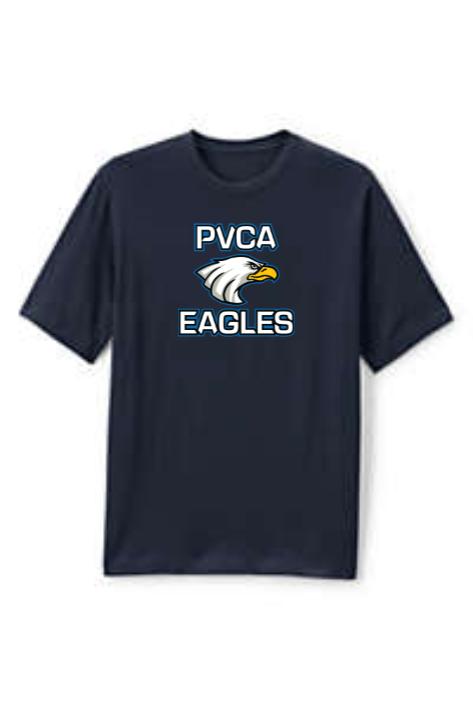 Short Sleeved T-Shirt
Lands' End Item #393751-BR7
Navy with LG PVCA Eagle
*Full chest heat transfer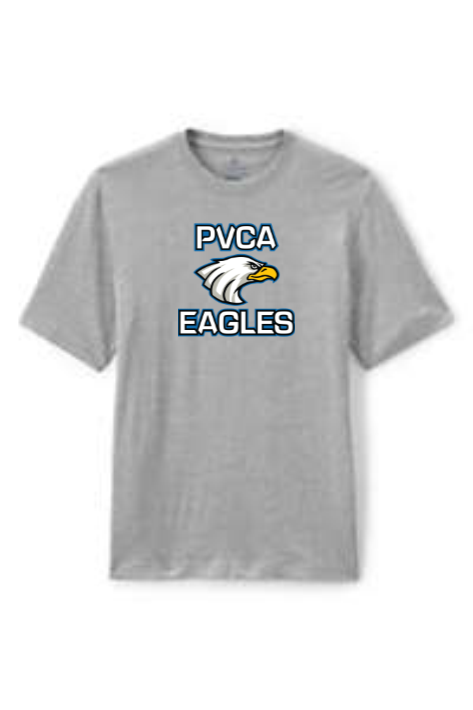 Short Sleeved T-Shirt
Lands' End Item #393751-BR7
Heather with LG PVCA Eagle
*Full chest heat transfer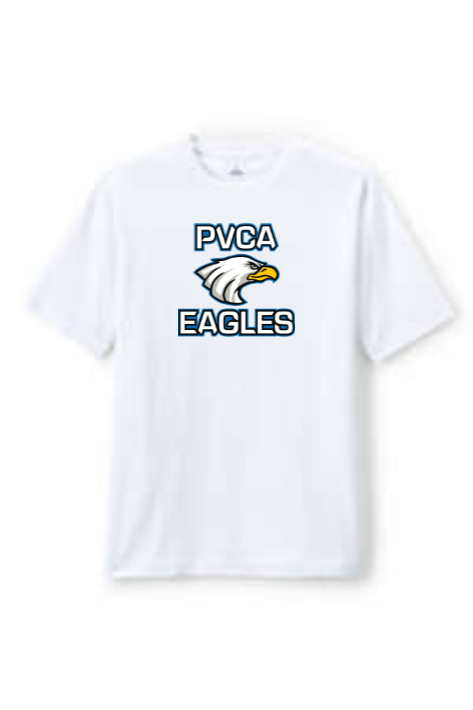 Short Sleeved T-Shirt
Lands' End Item #393751-BR7
White with LG PVCA Eagle
*Full chest heat transfer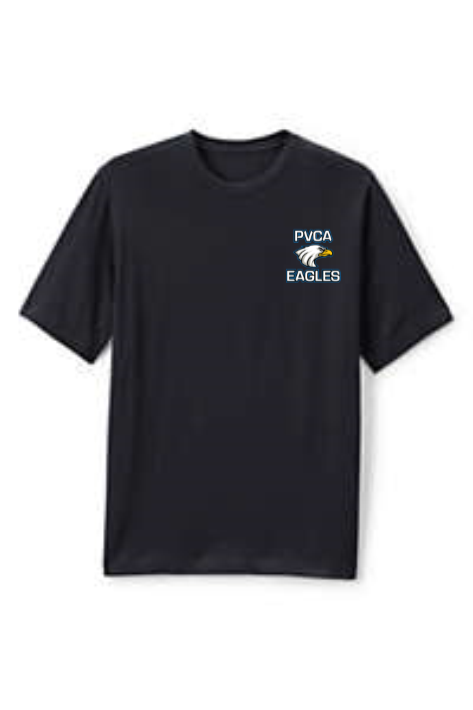 Short Sleeved T-Shirt
Lands' End Item #393751-BR7
Black with SM PVCA Eagle
*Left chest heat transfer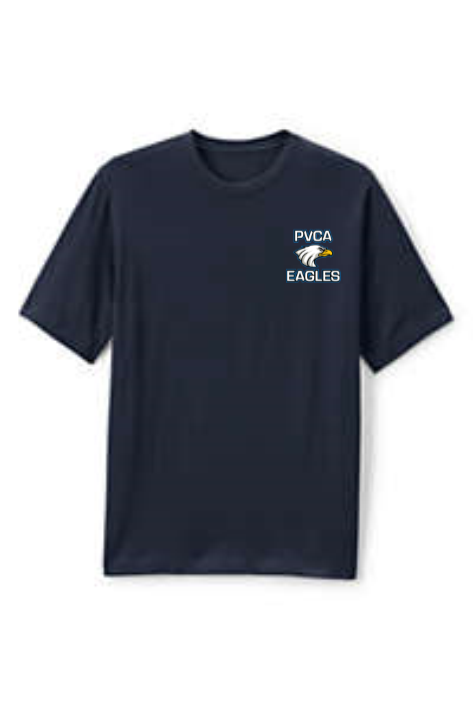 Short Sleeved T-Shirt
Lands' End Item #393751-BR7
Navy with SM PVCA Eagle
*Left chest heat transfer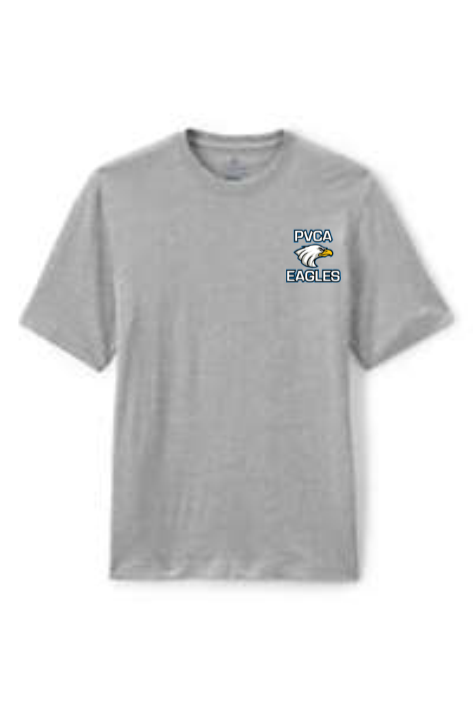 Short Sleeved T-Shirt
Lands' End Item #393751-BR7
Heather with SM PVCA Eagle
*Left chest heat transfer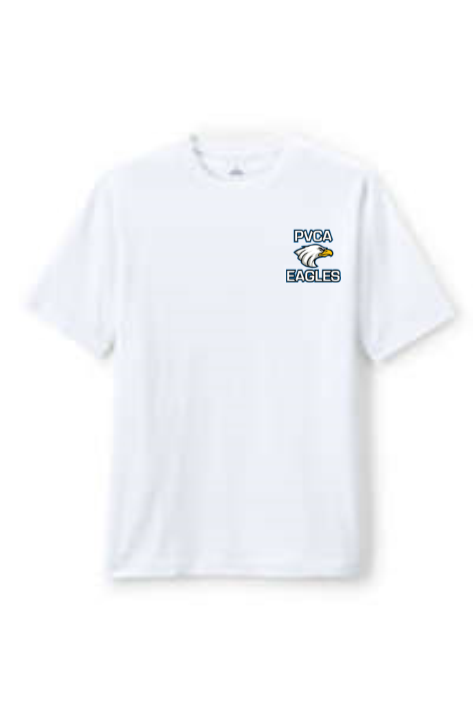 Short Sleeved T-Shirt
Lands' End Item #393751-BR7
White with SM PVCA Eagle
*Left chest heat transfer
GYM SHORTS – EAGLES ACTIVE WEAR
*Not approved for dress code during school hours
ACTIVE GYM SHIRT – EAGLES ACTIVE WEAR
*Also available in Heather Grey
*Not approved for dress code during school hours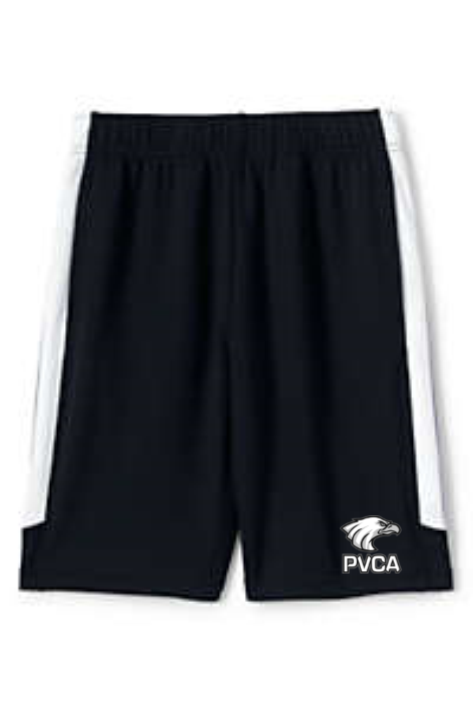 Mesh Athletic Gym Shorts
Lands' End Item #486432-BRX
Black with Eagle PVCA
*Left leg embroidery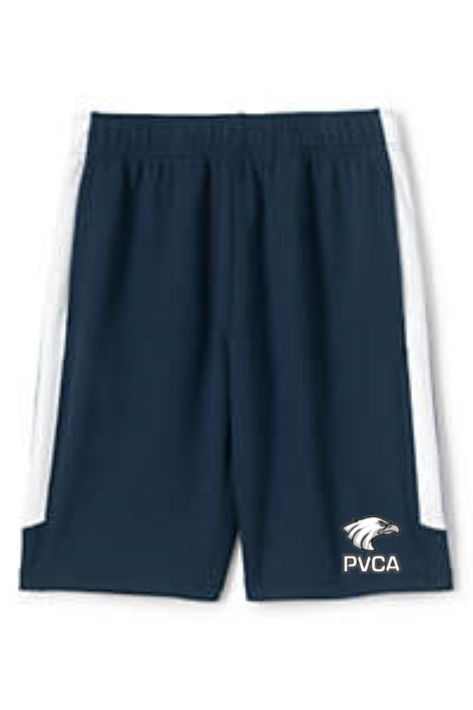 Mesh Athletic Gym Shorts
Lands' End Item #486432-BRX
Navy with Eagle PVCA
*Left leg embroidery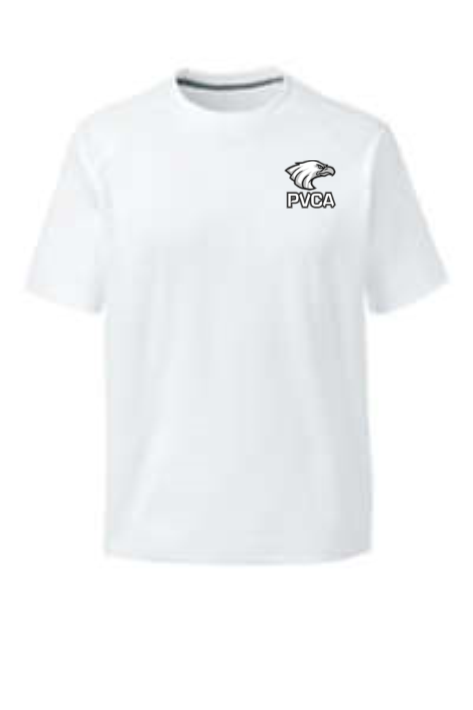 Active Gym T-Shirt
Lands' End Item #486453-BR1
White with Eagle PVCA
*Left chest embroidery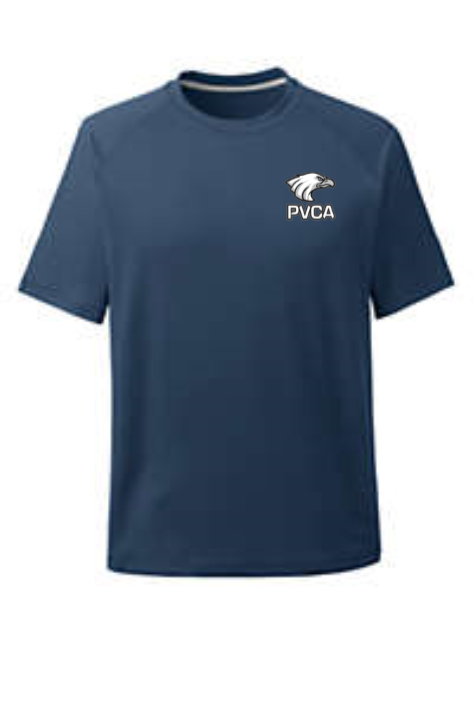 Active Gym T-Shirt
Lands' End Item #486453-BR1
Navy with Eagle PVCA
*Left chest embroidery
SWEATPANTS – EBROIDERED EAGLES ACTIVE WEAR
*Also available in Navy
*Not approved for dress code during school hours
SWEATPANTS – HEAT TRANSFER EAGLES ACTIVE WEAR
*Also available in Black
*Not approved for dress code during school hours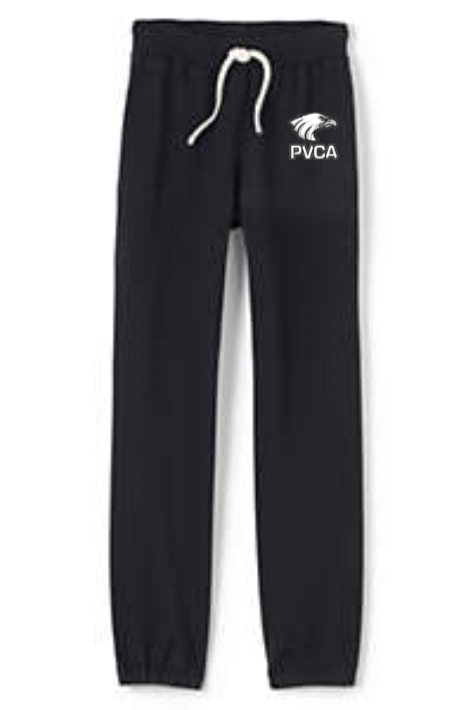 Sweatpants
Lands' End Item #393719-BR9
Black with Eagle PVCA
*Left leg embroidery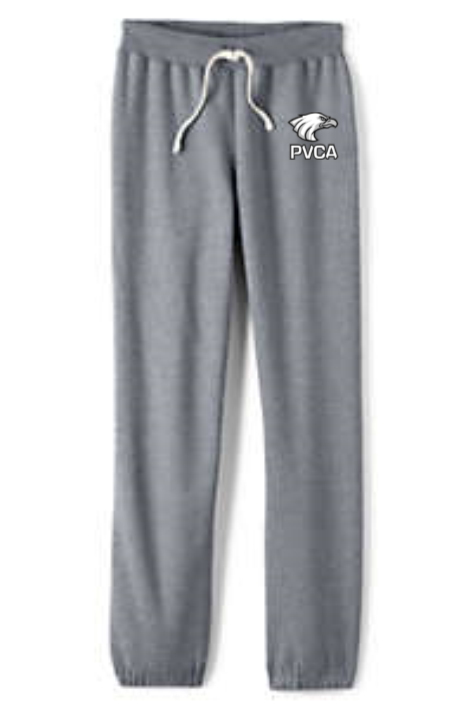 Sweatpants
Lands' End Item #393719-BR9
Heather with Eagle PVCA
*Left leg embroidery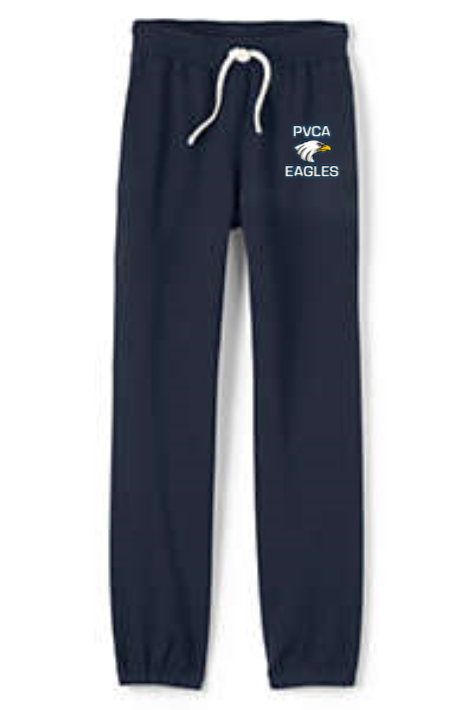 Sweatpants
Lands' End Item #393719-BR9
Navy with SM PVCA Eagle
*Left leg heat transfer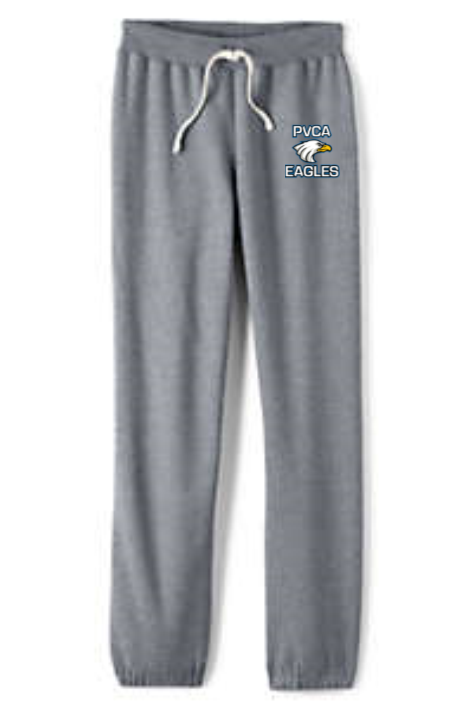 Sweatpants
Lands' End Item #393719-BR9
Heather with SM PVCA Eagle
*Left leg heat transfer