On Monday, October 16, Pioneer Valley Christian Academy will host a PINK OUT Day in support of Breast Cancer Awareness month. Students, Faculty, Staff, and Parents are encouraged to participate. Students may participate by wearing PINK dress code approved school attire.
Order a dress code approved pink shirt!
DEADLINE TO ORDER IS WEDNESDAY, SEPTEMBER 20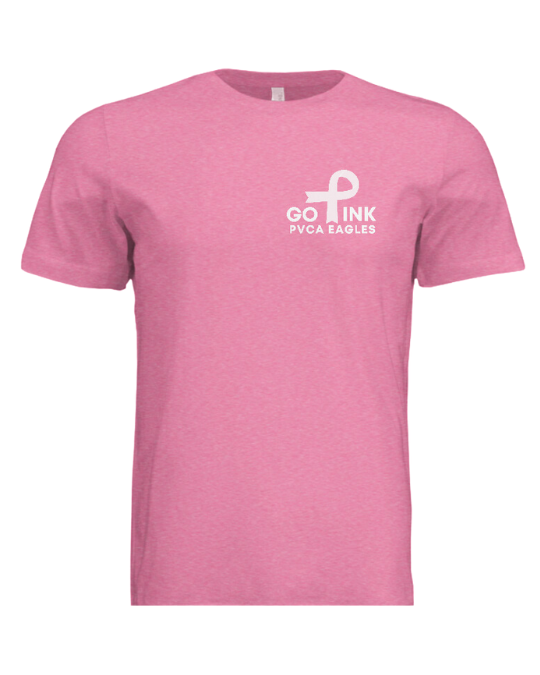 In support of Breast Cancer Awareness month in October, PVCA will be offering a dress code approved PINK, tri-blend, T-Shirt offered in sizes Youth Small up to Adult 4X. The cost of the shirt is $25.00. All proceeds will be donated to the American Cancer Society. Orders must be placed and paid for online. Click on the link below to purchase.
app not required to place an order
click on the button below to access the t-shirt link
allow time for the store to load
create an account or checkout as a guest
parents ordering a shirt for themselves should label their order under their student's name and grade
orders must be placed by september 20
PAY DIRECTLY FROM THE PVCA APP-CLICK HERE TO LEARN HOW
STEP ONE: On the second page of your Pioneer Valley Christian app, click on Online Payments. Please be patient as the store loads.
STEP TWO: Once the store loads, you will see "Go Pink Eagles-Breast Cancer Awareness Month T-Shirt." Click on the + sign, select size, enter your student's FULL NAME and GRADE, and select "Add To Cart".
STEP THREE: Select the blue "Checkout" button OR select the yellow "Continue Shopping" button.
STEP FOUR: When ready to Checkout, you DO NOT have to "Add Student". You may go directly to "NEXT".
STEP FIVE: Fill out billing info and select "NEXT".
STEP SIX: Review your order, check the box below, and click "NEXT".
STEP SEVEN: Enter payment info and click "Place Order".
In addition to dressing in pink, both Varsity Soccer and Varsity Volleyball will be hosting PINK home games. Please consider coming out and supporting our PVCA Eagles!